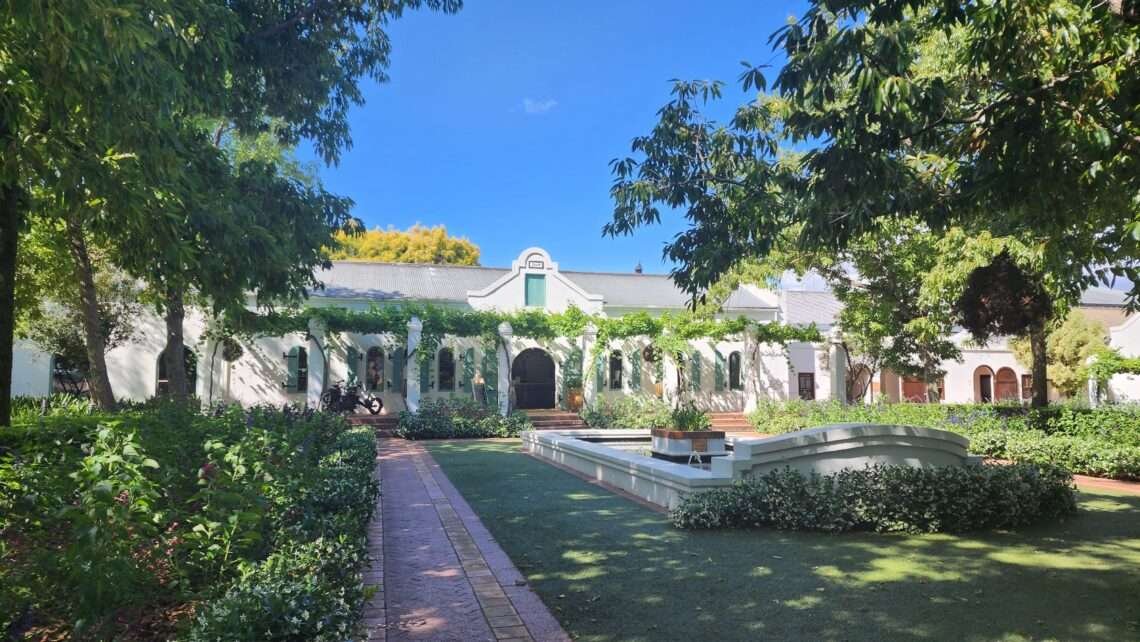 Fairview Wine Estate, situated in the Cape Winelands region of South Africa, is a fantastic place that's all about goats, wine and cheese! Known for having a laid back, social atmosphere and casual tasting room, it is a popular estate for both local and international visitors. The first wine was produced on the farm in 1699 and today they have 88 hectares of vineyards planted with Pinotage, Sauvignon Blanc, Shiraz, Viognier, Chardonnay, Chenin Blanc, and Cabernet Sauvignon among others.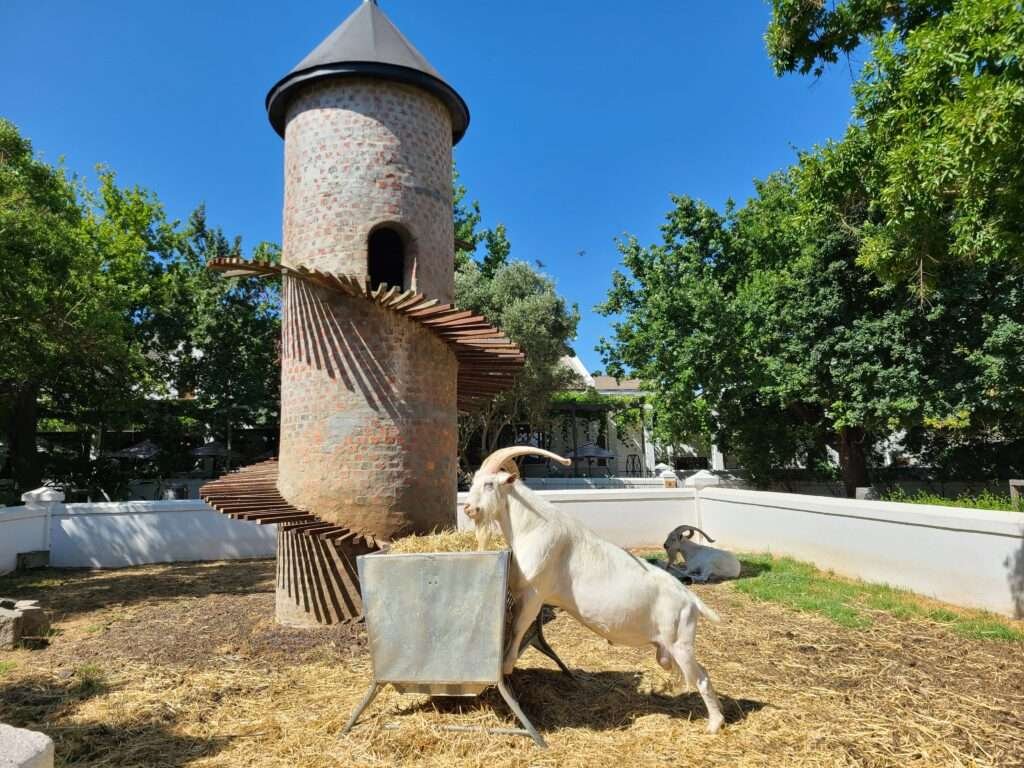 Since 1981, the iconic goat tower has housed the billy goat mascots that add a unique charm to this estate. In addition to the goats, the entrance to Fairview also has a beautifully manicured lawn and a welcoming koi fish pond.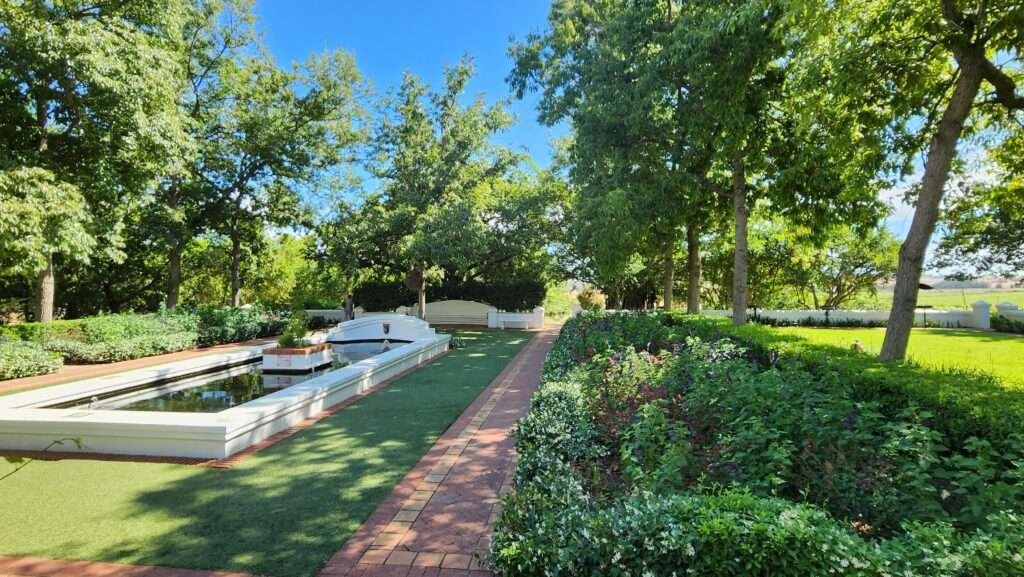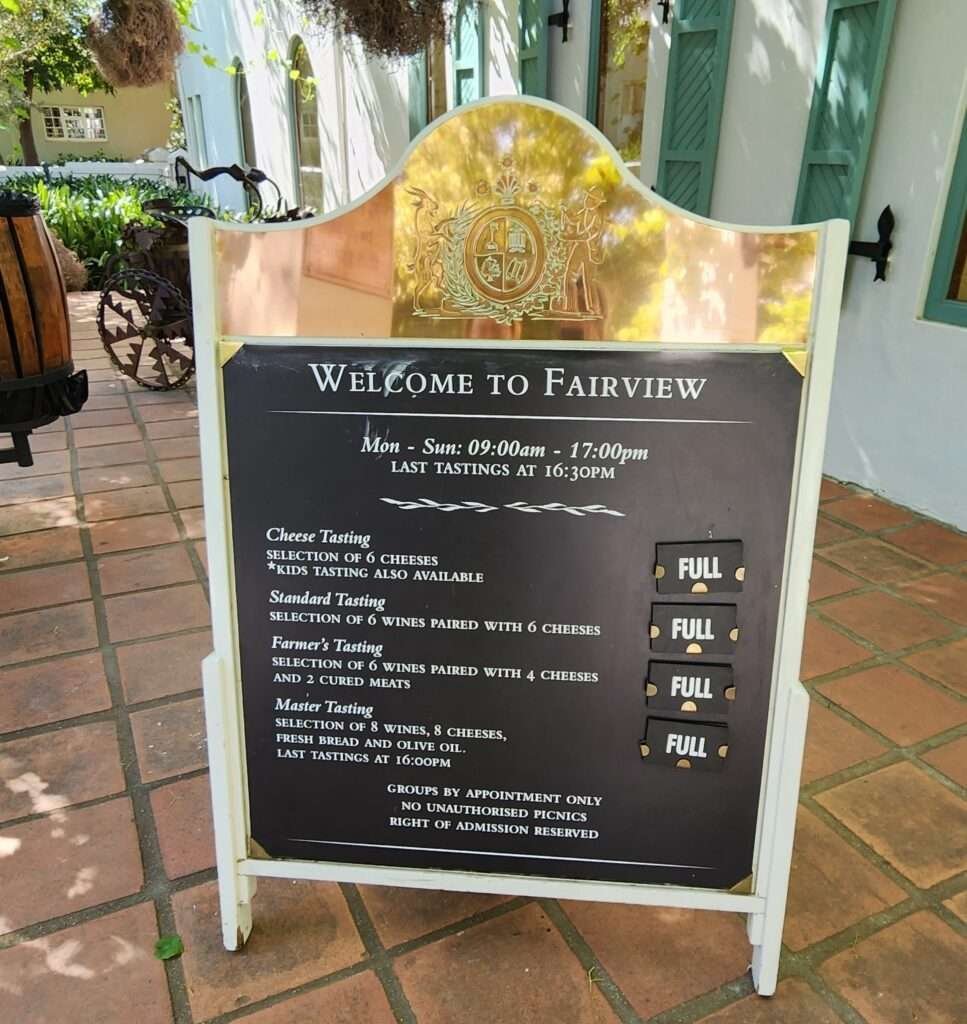 Highlights of Fairview Wine Estate
Wine and cheese tasting
Cute goats!
A deli with a fantastic selection of locally sourced and carefully selected products
Picnic Sets
Budget-friendly
Goat tours & a 5km walking trail
Walk-ins accepted (expect a wait of about 15-20 minutes on busy days)
Tastings at Fairview
Wine tastings at the Tasting Room
The tasting room has a warm, social atmosphere, with four unique barrel 'pods' scattered across the floor.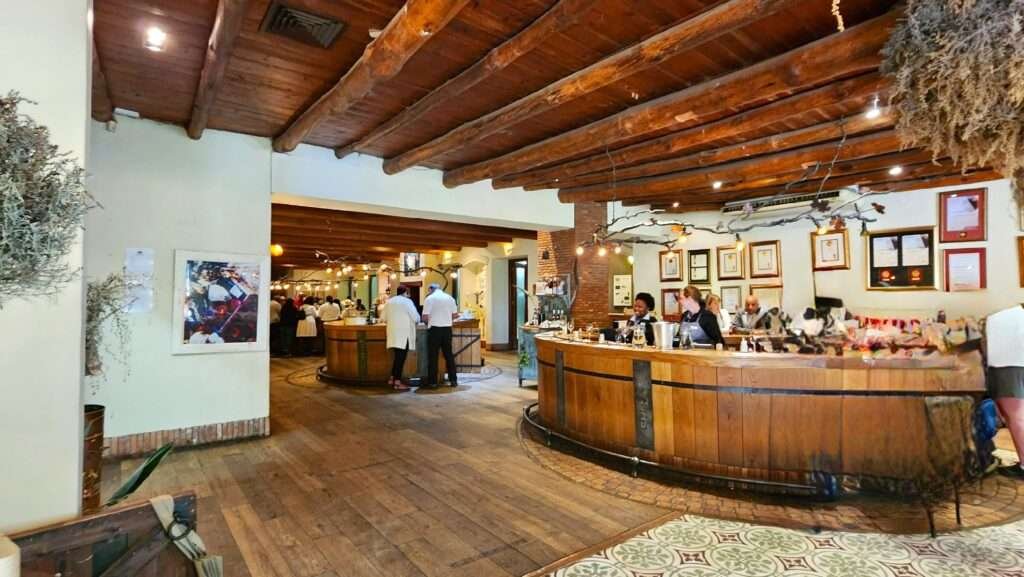 The more rustic and casual atmosphere of the wine tasting room was definitely our vibe, so it was no surprise that this was one of our favorite wine estates in the region.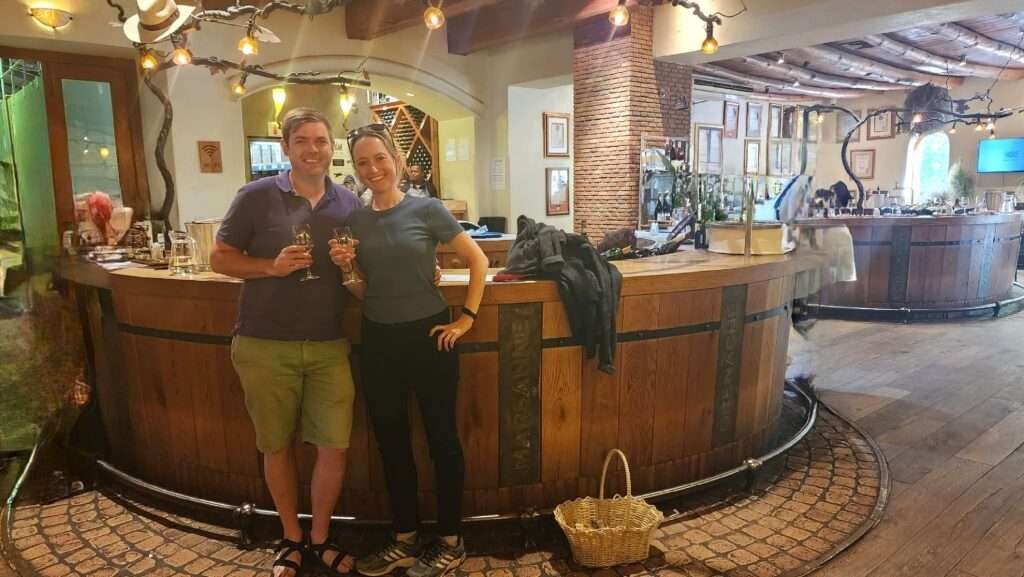 Dedicated hosts guide and assist you through a tasting selection of 6 different wines.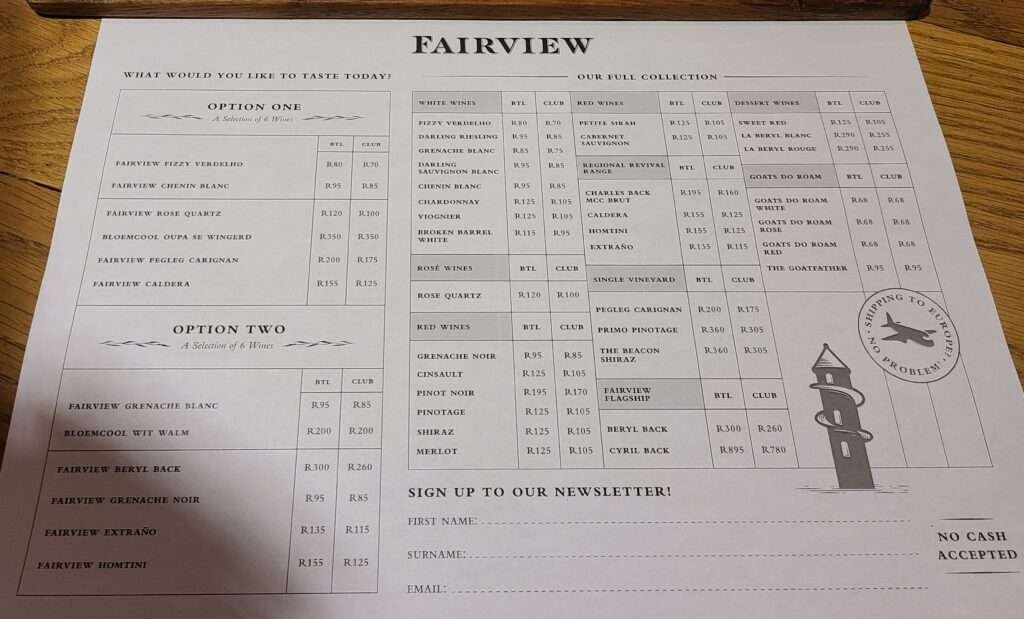 At only $3 (R50) for 6 wines + paired cheeses, the price is unmatched in the area. In addition, we even got a bonus of a 7th dessert wine and cheese to finish off the experience.
The goat cheese was particularly tasty and production on the estate has a long and intersting history which you can read about here.
Other tastings available at the estate include:
6 wines paired with 4 cheeses and 2 cured meats
A kids tasting of 5 sweeter cheeses, 1 sweet treat and a glass of lemonade
A Selection of 6 cheeses
The goats of Fairview Wine Estate
The story of the goats and the tower is a great one! In the early 1800s Charles Back was visiting a wine producing region in Portugal. On sighting a tower in the garden, Charles was in that moment inspired and bought the concept back to his farm in South Africa. A few months after his return he built this fairytale tower at the entrance of Fairview. There's little explanation as to why visitors find it so enthralling but perhaps part of it lies in the fact that it's just something fun, silly and unexpected at a wine estate.
Just a few months later, Charles's son, Jason, accidently left the goat pen open. As the goats roamed the farm, they demonstrated an interesting discernment by picking only the ripest fruit. The adventures of the goats around the farm further inspired the "Goats Do Roam" range of wine available at Fairview.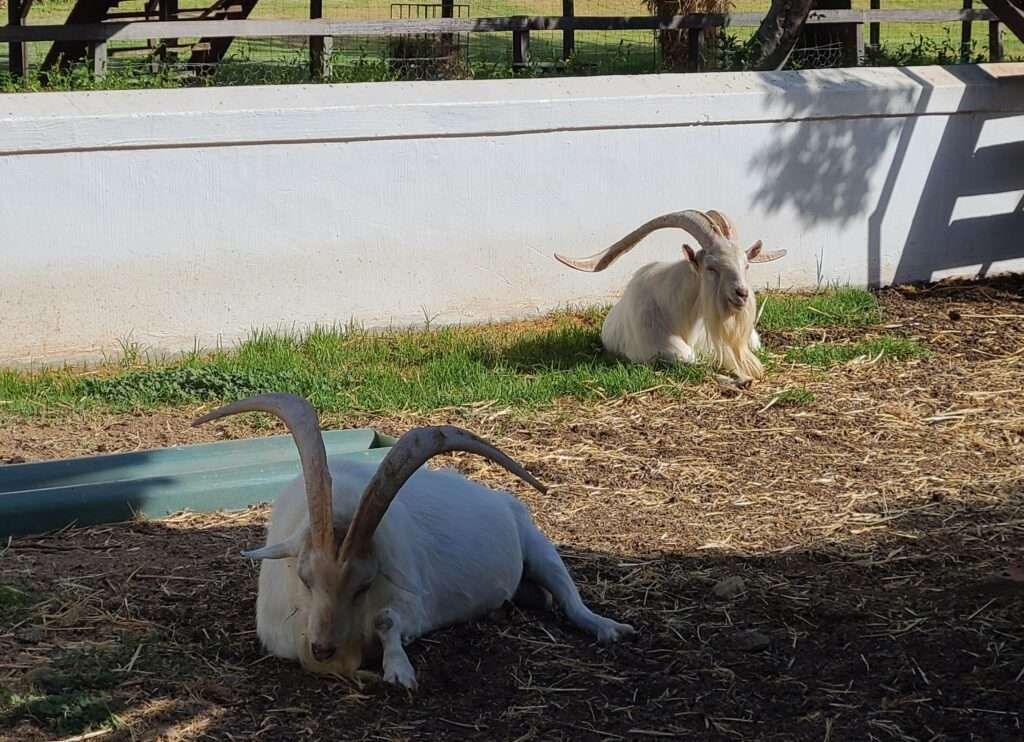 The shop and deli at Fairview
Home-made local products and sustainably farmed foods line the shelves and fridges at Fairviews shop and deli. The shop can be found in the main tasting room building. Because Fairview is all about their cheese, visitors will be pleased to see a range of over 50 cow's milk and goat's milk cheeses, including blue mould, feta and cream cheese styles. In addition, there are various condiments, james, eggs, snacks and artisnal breads up for purchase. The shop is definitely worth browsing through when you're at Fairview.
While you're there, look out for the delicious baked goods such as croissants and salty pretzels. Hand-made with love and care, they are a lovely addition to the deli.
The Goatshed Restaurant
While most people visit Fairview for the wine and cheese tasting, they also have a wonderful restaurant called the 'Goatshed'. Their farm-to-table menu ensures that you always get the freshest products. The restaurant offers three breakfast and three lunch set menus, an extensive wine selection and a a la carte menu. In addition, there is also a picnic menu available which you can enjoy in the garden.
Reservations are essential if you want to dine at the Goatshed.
Other activities at Fairview Wine Estate
Join Farmer Donald on one of his farm tours! The current tours available are:
Goat Tour: Learn about the goats on the farm and the important work that they do, followed by a snack pack or cheese tasting.
Guided Mountain Walk: A 5km trail on Paarl mountain, followed by a wine and cheese pairing.
How long should you spend at Fairview?
This really depends on what you want to see and do while there. The Franschhoek Wine tram allows a 45 minute – 1 hour stop at this estate (every tram route has unique time tables so be sure to check this ahead of time).
1-2 hours is enough to enjoy a tasting, as well as a browse to the goats and the deli/shop.
Other activities such as the walking trail or the goat tour will of course require more time.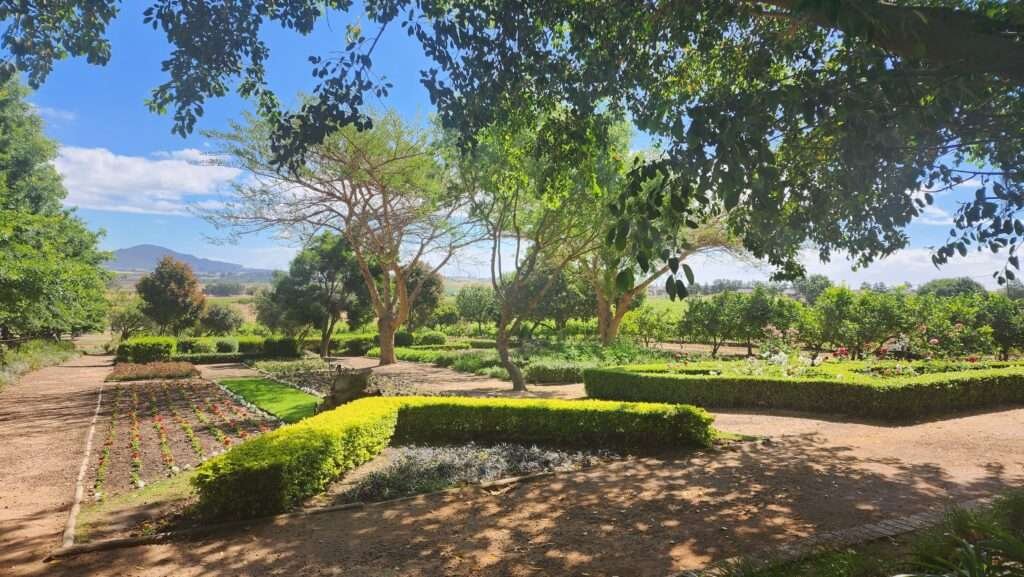 Fairview Wine Estate remains one of my favorite spots in the Cape Winelands. In fact, I have visited it on more than one occasion for its cozy, relaxed atmoshere and delicious cheese/wine pairings. Of course, the goats continue to be a unique attraction that put a smile on the face of any visitor to the farm.
Looking for other wine estates to visit in the region? Read more about them below: