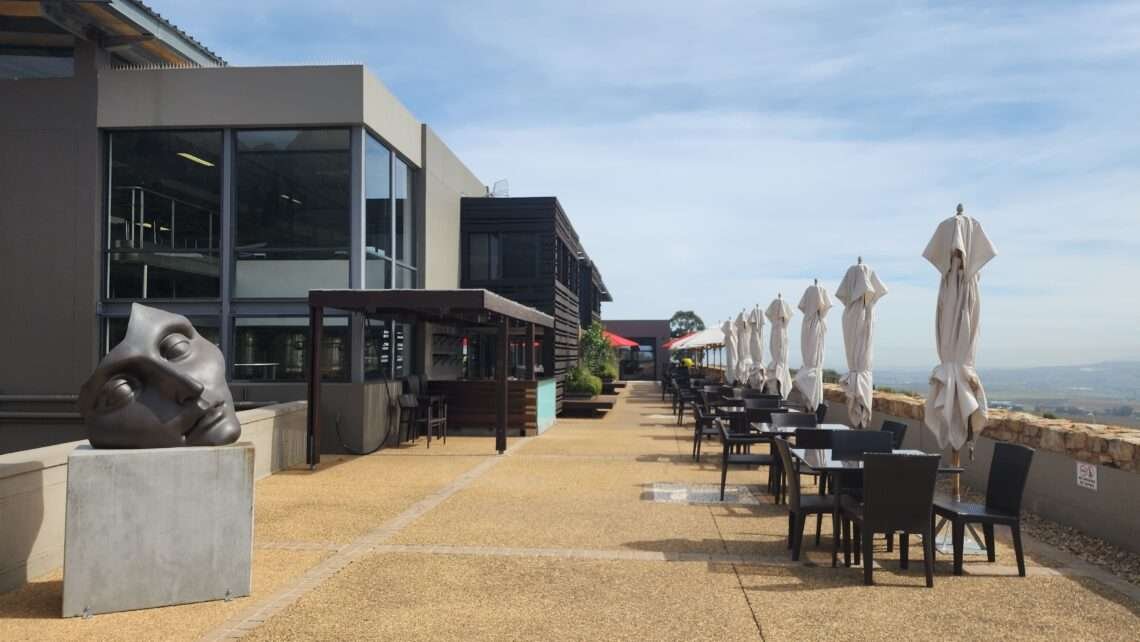 Hidden Valley Wine Estate, Stellenbosch
Hidden Valley Wine Estate is situated in the Stellenbosch region of the Cape Winelands, just a 1 hour drive from the center of Cape Town.
Highlights of Hidden Valley Estate
A dominance of red wine varietals
Unique design and architecture
View of mountains & vineyards from the tasting room
Olive & Olive oil products
Chocolate – wine pairing
Charcuterie & Cheese platters
Nature Walk
Picnic Basket
Cellar Tour
On-site restaurant
Accomodation
The Hidden Valley Estate
The architecture is probably what impressed me most at Hidden Valley Estate. Natural elements of rock and wood combine against a scenic backdrop of vineyards stretching across the valley. In the distance, one can see the gorgeous Helderberg mountains contrasting against the rolling green vineyards.
Their modern design is impressive and they are currently (03.2023) constructing a beautiful restaurant and tasting room on the property also.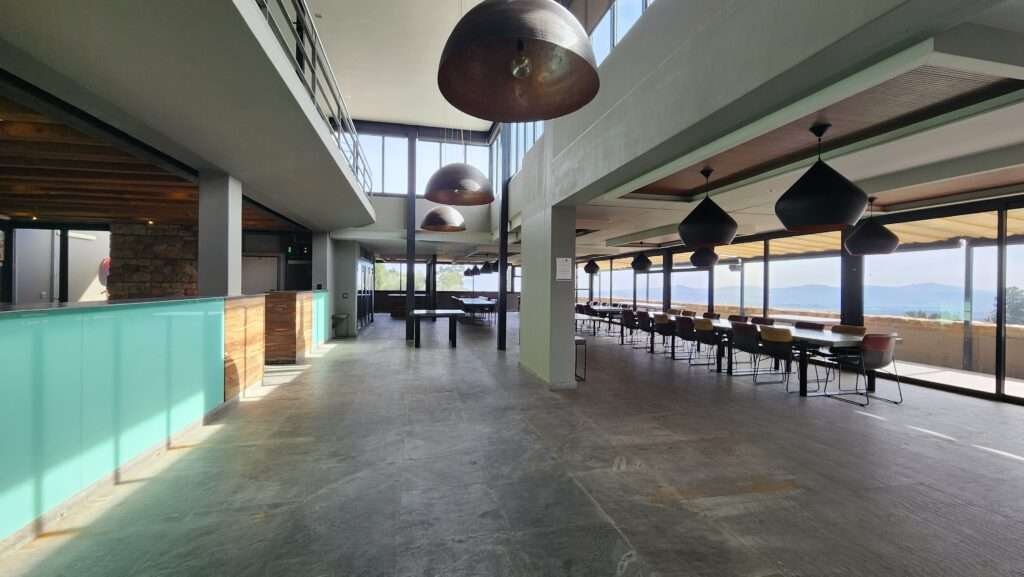 The Wines of the Estate
Plantings of red vareitals account for about 70% of the 20 hectares of vineyards at Hidden Valley. The Estate's dominant grape varietals are the Reds (Shiraz and Cabernet Sauvignon) and a white varietal, Sauvignon Blanc. The Merlot follows next and lastly the Petit Verdot, Tannat and Viognier make up the small remainder of vineyards. Although all these wines are best enjoyed at Hidden Valley, they do also have an online store for wine purchases. For wine purchases within South Africa visit this page. International wine orders can be made through CAPREO, an online store for many South African wines.
Wine Tasting at Hidden Valley Estate
As with all wine tastings that I enjoy, I tend to gravitate towards Estates that boast my favorites, which are red wine varietals. As such, Hidden Valley was a fitting choice!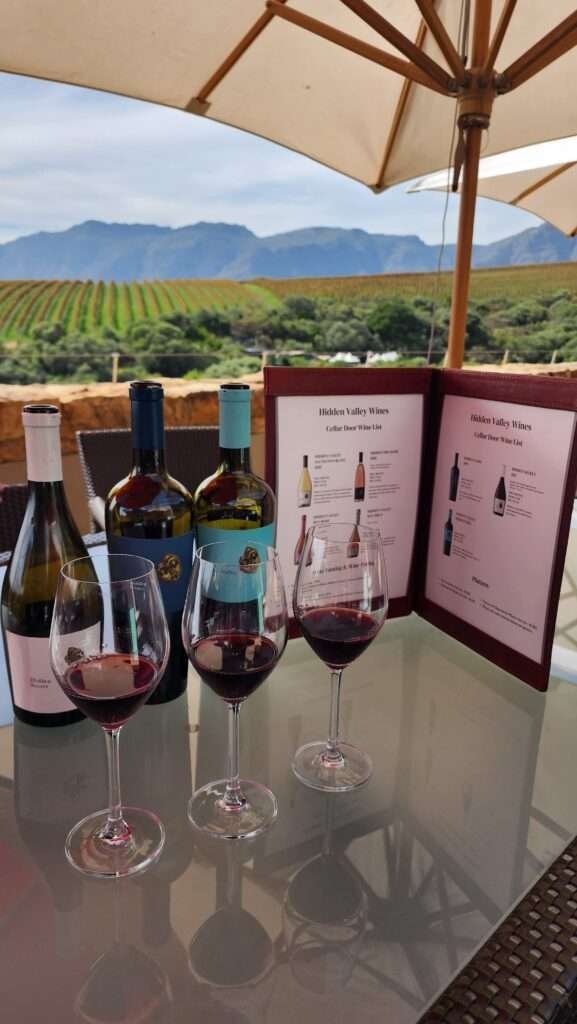 Currently, the standard tasting at Hidden Valley is the only option at R100 ($5-6). It includes 5 wines, namely the Sauvignon Blanc, Hidden Treasure, Merlot, Hidden Secret and Hidden Gems. To read more about the tasting notes and pairing of each wine, click here.
Although we only enjoyed wine tasting this time, they do also offer other pairings as well as charcuteries and cheese platters.
In addition to producing wine, Hidden Valley also makes a range of olive products including Extra Virgin olive oil and table olives. An order of oil, breads and olives will be sure to perfectly complement and enhance your wine tasting experience.
For those with a sweet tooth, 5 delectable chocolates pair with 5 of the Estate's wines to beautifully bring out the flavors of each wine – R155 / $9
Treat yourself to one of Hidden Valley's charcuterie & cheese platters with your wine tasting or as a stand-alone lunch – R385 / $21
Do you need to make a reservation for wine tasting at Hidden Valley?
Even though their site says bookings are essential, we walked in during the off-season period and were seen to right away. However, groups of 8 or more guests has to be booked by prior arrangement. If you would like to make a reservation, you can either call the Estate on 021 880 2646 or email: winetasting@hiddenvalleywines.co.za
Although we didn't partake in everything on offer at Hidden Valley, some of their on-site activities definitely piqued our interest.
Other Activities at Hidden Valley Estate
Enjoy a picnic on the Estate
The picnic basket options look absolutely delicious! The baskets are filled with Ciabatta, Olive oil & olives, selections of cold meats (Coppa & Pastrami) as well as Brie, Boland and Hugenot cheeses accompanied by preserves, green figs and biscuits. With all this goodness packed in a basket, visitors can enjoy a picnic at a private spot around the Estate. Note: If you want to enjoy wine with your picnic basket, you need to purchase wine seperately.
Enjoy a Nature Walk
Amble around a dam and enjoy watching small insects and bird species wandering around. It's a nice moderate 3km stroll.
Take a Cellar Tour
On request, visitors can walk around the state of the art cellar and learn about the wine production process.
Eat at the Deck restaurant
The floating deck eatery has lovely natural views over the valley. In addition to serving burgers and wood-fried pizza, they also serve wine, soft drinks and coffee.
Stay at the Hidden Valley Bush Lodge
The three bedroom en-suite lodge is the perfect tranquil escape from the hustle and bustle of life!
---
I really enjoyed my time at Hidden Valley Wine Estate. It's unique design, friendly service and surrounding views make it a great stop on any wine route tour.
To read more about some of my other favorite Boutique Wine Estates in Stellenbosch, click here.