Peanut Butter Granola Bar Recipe
Never buy store-bought granola bars again! This home-made soft and chewy peanut butter granola bar recipe is healthy and packed with flavor. The best part is that you can customize them to your preference with whatever dried fruit, nuts and flavors you want.
Jump to Recipe
The variety of things you can use in these chewy and tasty granola bars is endless! The only important thing to know is the base – oats, honey/syrup, brown sugar and butter. After that, its completely up to you. Here are some of my suggestions for additions to granola bars that produce a wonderful flavor.
almonds, pecan nuts
dried cranberries, apricots, coconut (unsweetened)
pumpkin, seasame seeds
peanut butter
Important things to know before making this Peanut Butter Granola Bar Recipe
Press the mixture firmly in to the pan
This is a really important step. The first time I made these, I didn't press hard enough and ended up with a mixture of granola instead of granola bars. But hey, now I know how to make granola also. If it's compact bars you're after that actually keep their shape, press the mixture hard in to the pan for at least a minute before refrigerating.
Easily adapted
As already pointed out above, the best part about this recipe is you can really add anything you want. Have fun adding new flavors like cinnamon powder or add some dark chocolate chips. You wont know until you try!
The 'Glue' for the granola bars is important
You need a glue to bind all the ingredients together. This is where the honey, butter and brown sugar comes in. It creates a sticky liquid that is then added to the dry ingredients and helps everything stay together. That said, I try to keep most of my recipes healthy and I usually leave the brown sugar out. I have made these bars with and without sugar and I can promise you they are sweet enough even without the sugar, especially if you are adding things like sweetened peanut butter, chocolate chips, or coconut. They are a little more crumbly without sugar but the health benefit of not using sugar outweighs a perfect looking granola bar in my opinion. It's up to you!
Refrigerate before cutting
You may be impatient to dive in and sample the mixture but it's important to allow it to set for at least 2 hours in the refrigerator before cutting the granola in to bars. Once out the refrigerator, they will soften and become chewier but it's essential that you cut them in to bars when they are hard and straight out the fridge.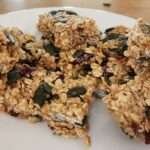 Print Recipe
Home-made peanut butter granola bars
Never buy store-bought granola bars again by following this easy recipe. Soft, chewy and packed with flavor, these highly adaptable peanut butter granola bars are a healthy and filling snack.
Equipment
1 Mixing Bowl

1 Pan

1 x 9 inch Baking dish prepared with a baking sheet
Ingredients
Oven toasted oats and nuts
2½

cups

rolled oats

*230g
Stove-Top Mixture
⅓

cup

honey

*113g

¼

cup

unsalted butter, cut in to pieces

*56g

½

teaspoon

vanilla extract

¼

teaspoon

salt

¼

cup

brown sugar

*50g (OPTIONAL)
Dry Ingredients
⅓

cup

cranberries

*43g

⅓

cup

pumpkin seeds

*43g

⅓

cup

sesame seeds

*43g

2

heaped tablespoons

peanut butter
Instructions
Oven toasted oats and nuts
Heat oven to 350° F (180°C)

Add the oats and chopped nuts (if using) to a small baking sheet. Bake for about 5 minutes, stir and then bake another 3 to 5 minutes or until lightly toasted.
Stove-top Mixture
Combine the butter, honey, vanilla extract and salt to a large saucepan.

Cook, stirring occasionally until the butter melts and the mixture is bubbling. If using sugar, make sure it is completely dissolved.

Add the stove-top liquid mixture to the bowl of rolled oats (and nuts, if using)
Dry Ingredients (granola bar extras)
Add the cranberries, pumpkin & sesame seeds and peanut butter to the bowl of oats and stove-top mixture. Mix well
Press and refrigerate the bars
Firmly press the mixture for at least 1 minute in to the prepared 9 inch baking dish. You can use damp fingers or simply the back of a spoon or spatula to really press the mixture in ot the pan.

Refrigerate for at least 2 hours or for 30 minutes in the freezer.

After 2 hours, remove the granola from the fridge and seperate the baking paper away from the slab of granola. Place on a flat surface.

Cut in to 12 bars, or to your size preference.
Storage
Store granola bars in an airtight container for up to one week at room temperature. Storing in the refrigerator will result in harder bars overall. Alternatively, wrap bars well in wax paper and freeze for up to 3 months.
This peanut butter granola bar recipe is a perfect snack to take on a hike or when traveling because it stores easily and is a great energy boost!
For other easy-to-travel with snacks, visit my recipe page.