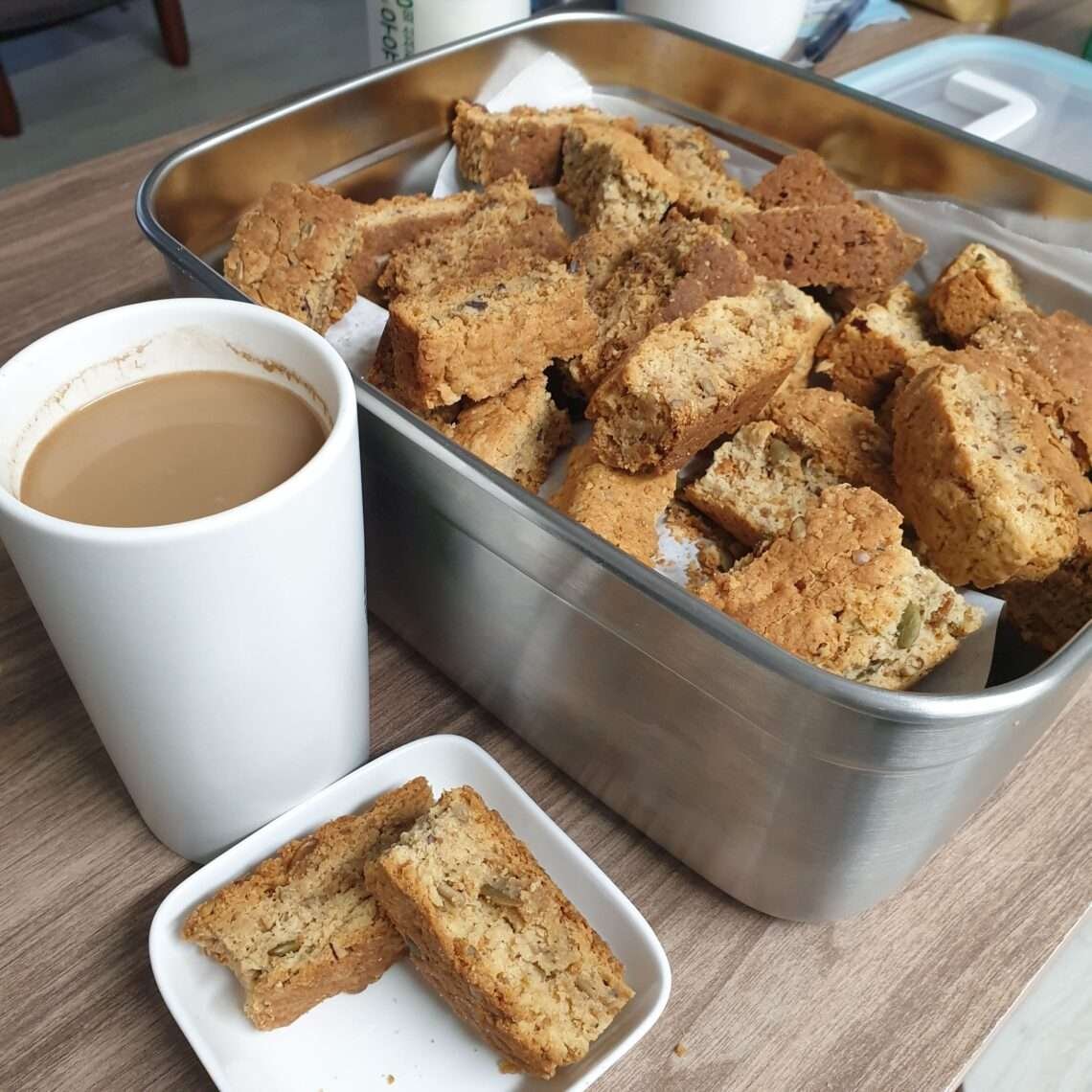 South African Rusks: A Delicious snack or breakfast
Rusks, or 'beskuit' in Afrikaans, form a huge part of South African tradition and are almost always found in the pantry of any South African household.
Rusks are a type of 'cookie' that is dehydrated (twice baked in the oven) until crunchy, similar to the Italian Biscotti.
In the past, rusks were originally a way of preserving bread, especially when travelling long distances without refrigeration.
Today, however, they are a delicious snack or breakfast staple for South Africans.
Overview of ingredients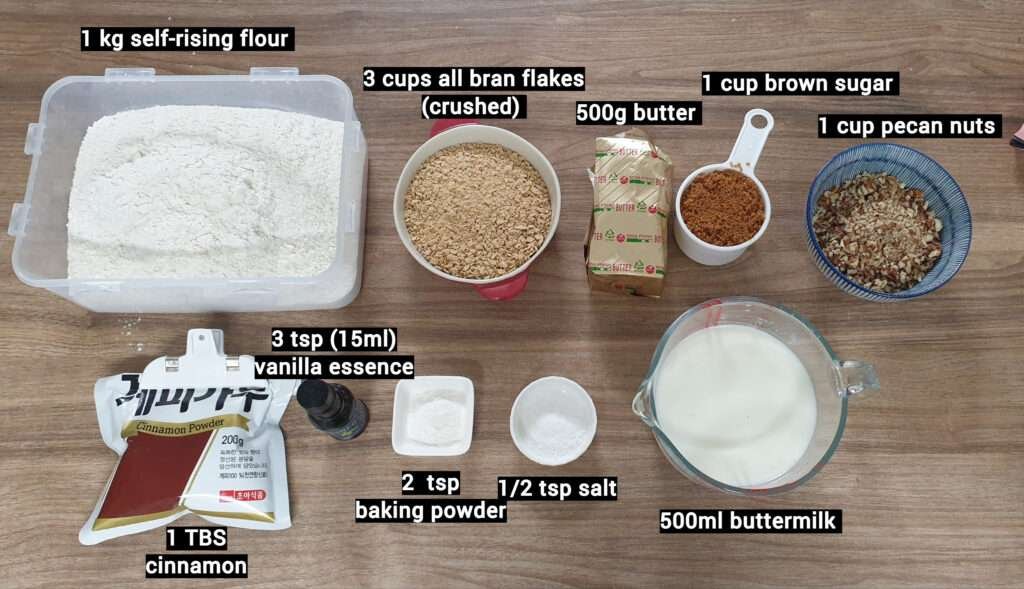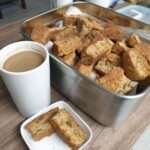 Print Recipe
South African Rusks
Ingredients
Wet Ingredients
500

gram

butter

500

ml

buttermilk

If you don't have buttermilk, it's easy to make yourself. Just add 2 TBS lemon juice to 500 ml milk.

3

tsp

vanilla essence

3 tsp = 15 ml
Dry Ingredients
1

kg

Self Rising Flour

3

cups

All Bran Flakes

crush the flakes in a grinder or with a big wooden spoon

1

cup

Brown sugar

substitute: honey / maple syrup

2

tsp

Baking powder

½

tsp

Salt

1½

cups

Pecan nuts

Or add any type of nut that you prefer. Cranberries, walnuts, sesame seeds work great also.

1

TBL

Cinnamon

*optional
Instructions
Wet Ingredients
Melt the butter with the buttermilk on the stovetop. Do not allow to boil. Add vanilla essence and whisk vigorously for 1 or 2 minutes.

Allow 15-20 minutes for the mixture to cool. While the mixture is cooling, start working on the dry ingredients.
Dry Ingredients
Mix all the dry ingredients together in a large bowl.
Wet + Dry ingredients
Preheat the oven to

180

°C

(

350

°F

)

Add wet ingredients to the dry ingredients and mix well. You can mix by hand (more work but doable!) or with a large stand mixer.

Make sure all ingredients are well incorporated and that a smooth dough forms.

Place the dough mixture in a baking tray.

Bake at

180

°C

/

350

°F

for 40 – 50 minutes.

After 40 minutes, remove rusks from oven and allow them around 30 minutes to cool.

Slice the rusks and return to the baking tray (I found it easier to use two baking trays and to lay the rusks flat for best drying).

Turn the oven down to

170

°F

(80 – 100°C)

Allow to dry out for 6-8 hours.

Enjoy your rusks dipped in coffee or tea!
Notes
Once rusks are completely cooled, store in a airtight container at room temperature. Rusks stay fresh for 1 month.