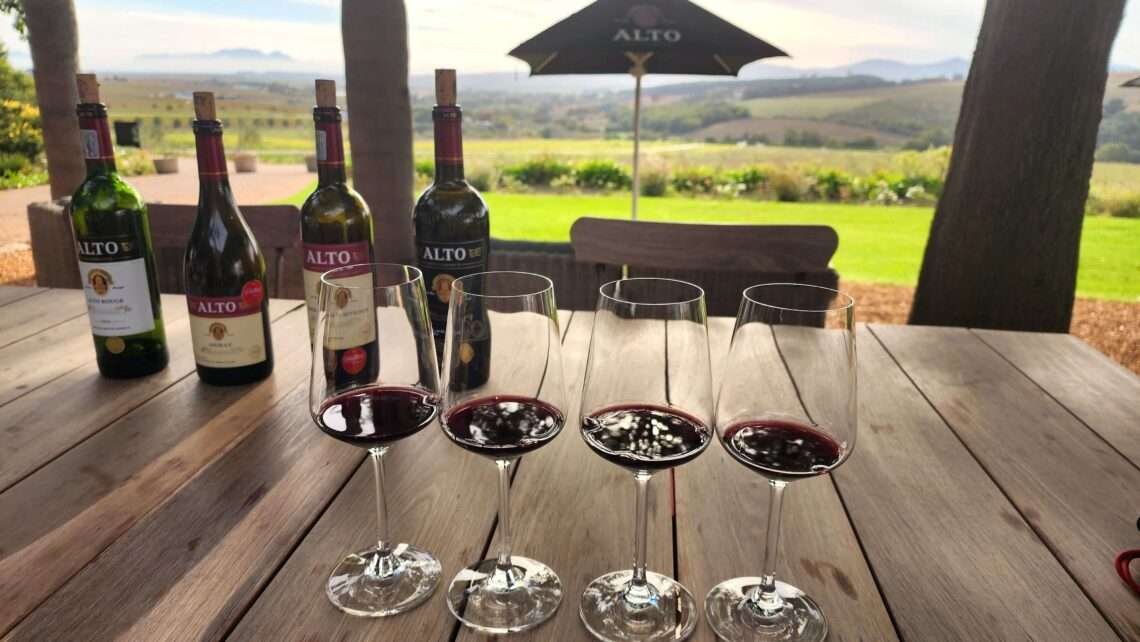 Alto Wine Estate: A Wine Tasting Experience
Alto Wine Estate is situated in the Stellenbosch region of the Cape Winelands, just a 50 minute drive from the center of Cape Town. When it comes to wine tasting at Alto, red wine enthusiasts will particularly enjoy an impressive array of exceptional reds. But the experience doesn't end there. Set against a pretty backdrop, the location offers lovely views of the Stellenbosch hills. The opportunity to witness stunning sunsets also creates a magical atmosphere.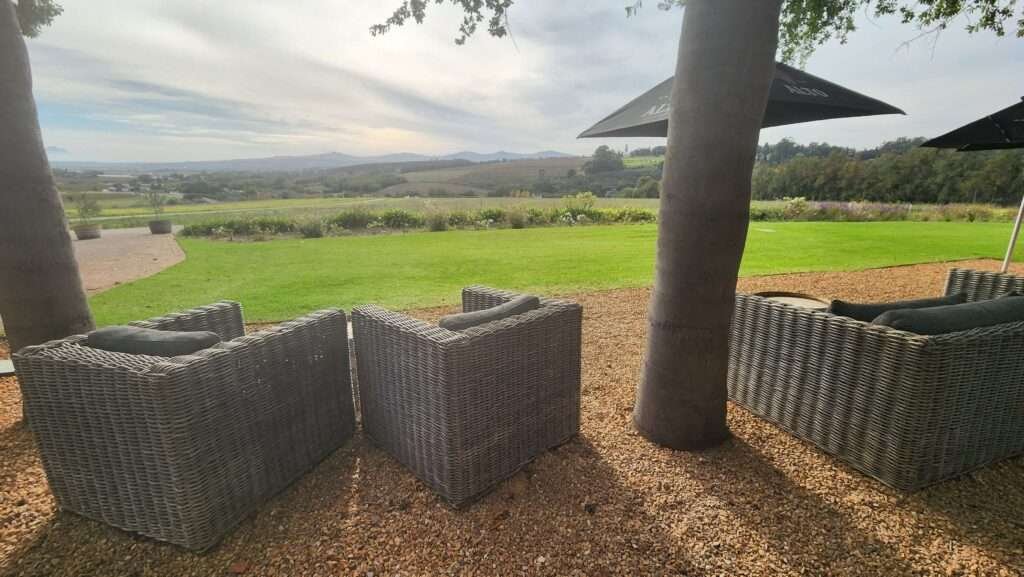 A brief history of Alto Estate
Under the guidance of experienced winemakers, Alto Wine Estate has thrived and gained a reputation for producing outstanding red wines, particularly Cabernet Sauvignon. The unique terroir of the estate, characterized by its elevated slopes, granite soils, and cool climate, provides the ideal conditions for cultivating premium grapes.
Over the years, Alto's wines received numerous awards and international recognition for their elegance, depth, and longevity. The estate remains dedicated to crafting wines that reflect the distinct characteristics of the region as well as showcasing excellent winemaking techniques.
A Wine Tasting Experience at Alto Wine Estate
At Alto, you can enjoy a wine tasting and pairing experience that combines quality wines with carefully selected food offerings. Whether in the cozy tasting room or on the front patio, you'll have the perfect spot to relax and witness mesmerizing sunsets.
Wine Pairing
Faced with the challenge of decision-making, I found myself in a delightful dilemma. I decided to tackle the situation by experiencing both the biltong and cheese pairings on offer at Alto Wine Estate. Biltong, a beloved South African snack, consists of cured and dried meat. It's somewhat akin to American beef jerky (although it's important not to upset passionate biltong fans with this comparison!). Trying both options allowed me to savor the flavors and textures that accompanied the wines, further complimenting the wine tasting experience.
With the very first taste of cheese and sip of wine, it became clear that Alto Estate was something special. Of particular note, the bold and robust Cabernet Sauvignon beautifully complemented the Boerenkaas cheese. It also came as no surprise that the Cab Sauv was the most awarded wine at Alto, solidifying its position as a top favorite among red wines in the region.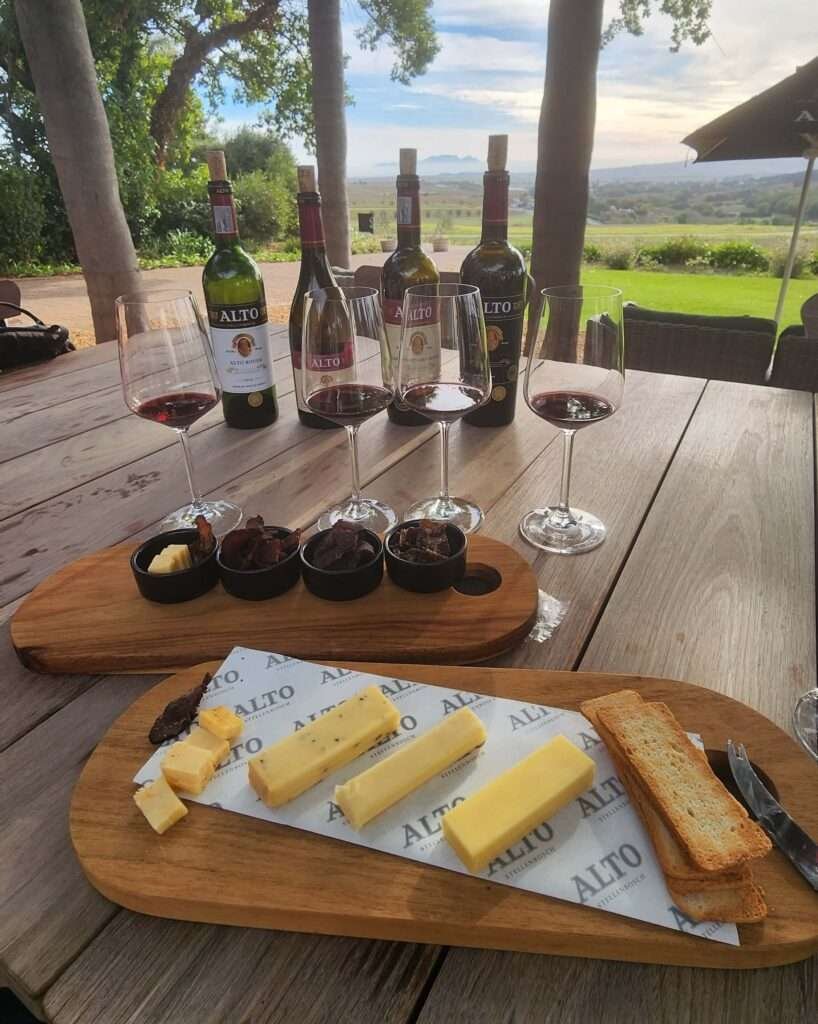 While the Shiraz and Rouge range impressed us, it was the Estate Blend that got most of our attention. Introduced in 2015, this relatively recent addition to Alto's portfolio proved to be the standout star. Each vintage offers a slightly different composition, but the dominant grape varieties in the blend are Cabernet Sauvignon and Cabernet Franc. The result is a fusion that showcases the best qualities of both varietals. To sum it up, the wine tasting experience at Alto is truly exceptional. Whether you are a seasoned wine connoisseur or just starting to explore, Alto offers an opportunity to appreciate the art of wine.
We ended our tasting with a gorgeous sunset. Watching the sun set over the mountains, casting a warm glow on the patio, was really stunning. The combination of excellent wine, wonderful pairings, and the tranquil ambiance created a lasting impression of Alto Estate.
Beyond Wine Tasting: More Experiences at Alto Estate
In addition to wine tasting, Alto Estate offers a range of additional experiences. Special events, such as wine festivals or themed tastings, provide a lively and festive atmosphere for visitors to enjoy. Every Friday, Alto hosts popular Sunset evenings, featuring live music, award-winning wines, and delectable food. At the onsite restaurant, visitors can Indulge in the delicious flavors of hearty cuisine. Crafted from fresh, locally sourced ingredients, meals are perfectly complemented by Alto's renowned award-winning wines.
Visit my post on Alto Wine Estate to discover more about this amazing venue.
Contact Information & Reservation for Tastings at Alto Wine Estate
For reservations and enquiries, contact Alto at one of the following:
Directions & Location of Alto Wine Estate
Address: Annandale Road, Stellenbosch, 7600
For precise directions on Google Maps, please follow this link: GOOGLE MAP DIRECTIONS