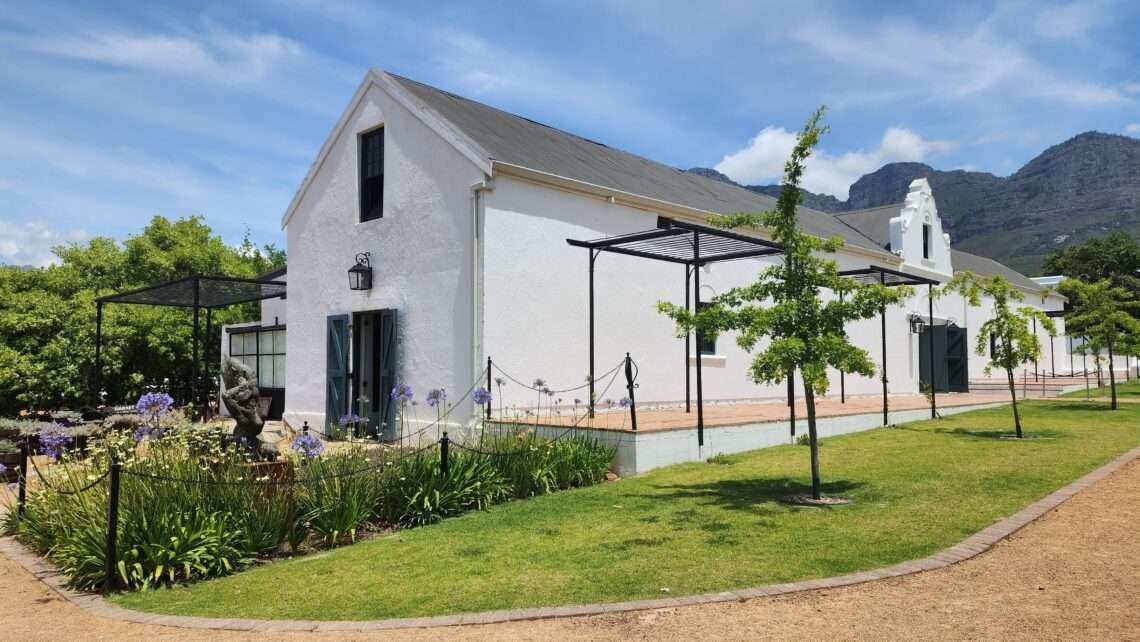 Plaisir Wine Estate, situated in the Cape Winelands region of South Africa, is an elegant estate with a rich wine making history of 300 years. The estate manor perfectly represents one of the earliest and finest examples of Dutch Architecture that is prevalent in the region.
Plaisir Wine Estate was our third stop on the navy/burgundy route of the Franschhoek tram tour. Our particular interest in this estate lay in the variety of wine on offer. From Chenin Blanc and Sauvignon Blanc to Chardonnays and also Cabernet Sauvignon and Merlot, there's something for everyone.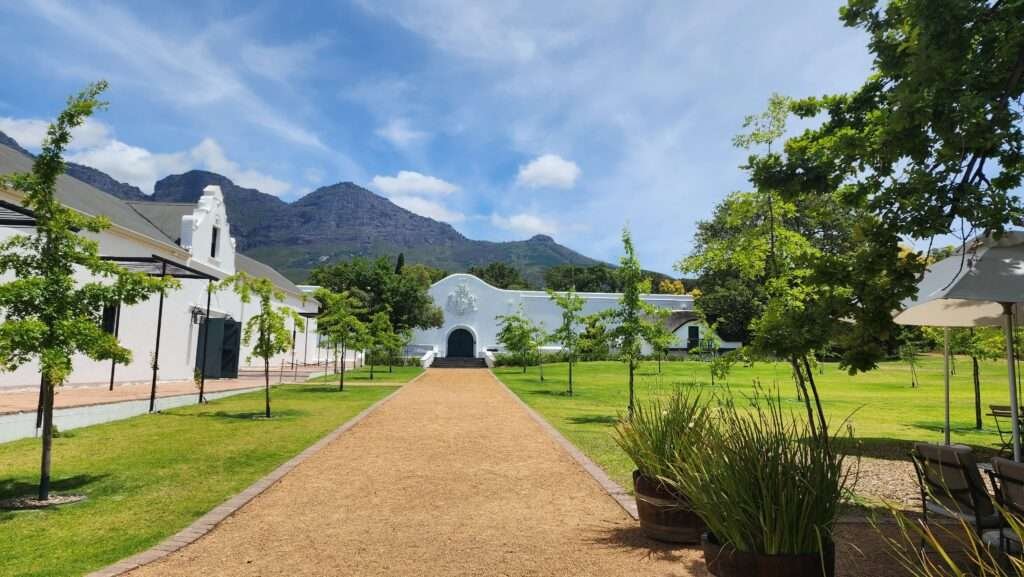 Highlights of Plaisir Wine Estate
Wine and gin tasting
Seating under ancient oak trees, with Simonsberg Mountain as a backdrop
Artisnal nougat and fudge wine pairings
Craft beer and cheese platters
Family-friendly bistro restaurant
Mountain bike trail
Free WIFI
Tastings at Plaisir
Wine Tastings
Tastings and platters are served in a stylish setting in the garden, under the ancient oak trees. Alternatively you can enjoy tastings in the Tasting Room, an old barn built in 1823. We thoroughly enjoyed the flagship tasting, which included the Grand Plaisir, Cabernet Franc, and Shiraz.
Feeling hungry? There are also cheese and charcuteries boards available to enjoy.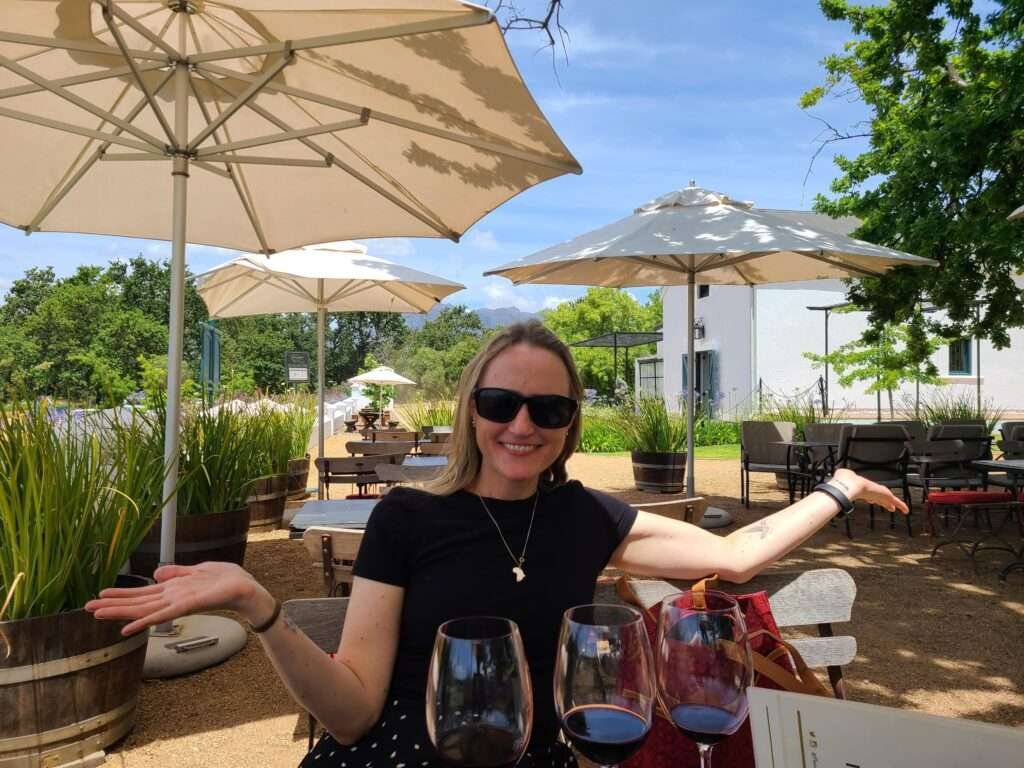 The backdrop of the Simonsberg Mountain makes for a very picturesque setting. Purple flowers frame the mountain beautifully and provide a tranquil atmosphere.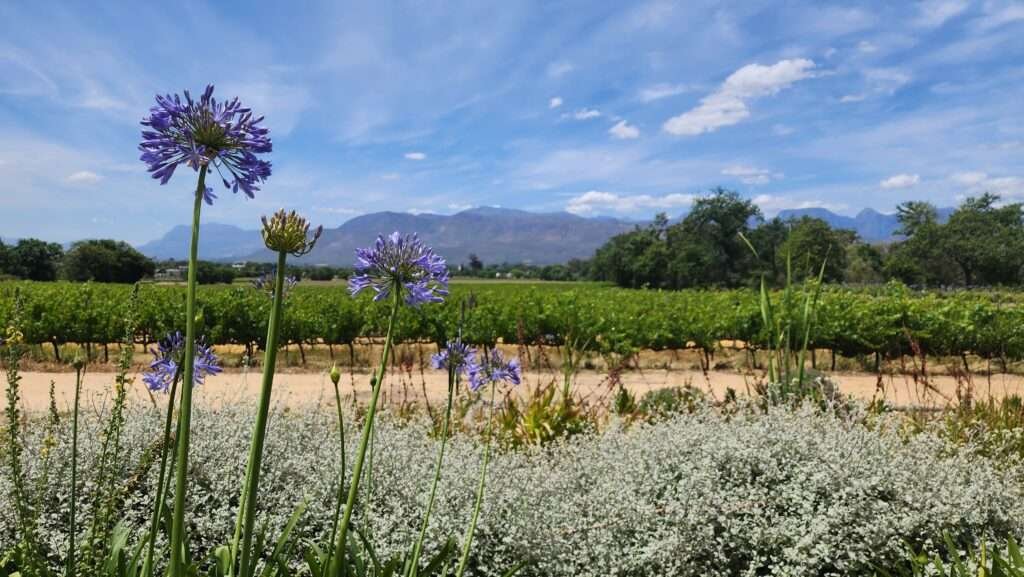 Tempest Gin Tasting
Just like with Bartinney Wine Estate, I was initially attracted to Plaisir for their Tempest Gin Tasting. The pale yellow straw appearance of Tempest Gin is the result of fresh botanicals coming in to slight contact with French oak barrels during the production process. At Plaisir you can order a gin served with tonic water or a variety of other combinations, such as the following:
The Refresher (Gin, Soda Water, lemon syrup and fresh mint)
The French 75 (Gin, Grand Brut and fresh lemon juice)
La Pasion (Gin, fresh passionfruit and syrup, sugar and topped with Grand Brut Cap Classique
Wine by the glass and craft beers
For those who don't want to do an entire wine tasting, an alternative option is to order wine by the glass or try one of the Devils Peak craft beers available.
Plaisir Wine and Gin Bar, Stellenbosch Town
Situated just a stones throw away from Bartinneys Wine and Champagne Bar on bird street in Stellenbosch, is the Plaisir Wine and Gin Lounge. Wine bottles, Tempest Gin cocktails and seasonal sharing platters are available for purchase. It's even possible to hire the venue for a special occasion such as a wedding or birthday celebration. Also keep up with any news or events by following their facebook page.
The deli / restaurant
The bistro eatery has an extensive menu, offering a great variety of baked goods from flaky croissants and tasty farm breakfasts to lunch options such as pizza, hamburgers, soups and cheese platters. The estate recognizes the importance of family and invites children to join. If you have a sweet tooth like me, you will love their takeaway cookie options also!
Accomodation at Plaisir Wine Estate
Although we did not stay over at Plaisir, they offer five executive sweets at the Manor. Each suite has its own unique charms and furnishings. If you're wanting a swim or a walk, the suites have access to the serene infinity pool and the Plaisir trails.
Other activities at Plaisir Wine Estate
The 14km trails affords visitors a bike ride, walk or run through native Cape fynbos. Keep an eye out for the many bird species in the region, as well as small buck. For the thrill-seekers, there is a 1km flow trail, which is basically a mountain bikers version of a roller coaster. Bikes are also available for rental at the on-site trail center.
How long should you spend at Plaisir?
This really depends on what you want to see and do while there. The Franschhoek Wine tram allows a 45 minute – 1 hour stop at this estate (every tram route has unique time tables so be sure to check this ahead of time).
If you're just there for a tasting, I feel one hour is enough time.
However, definitely set more time aside if you want to also enjoy a meal at the bistro.
---
Plaisir is an absolutely beautiful stop in the Cape Winelands and hopefully it will leave you as enthralled as I felt.
Looking for other wine estates to visit in the region? Read more about them below: