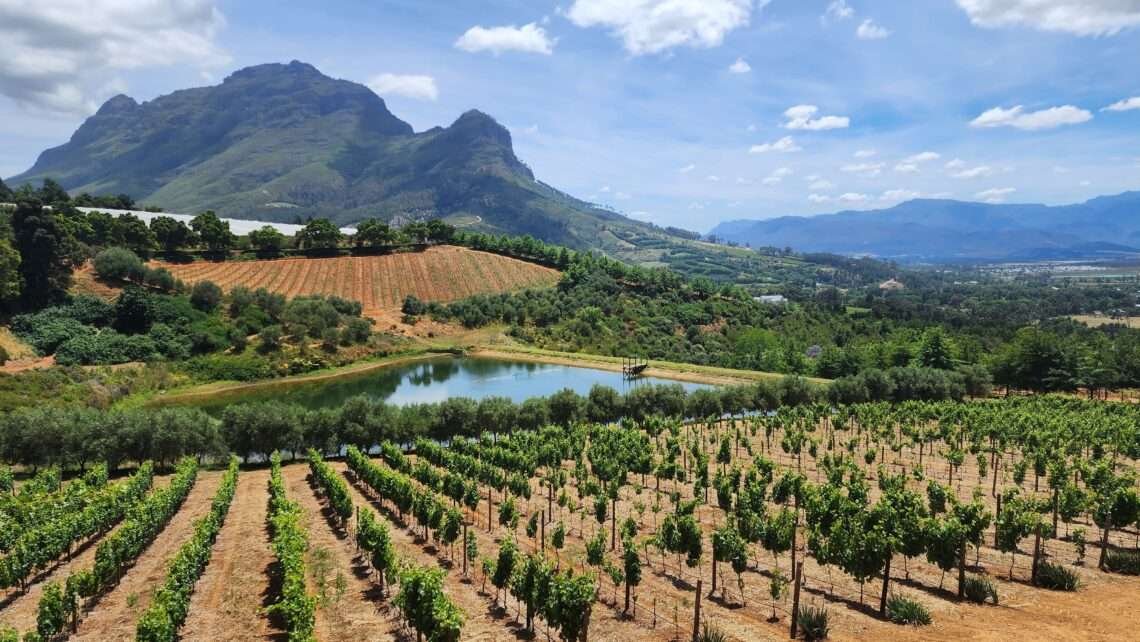 Bartinney Wine Estate, situated in the Cape Winelands region of South Africa, is a gorgeous estate overlooking the Banhoek Valley in Stellenbosch. Renown for having 'the best view in the valley', it lives up to this reputation and left me mesmerized. The estate produces exceptional wine of the Sauvignon Blanc, Chardonnay and Cabernet Sauvignon variety.
Bartinney was our second stop on the navy route of the Franschhoek tram tour, a stop we chose simply because of the Tempest Gin Tasting on offer. Little did we know how pleasantly surprised we would be by this stunning location.
Highlights of Bartinney Wine Estate
Wine and Gin tasting
Unique, innovative wine-and-fynbos tasting (bookings essential)
A terrace with unrivalled views of the valley
Craft beer, soft drinks and individual wine glass orders
A varied menu serves items such as gourmet cheese and charcuterie boards, biltong, olives, and ciabatta with olive oil
Sunset views
Walk-ins accepted (reservations only required for 20 people or more)
Tastings at Bartinney
Wine tastings at the Tasting Shed – R85 / $4.5 for a selection of 3 wines.
The gorgeous double-aspect space of the Tasting Shed has a terrace with panaromic views over the scenic valley and Simonsberg Mountain.
Sip on a glass
If you prefer, relax, admire the view and sip a glass or two of wine on the terrace.
Further information about tastings & wine at Bartinney
To accompany the wine, Bartinney offers To accompany the wine, Bartinney offers a selection of locally sourced snacks, including cheese and charcuterie platters and delicious biltong.
Top Tip: If you visit on a Friday, they stay open later than usual so you can witness an impressive sunset over the valley. Also keep up with any news or events by following their facebook page.
Wine purchases within South Africa can be made here. For International purchases in the EU, visit CAPREO, an online specialist for high-quality and hand-picked wines from South Africa.
Fynbos and wine pairing
Furthermore, an innovative tasting is also on offer, which includes the three estate wines alongside native fynbos grown on the farm. Fynbos is a type of vegetation that you only find on the southern tip of Africa and includes a wide range of plant species, particularly small heather-like trees and shrubs. The fynbos and wine pairings happen daily at the Tasting Shed on the estate and bookings are essential. When in Rome…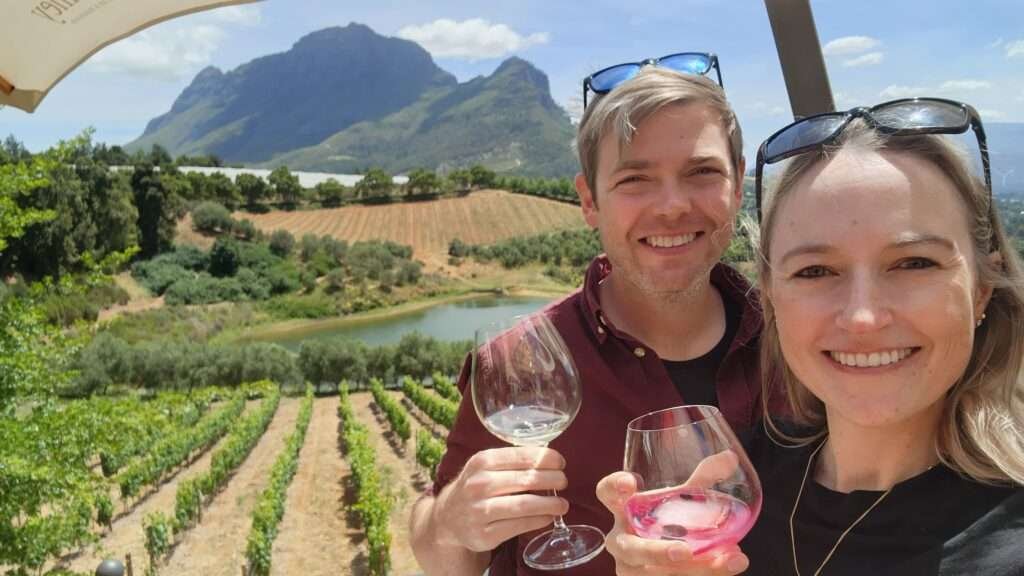 During harvest, the fruits are carefully hand picked from the 25 year old vines. Similarly, the Bartinney wines are made with care, in a traditional and gentle manner. The wine bottle labels represent this personal touch. The winged figure on each label is called 'Elevage'. This symbolises the 'French art of the selective maturing and ascension of a wine to its ultimate heights, unfurling its most noble traits. '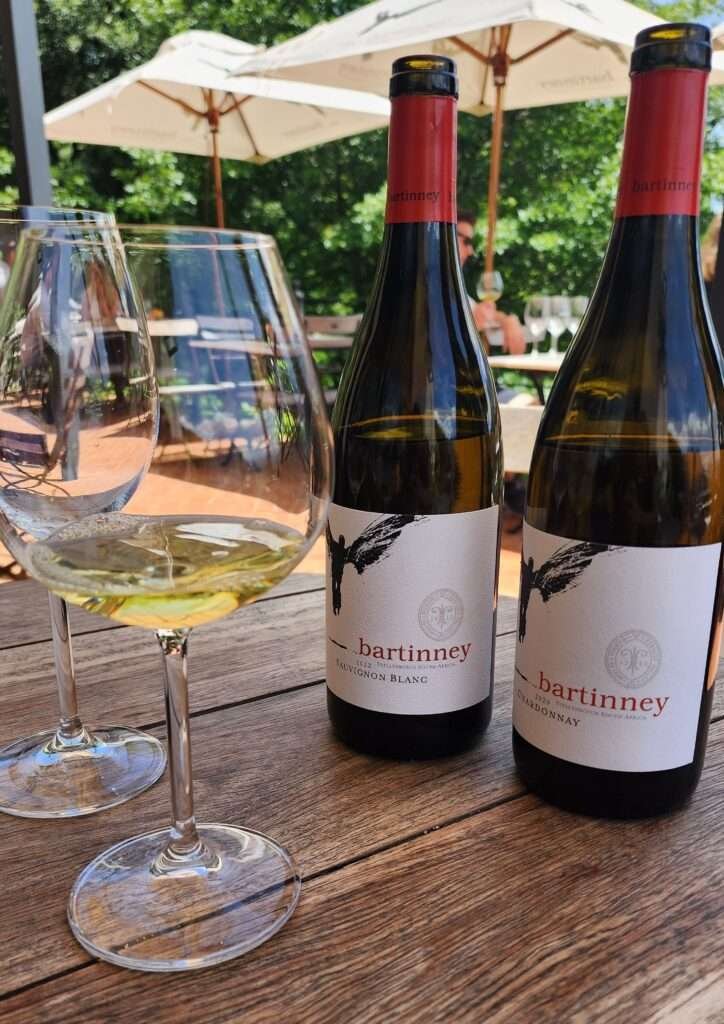 Tempest Gin Tasting
Not a wine lover? Fear not! That is because the estate offers the Tempest Gin Tasting – 'Taste the Seasons'. The pale yellow straw appearance of Tempest Gin is the result of fresh botanicals coming in to slight contact with French oak barrels during the production process.
Moreover, berry, cinnamon and citrus infused iceblocks pair with the Gin and either a hibuscus or honeybush orange tonic water.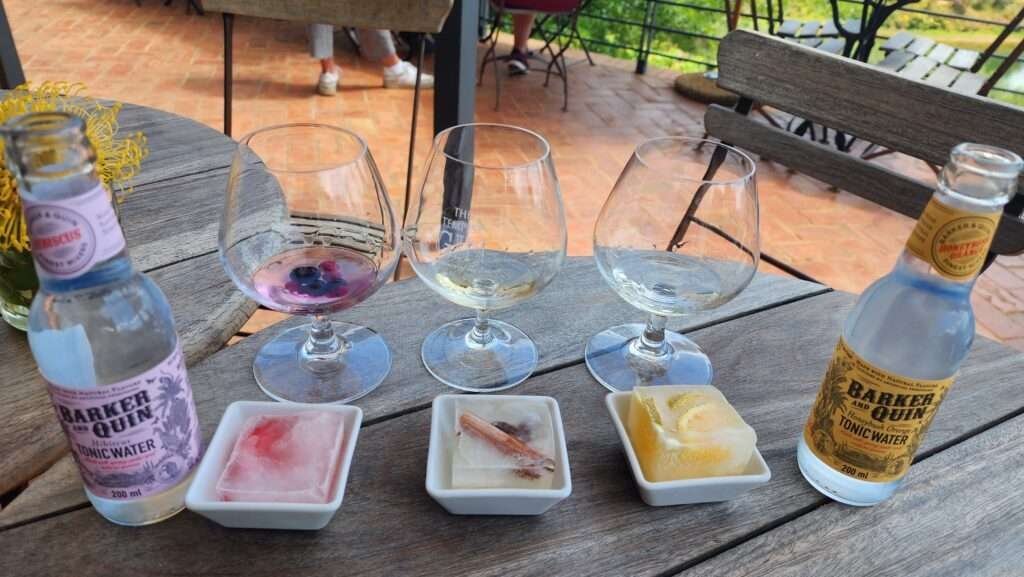 Important tip: Bartinney is a cash-free environment, so make sure you have your card ready! The estate accepts SnapScan, debit and credit cards.
Do you need to make a reservation at Bartinney for tastings?
Reservations are required for large groups of 20 people or more. All enquiries to be sent to tastingshed@bartinney.co.za.
Bartinney Wine and Champagne Bar, Stellenbosch Town
Quite the happening spot, the Bartinney Wine and Champagne Bar is located in central Stellenbosch, along bird street. The interior is adorned with a stunning chandelier crafted from old vines.
The venue serves both Bartinney Estate and Noble Savage wines. These tastings are also accompanied with a selection of meat and cheese boards if you wish.
Accomodation at Bartinney Wine Estate
Although we did not stay over at Bartinney, they do offer four beautiful self-catering vineyard cottages.
Contact Information: enquiries@bartinney.co.za
Contact Information: Tel: +27 21 885 1013
Alternatively, it's possible to make a reservation through airbnb.
Other activities at Bartinney Wine Estate
For the more adventurous, hiking, running and mountain bike trails pass through the Banhoek conservancy at the estate.
How long should you spend at Bartinney?
This really depends on what you want to see and do while there. The Franschhoek Wine tram allows a 45 minute – 1 hour stop at this estate (every tram route has unique time tables so be sure to check this ahead of time).
I felt that one hour was enough to enjoy a tasting, although I would have liked more time to just wander the estate.
Based on this, I would suggest making sure you have about 1.5 – 2 hours to enjoy a leisurely time at the estates Tasting Shed. This timing of course varies, especially if partaking in more than one tasting, additional activities and so on.
---
I am still spell-bound by Bartinney and highly recommend it on your list of must-visit wine estates of the Cape Winelands.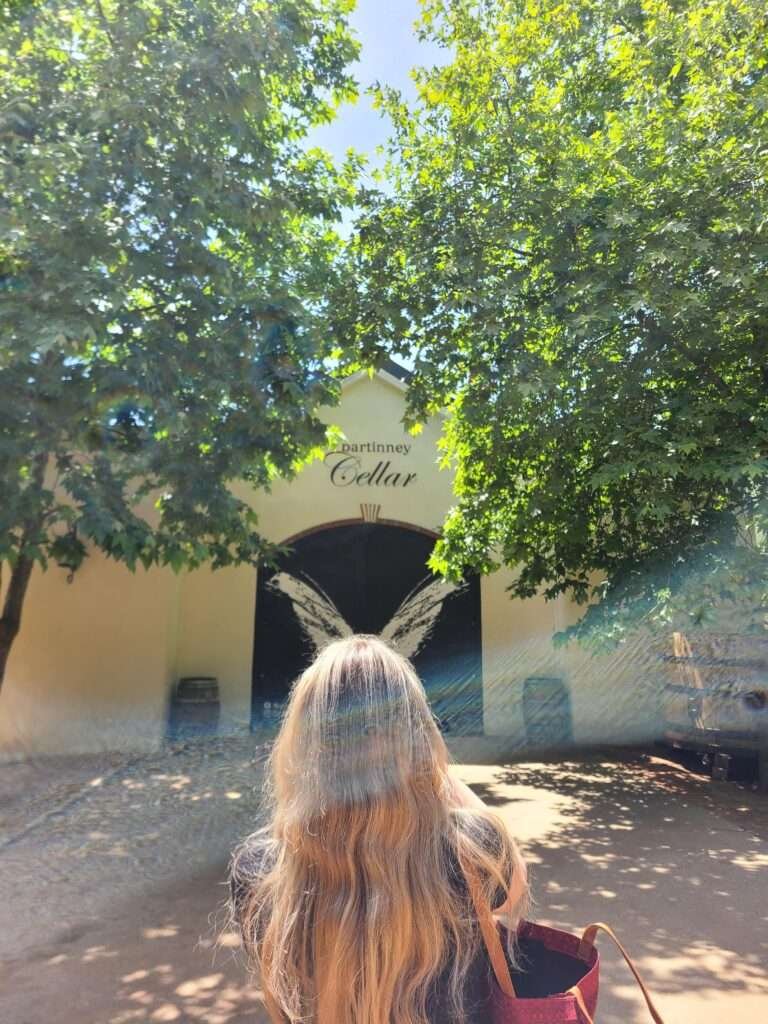 ---
Looking for other wine estates to visit in the region? Read more about them by clicking on the images below: