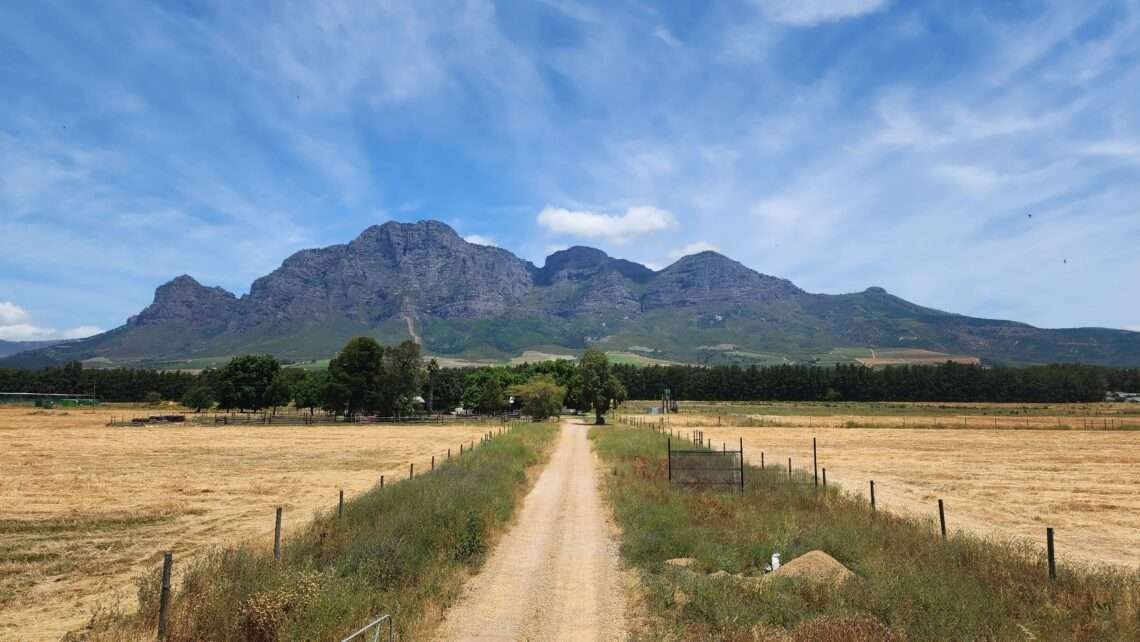 The Cape Winelands: A Wine Tasting Guide
The Cape Winelands are a series of valleys lying along the continuous belt of the stunning Cape Fold Mountains, approximately 40km East of Cape Town. Situated in the Western Cape Province, the Cape Winelands are South Africa's main wine making region. In fact, about 70% of South Africa's wine comes from this area. The winelands are known for their scenic beauty, historic towns, Cape Dutch architecture, and excellent wines and food.
Traditionally considered to be centered around the towns of Franschhoek, Stellenbosch and Paarl, there are in fact many more wine routes in the Western Cape. Some of the most well known regions in the Cape Winelands include Tulbach, Worcester, Breedekloof, Robertson, Durbanville, Paarl, Franschhoek and Stellenbosch.
The map below shows the most popular and well-known regions of the Cape Winelands.
Let's dive a little deeper in to the Cape Winelands! Keep reading to find out more about this magnificent area in South Africa.
The Wines of the Cape Winelands
The perfect climate and highly fertile soil of the region produce the right conditions for viticulture, which is the cultivation of grapes for wine making. Generally, the red wines you will find are Cabernet Sauvignon, Syrah, Merlot and Pinotage. White wine options include Chardonney, Chenin Black and Sauvignon Blanc.
How to get to the Cape Winelands
Most of the well-known destinations are within a 20 minute – 2 hour drive of Cape Town International Airport. The roads are excellent and self-driving is a viable option. Of course, this isn't practical if you plan on sampling a lot of wine. Alternate options for navigating the winelands include public transportation with City Bus Lines, the famous Franschhoek Wine Tram Route, Uber or Bolt.
What to do in the Cape Winelands Region
Wine tasting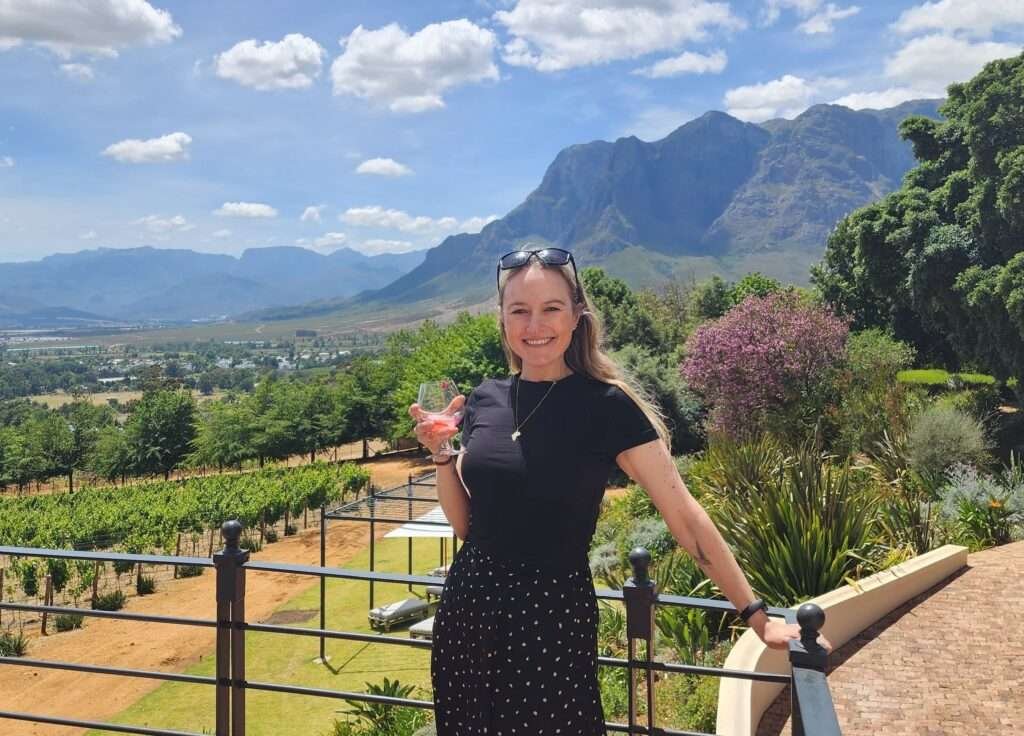 From rustic and more casual, to chic and sophisticated, there are wine tasting rooms for everyone. In addition, the area affords visitors breathtaking views over valleys against the backdrop of magnificent mountains, all while enjoying the tastes of the Cape Winelands. In fact, it's not just wine on offer. There are also beer, gin and brandy tastings that are just as enjoyable. Tastings are accompanied by friendly and knowledgeable staff who provide you with a fascinating history of the farm and its wines.
The wine tastings have incredible pairings with options of cheese, nougat and chocolate to name just some of them. Most of the estates also have on-site restaurants, offering well-presented meals or snacks, wine by the glass and other alcoholic beverages. For those who prefer, there are also non-alcoholic drinks available to select from.
The best part? Compared to other places I have visited, the tastings and wine won't even leave a huge dent in your budget. Great taste, budget friendly and gorgeous scenery. A perfect combination that makes the Cape Winelands irresistable.
Enjoy the scenery
The scenery at the Cape Winelands is phenomenal. Some of the estates have walking paths where you can get magnificent views of the valleys and mountains. I even visited a wine estate with a beautiful rose garden that you can wander through, while enjoying a glass of wine. Honestly, every place I saw blew me away with its surrounding beauty. Nevermind the amazing wine, the estates are all worth a visit even just for the scenery alone.
Explore the picturesque towns and learn some history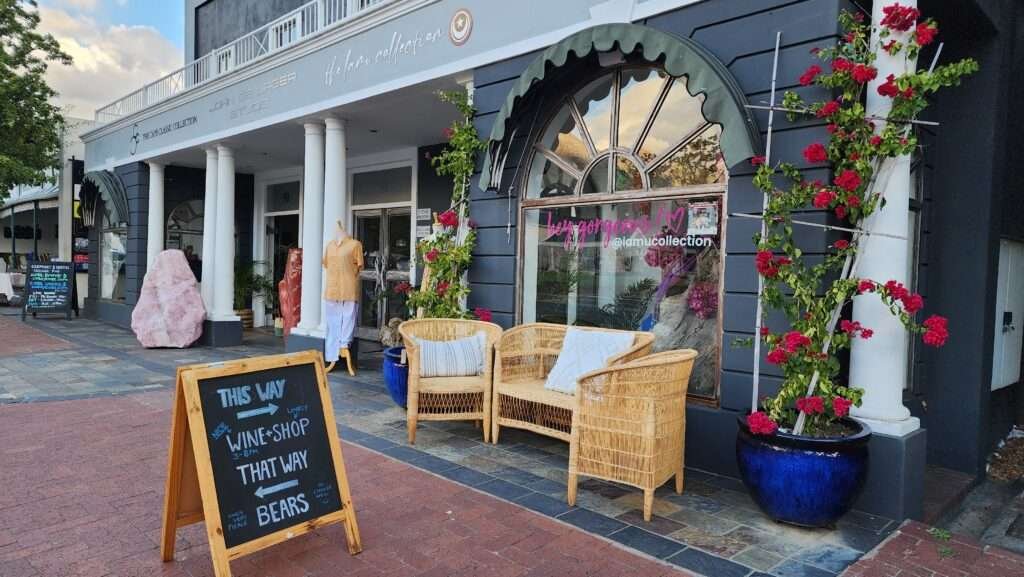 The region also comprises of numerous picturesque towns with interesting history, such as Franschhoek, Gouda, Ceres, Paarl, Stellenbosch and Robertson, to name just a few. What's more, you can learn about South African history and the origin of the wineries through historical tours of museums and monuments. Self-guided audio tours are also available for download to help you along the way.
Restaurants
The winelands are renown for being a gourmet feast for foodies, with Franschhoek often considered the gourmet capital of South Africa. The topography, climate and soil conditions of the Cape Winelands are perfect for producing fresh high-quality food products. This farm-to-table experience is the pride of many of the estates restaurants.
Weddings and events
Have a special event or a Wedding to celebrate? Head to the Cape Winelands where many of the wine estates cater for such occasions. From intimate settings to large banqueting venues, the mountains and rolling vineyards provide the perfect backdrop to any event!
Other outdoor activities
Not just for the wine lovers, there are also great mountain biking and hiking routes in the area, strawberry picking and local farm experiences. Some estates even offer picnic baskets for you to enjoy in the scenic landscape, often paired with your selected bottle of wine.
When To Visit The Cape Winelands
This is always a difficult question to answer because it really depends on your preferences. Unfortunately, visiting a place more than once to truly experience the different atmospheres across the seasons is not always feasible. Hopefully this brief explanation will help you decide when to visit.
South Africa, being in the Southern hemisphere, has a seasonal pattern as follows:
Autumn: April – May
Winter: June – August
Spring: September – November
Summer: December – March
Autumn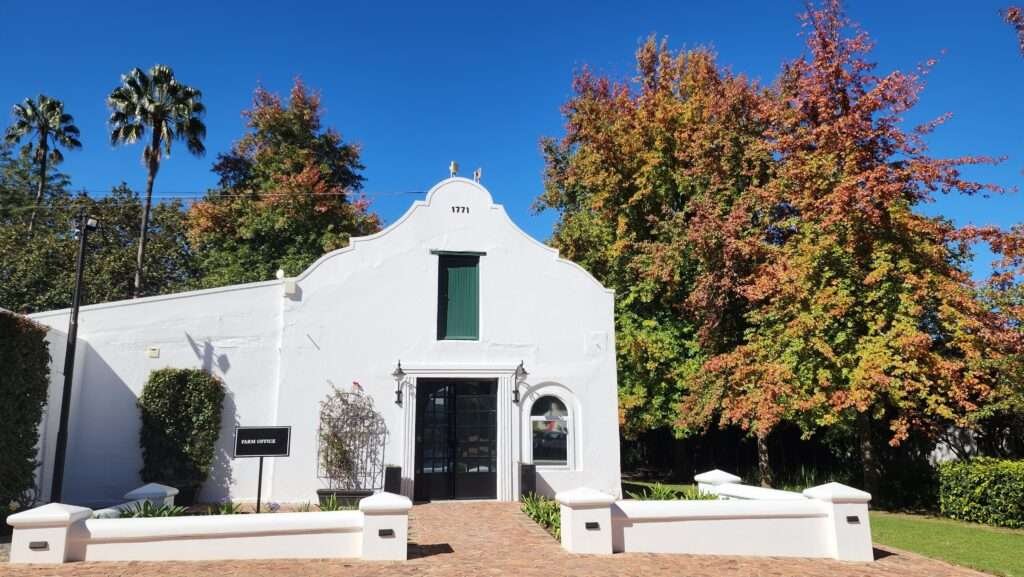 Colorful foilage adorns the estates. The green grapevines turn in to stunning hues of red, orange, yellow and brown. Temperatures are cooler, with an average range of 10°C (50°F) – 20°C (68°F).
Winter
Heavy rains, strong north-westerly winds and low temperatures embrace the region. On average, temperatures can be as low as 7°C (44°F) and reach a high of around 16°C (61°F). Despite the unappealing sound of winter, it can be absolutely beautiful this time of year. Scenery is even more picturesque during the occasional snowfall on the surrounding mountains. Cosy dinners and a glass of wine by a warm fire set the scene just right for a winter visit to the winelands.
Spring
Warmer temperatures, spring flowers and budding green foilage cloak the landscape. Average temperatures range from 10°C (50°F) – 20°(68°F). A bonus of visiting in Spring is that it is considered a 'shoulder season' in Cape Town and the winelands. As such, there are less crowds, traffic and queues to deal with.
Summer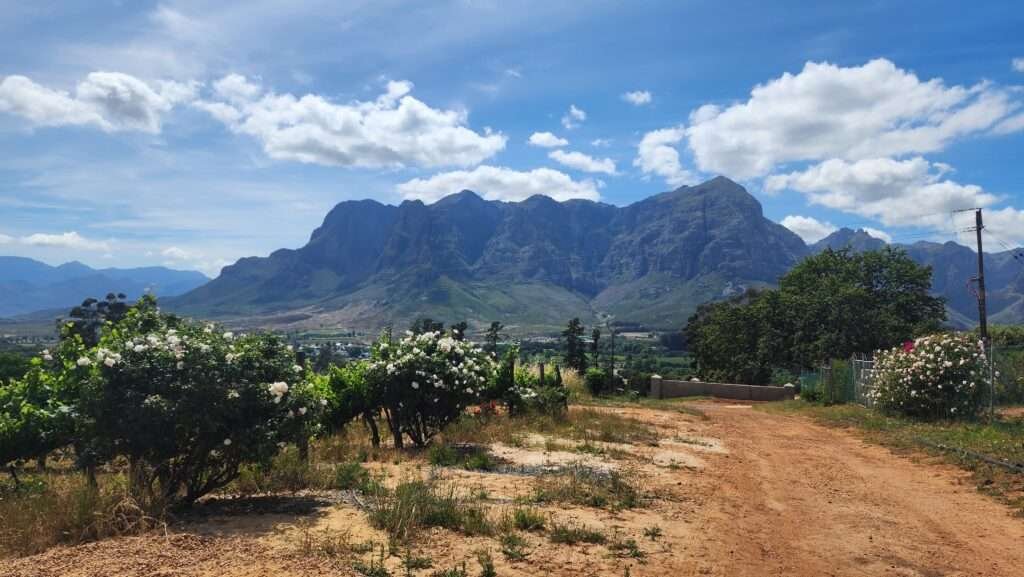 Summer is my personal favorite. Unfortunately, it's also the period that most travellers visit Cape Town. Consequently, the winelands are more crowded with tourists during summer compared to other seasons. However, all with good reason! Warm, blue skies and dry days with little wind attract travelers from South Africa and all over the world. Gorgeous overgrown green foilage dots the land. Furthermore, the vineyard harvest season peaks in February and March. Average temperatures range from 15°c (59°F) to 25°C (77°F). Be warned thought, it can get HOT! Places like Paarl, Stellenbosch and Franschhoek can reach the high 30's (98° – 102°F) or 40's (105°-107°F) on a summers day!
Regions of the Cape Winelands
The Cape Winelands are host to award-winning wine routes. A 'wine route' is a term used for an organized network of wineries that a tourist can travel through. These wineries are open to the public and include tastings and wine sales. While some estates focus on high end luxury, there are others that offer local down to earth hospitality and services. Every wine route is incredible, but for the purposes of this blog I will be focusing on four of the more popular routes: Constantia, Paarl, Stellenbosch and Franschhoek.
1. Constantia Wine Route
The closest wine region to Cape Town's center, just a 20 minute drive away, is Constantia. It is South Africa's oldest wine region and boasts beautiful estates, from traditional homesteads to new boutique wineries. Of particular interest to the history buffs, the very first South African wine farm, Groot Constantia finds its spot in this region. Owing to the climate in the area, white wine production is more prevelant here, particularly Sauvignon Blanc and other dessert wines. It's definitely worth a visit if you are pressed for time and don't want to travel further out of Cape Town to the other estates in the Franschhoek or Stellenbosch area.
2. Paarl Wine Route
Located about an hours drive from the center of Cape Town, the Paarl wine route is most famous for its chenin blancs and reds.
It's a pity that the region is often overshadowed by the allure of wineries in other areas of the Cape Winelands because there are so many charming wine estates to be found here. Did I mention goats and cheese yet? That's right! Paarl is host to one of the most well known (also one of my favorites!) estates, Fairview. The two resident goats are as big an attraction as their wine! Click on the image below to read more about this delightful estate on the slopes of the Paarl mountains. Other notable wine estates in Paarl are also listed below.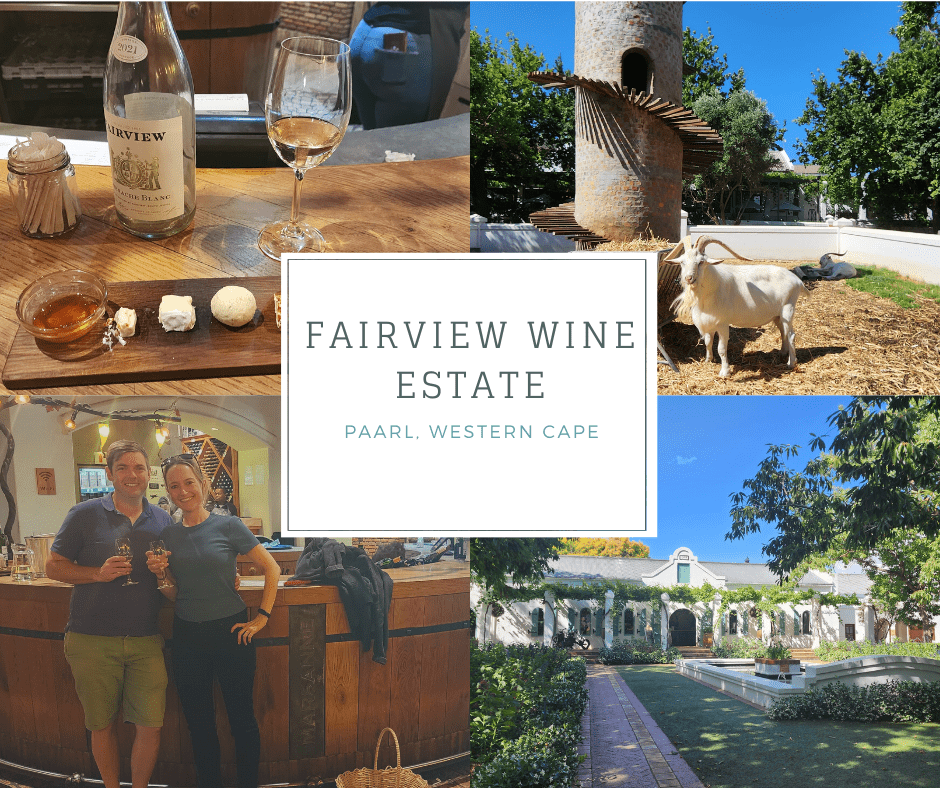 How long should you spend at the Paarl Wine Route?
With so many exquisite estates to choose from, I would suggest making the town of Paarl a base for a night or two to properly explore this part of the Cape Winelands. Take note that Paarl isn't just for wine enthusiasts. If you're traveling with children, its a great little town with so many attractions suited for family travel. There's so much to see and do within the town itself, such as the Butterfly World, Alpaca Loom Coffee Shop and Weaving Studio and the Spice Route.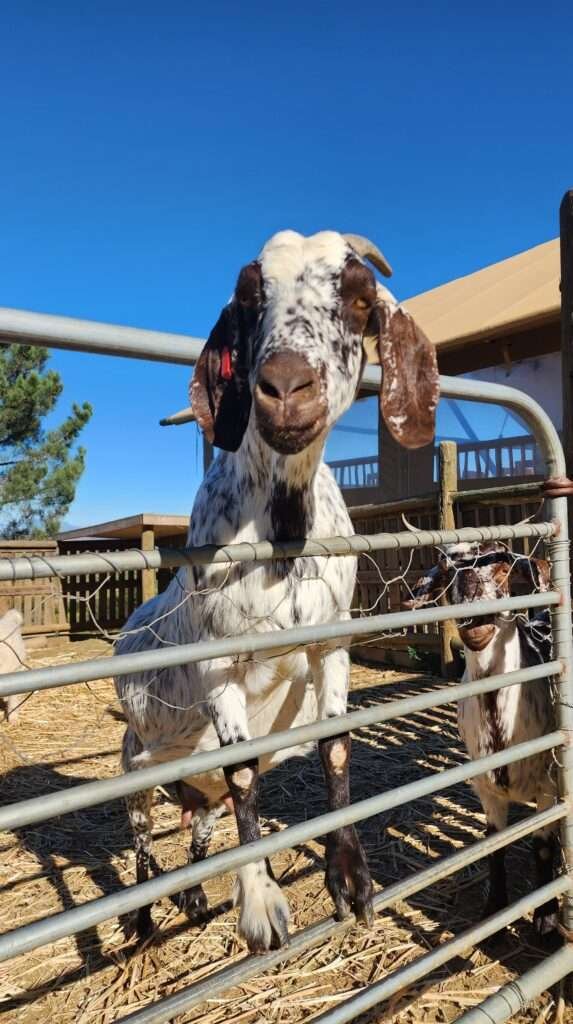 3. Stellenbosch Wine Route
Also located within about an hours drive from Cape Town is the Stellenbosch Wine Route, home to a large number of gorgeous wine estates. Renowned for the quality of their Cabernet Sauvignon, Merlot and Bordeaux Blends, the vines stretch from high up in the hills to the valleys below.
The region is South Africa's first recognized wine route, established in 1971. It is is also the birthplace of the Pinotage varietal, a cross between the Pinot Noir and Cinsault grapes. Look out for this uniquely South African wine during your trip to the region.
Believe it or not, the Wine Estates are not just about wine!
Some wine estates, such as Spier Wine Farm, can take up a whole day just by themselves. They offer Segway tours, grape juice tasting and walking tours that include tastings of tea, Cape sweets and beef snacks, all while learning interesting history tidbits of the area. In addition, visitors can enjoy flight displays and interaction at the Eagle Rehabilitation Center, 'Eagle Encounters'.
How long should you spend at the Stellenbosch Wine Route?
As with the Paarl route, I strongly recommend making the town of Stellenbosch a base for your exploration of the region. I suggest spending at least two full days, or more if you can, in Stellenbosch because it's a large area to get around. Truly experiencing some of the wineries takes time to really enjoy. There are just too many enticing options to pick from!
Stellenbosch Town
Besides the wineries in the region, Stellenbosch is one of the oldest and most famous towns in South Africa. It is also home to the prestigious University, Stellenbosch University. It's absolutely worth taking a day or two to wander the oak-lined streets, admiring the Cape Dutch architecture.
Quaint, stunning little cafes, boutiques and art galleries dot the streets, along with a myriad of museums and other places of interest. Furthermore, you can find the famous Oom Samie se Winkel (or, in English, Uncle Samie's Shop) in Dorp Street. The shop houses traditional sweets, African curios such as ostrich eggs, as well as antiques.
Wine Estates along the Stellenbosch Wine Route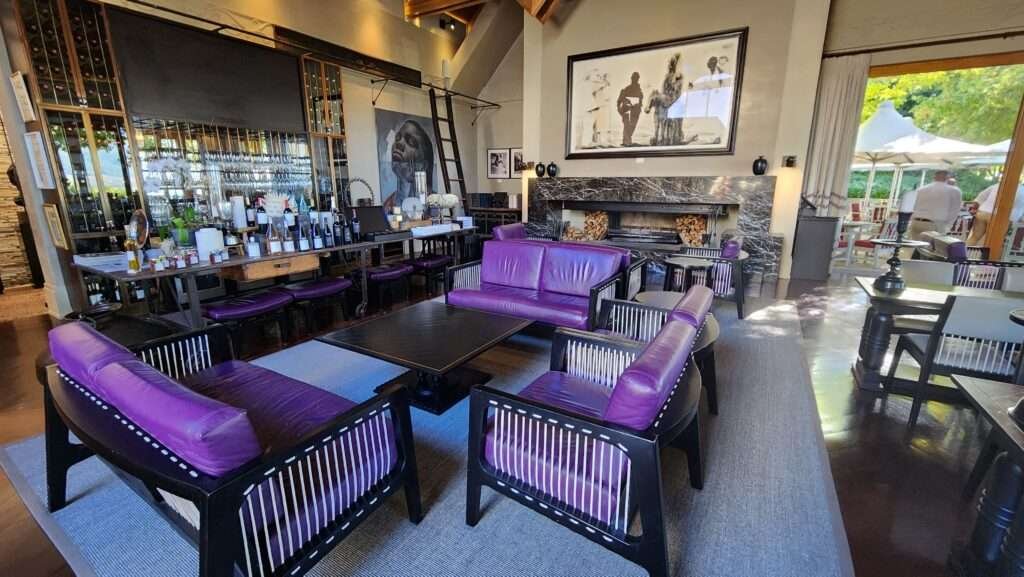 It's almost impossible to choose which estate to visit in the Stellenbosch area, as each estate brings something unique and spectacular to the table. My best advice? Do research ahead of time – see which estates need reservations, what's offered on site, cost and then JUST GO. I promise that no matter which estate you choose, it will leave you spell-bound (and perhaps a little wine tipsy!).
Click on the images below to read more about my two personal favorite estates along the Stellenbosch Wine Route, Bartinney and Tokara and !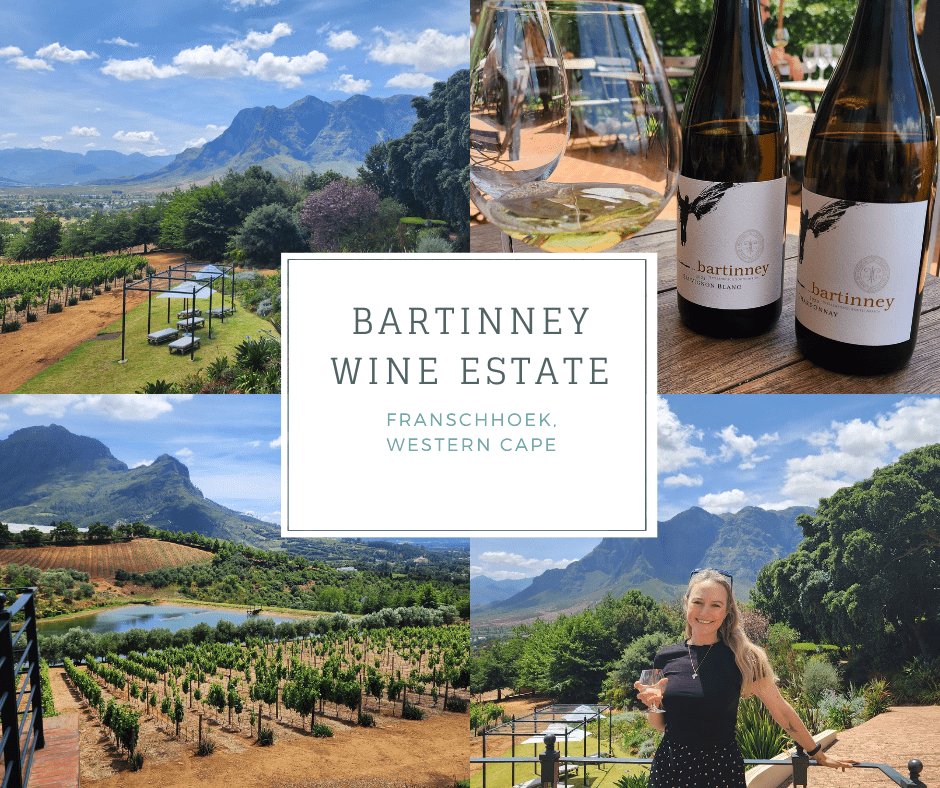 Stellenbosch is also home to some gorgeous boutique estates. To read more about them, click on the image below.
The ever popular Delaire Graff Estate is also in the region. This luxurious estate has an elegant ambiancee and the views are incredible!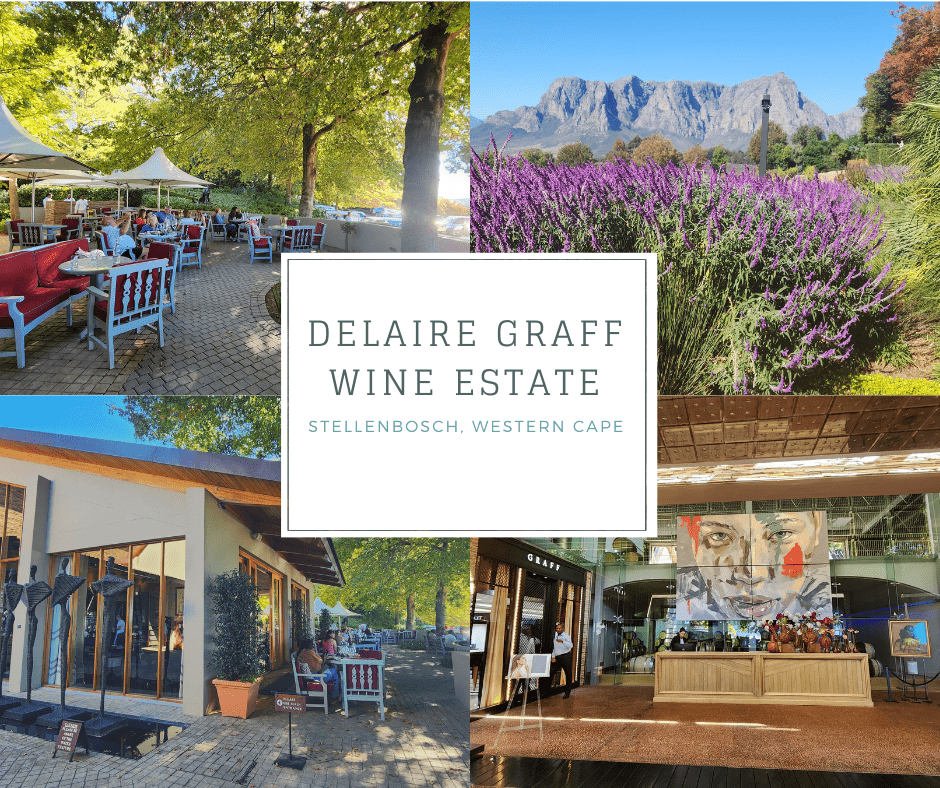 4. Franschhoek Wine Route
Less than an hours drive from Cape Town is the Franschhoek wine region, a place I consider the best wine experience in South Africa! From humble, rustic estates to boutiques and big-names in the industry, the region is teeming with the most stunningly beautiful wine estates and scenery. Franschhoek's full-bodied red wines include Shiraz and Cabernet Sauvignon. The region also produces a Chardonnay – Pinot Noir blend of Cap Classique sparkling wine
The tradition of growing grapes and making wine in the Franschhoek region came from the settlement of the French Huguenot refugees as far back as 1688.
Hop-on Hop off Franschhoek Wine Tram
Hands down, the Franschhoek Wine Tram Tour was top of my list of things to do in Cape Town and one of the most memorable experiences. In fact, it's a combination of a tram and an open bus. Owing to the trams limited access, the open bus was incorporated so that more estates could be added to the route. Yes, you can self-drive but let's face it – nobody wants to be designated driver on a wine trip! The tram also adds a touch of charm and convenience that other options won't give you. With 10 different wine routes to choose from, there's something for everyone.
To get more detailed information about the Franschhoek Wine Tram, click on the image below.
How long should you spend at the Franschhoek Wine Route?
The biggest mistake we made on our trip was not staying in Franschhoek town and exploring the wine estates from that base. I feel like even 2 or 3 days is not enough to really embrace and experience the region. If you have the luxury of money and time on your side, definitely try spend around 4 or 5 days in the Franschhoek area.
Franschhoek Town
Besides being host to some of the most stunning wine estates ever, Franschheok is a charming town and is considered the gourmet capital of South Africa. Other activities around Franschhoek town include the Village Market, chocolate tasting and the Franschhoek Motor Museum. The town is very small and easily walkable in a day. In fact, there is only one main street. Marvel at the arhitecture as well as the collection of antique shops and art galleries. The main street is lined with restaurants and coffee shops. You can easily spend a day in town wandering and enjoying the sights.
Wine Estates along the Franschhoek Wine Route
With so many incredible options, how does one even begin to choose? Every single estate offers something unique, with exceptional wines and breath-taking scenery. My best advice is to not rush it. We spent one full day on the Navy and Burgundy line and only got to 5 estates in that time. While I would love to write about every single beautiful estate I visited, I will be honest and say the wine was flowing by our 4th estate and my recollections aren't as great as they should be! That said, gives an excuse for another visit later!
Click on the images below to read more about each wine estate we visited during our Franschhoek Wine Tram Tour.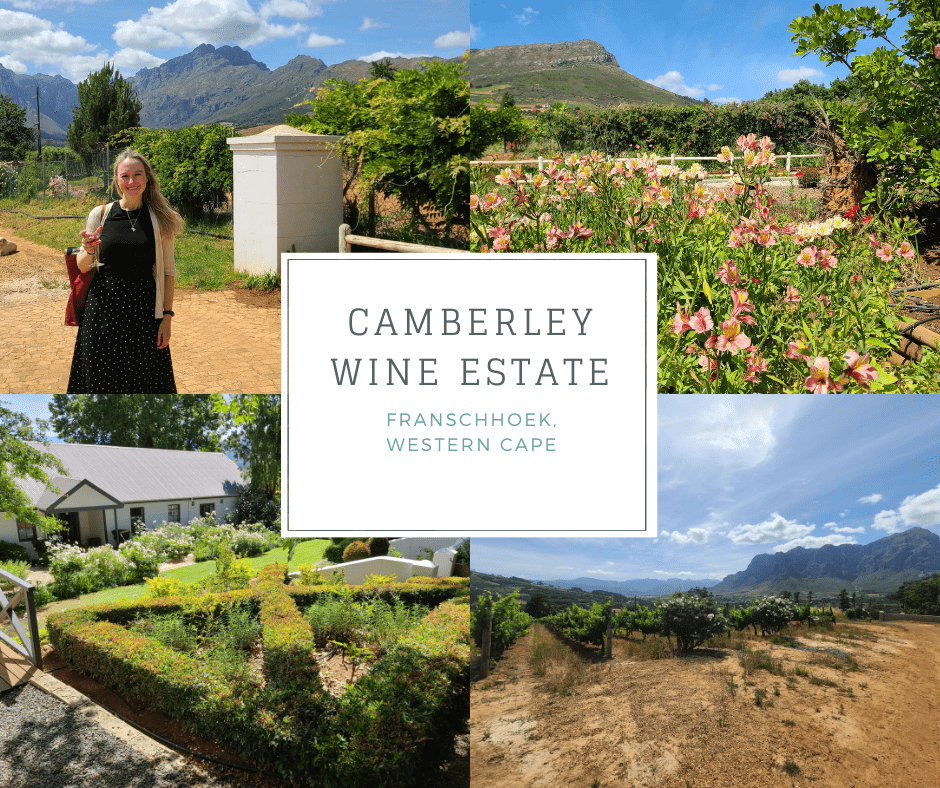 Insider tips
Reserve estate visits and wine tastings ahead of time to avoid disappointment. This is especially applicable for large groups.
Travel Slowly. On some days, I was only able to visit two estates. Some of the estates are large and offer more than just wine tasting. It's worth planning your day to savour each wine estate rather than trying to rush through and visit as many as possible.
Do not drink and drive. Make sure someone in your group stays sober, use Uber, or join an organized wine tasting tour such as the Franschhoek Wine Tram.
Pack sunscreen, hats, sunglasses. Outside of the summer season, you can still get sunburnt in the Cape Winelands.
Visit during the day. The landscape, manicured lawns, sculpture gardens and views at most of the estates are spell-binding. It's hard to enjoy these spectacles at night!
Research the food. A lot of the estates offer world-class restaurants. If you love your food, the extra effort to search when and where you want to eat will pay off.
The combination of incredible scenery, high-quality and affordable wine, fun outdoor activities, as well as quaint and historical towns, make the Cape Winelands the perfect destination for any traveler. It's an unforgettable experience you will cherish forever!