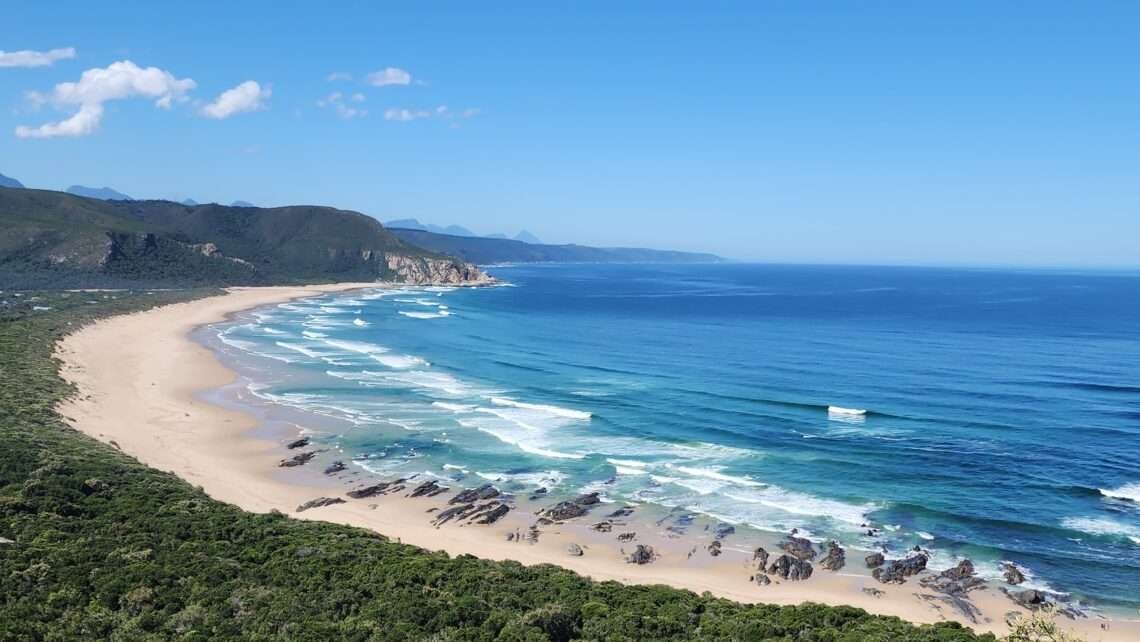 Best things to do in Natures Valley
Natures Valley is located within the Tsitsikamma National Park, which forms part of the Garden Route National Park and the Cape Floral Kingdom, a UNESCO World Heritage Site. It's a charming seaside village home to around 50 houses, mostly occupied by permanent residents. Nature's Valley boasts one of South Africa's most unspoiled and breathtaking beaches, along with incredible hiking trails across the region. However, what truly sets Nature's Valley apart is its untouched, tranquil atmosphere. Unlike some of the more touristy spots along the Garden Route, Nature's Valley has remained relatively undeveloped, preserving its natural beauty. Getting to Nature's Valley involves navigating a winding 10-kilometer road with hairpin bends. This remote and tranquil setting might be why it's still one of South Africa's lesser-known treasures.
Not only is the village, coastline and hiking trails of Natures Valley beautiful in themselves, but the surrounding area is equally spectacular! From the worlds largest free flight bird aviary to quaint farm stalls and farm stays, Natures Valley is a prime base from which to explore this region of the Garden Route.
In this blog post, I will delve into some of the best things to do in Natures Valley, along with great things to do and places to stay nearby.
The best things to do in Nature's Valley
Explore Natures Valley beach, a coastal gem
Nature's Valley Beach is absolutely gorgeous and is well loved for its pristine and unspoiled beauty. The vast expanse of sandy shore extends about 1.5 kilometers, so there's plenty space to unwind and explore the coastline. Just a heads up: stick to the designated swimming areas on this beach because it's a bit rocky. During busy times, there are usually lifeguards around. If you can, be sure to check out the sunsets here. They really are something magical!
Hike through Natures Valley's scenic trails
Nature's Valley has some beautiful trails that take you from the coast through the forest. One of the well-loved treks in the region is the Otter Trail – a fantastic multi-day hike that ends in Nature's Valley. The Tsitsikamma Hiking Trail is another great hike that passes through Natures Valley. Fair warning, though, these hikes are long and will require some fitness to complete. In addition to these multi-day trails, the region is also home to two awesome shorter day trails that offer incredible views of the coastline, lagoon and forest.
Pig's Head Trail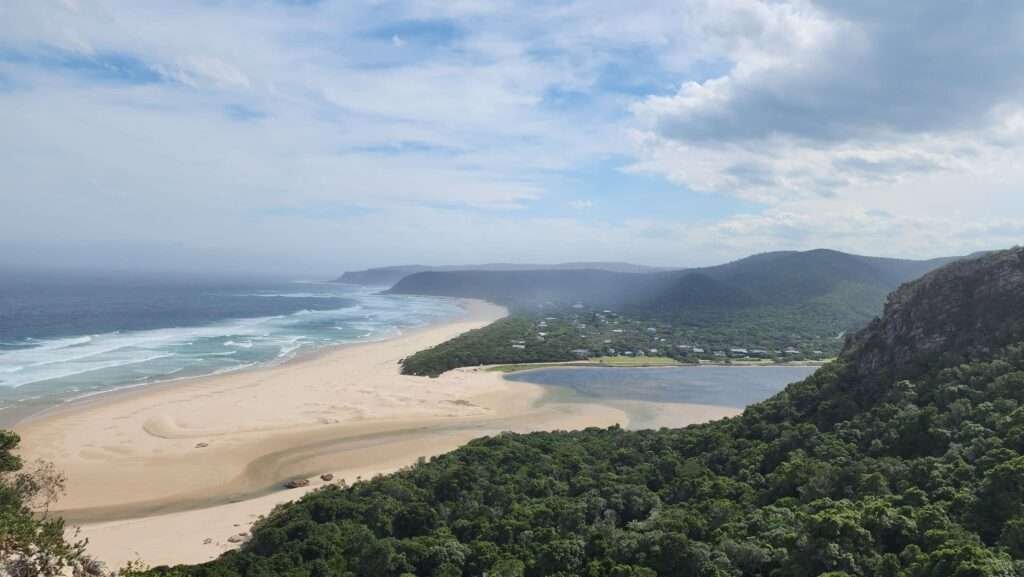 Pig's Head Trail is a scenic 2km hike through dune forests, featuring a distinctive rocky outcrop shaped like a pig's head. Starting from either the Nature's Valley Trust Center or the lagoon parking lot, the trail includes a brief, steep ascent to reach the Pig's Head, followed by a gentle descent through the forest back to the starting point. The hike offers stunning views of the beach and lagoon
Salt River Mouth Trail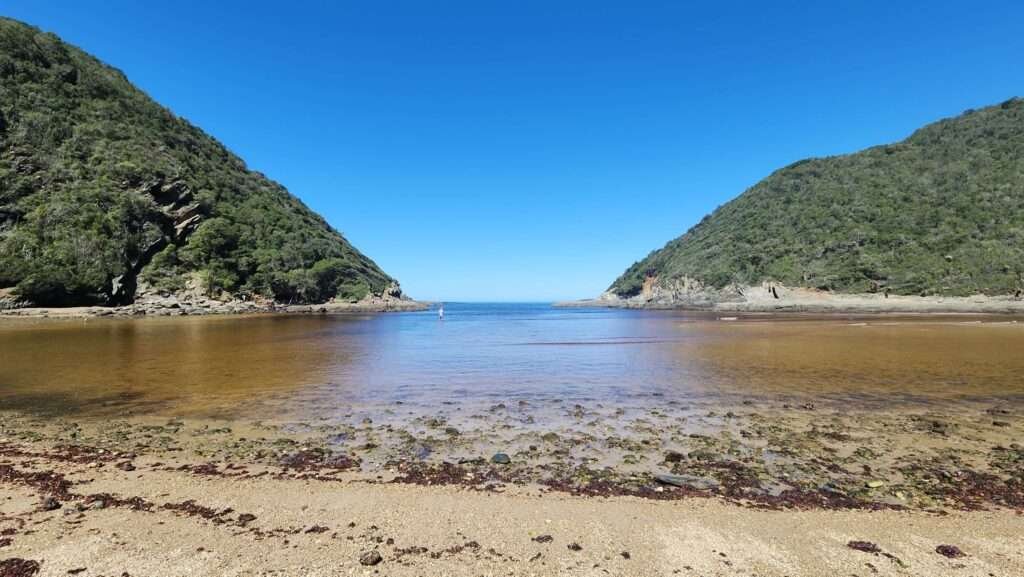 The trail is so named for its destination, which is the Salt River Mouth. This secluded and impressive beach lies just west of Nature's Valley. Because the beach can only be accessed on foot, you have to follow the 3.6km hiking trail to get there. The path is quite simple and can be done as a circular route (either clockwise or counterclockwise) or as a round trip. It takes approximately 2 – 3 hours to complete. The trail starts and ends at The Blue Rocks Cafe on the western side of Nature's Valley town, so there's convenient parking for your car.
Get your fill of good food at the Blue Rock Cafe
Although there are plenty of dining options about a 20 minute drive away, Blue Rocks is the only restaurant you will find in Natures Valley itself. The food is delicious and they are popular for their seafood, especially their beer battered fish and chips. The outdoor seating is perfect for summer vibes, and the cozy fireplace keeps you warm in colder weather. It's a good idea to book ahead during peak times, though, as it gets quite busy.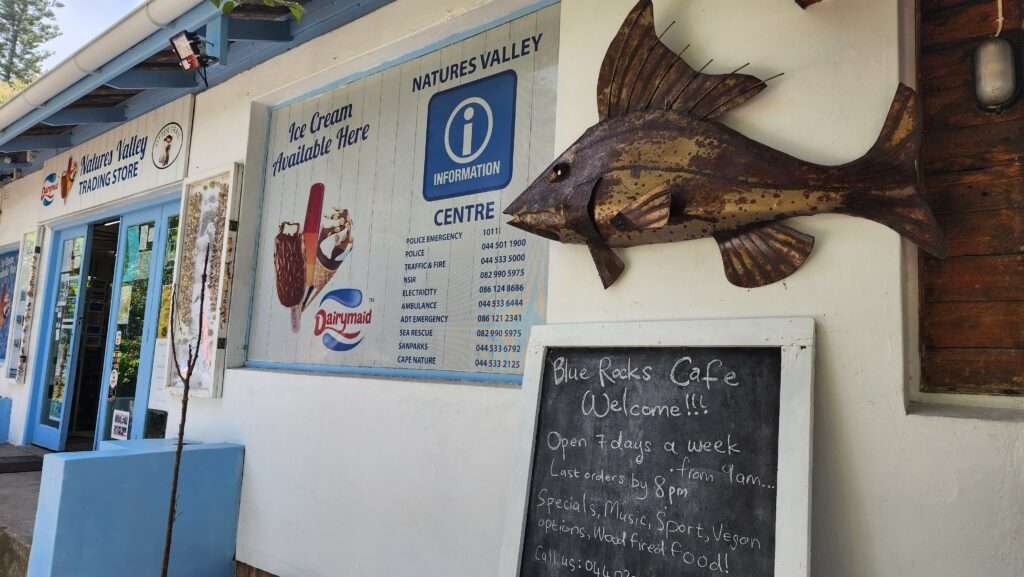 Attached to the restaurant is a tourist information center as well as a small trading store where you can buy some essentials.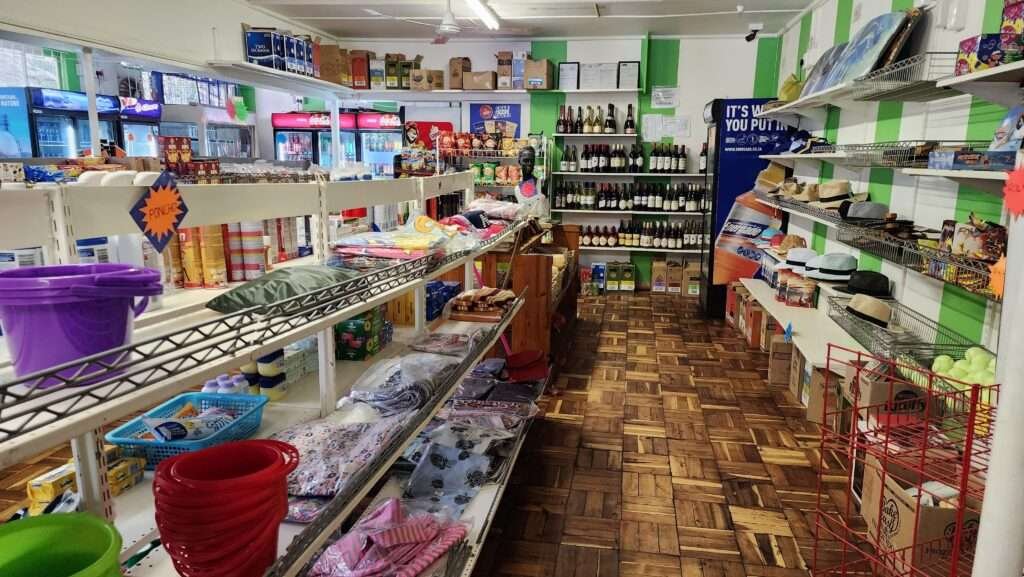 Top Tip: Keep in mind that although the restaurant and shop do take both credit and debit card, there are no ATMs available should you need cash. Also, Natures Valley is really small and the one shop has only the basics. So, if you plan to stay longer, bring enough groceries. For more shopping options, head to Market Square in Plett with a Woolworths and Pick 'n Pay, plus a Checkers across the road at Checkers FX Plettenberg Bay Mall.
The best things to do near Natures Valley
Most people come to Nature's Valley for its beach and hiking trails, but don't overlook the equally beautiful area just north of the town. Here, you'll find charming farm stalls scattered across the land, scenic hikes and a laid-back atmosphere that will make you fall in love with the region.
Farm to table delights at quaint farm stalls
Who doesn't enjoy a quick break at a beautiful farm stall while traveling? The Garden Route, especially surrounding Natures Valley, has many farm stalls that are perfect for short stops or longer visits.
One of my absolute favorites in the region is Natures Way Farm Stall. Situated on a working dairy farm, it also has a fantastic restaurant, surrounded by gardens and cow pastures against the backdrop of the Tsitsikamma mountains. Their gorgeous accommodation options and generous hospitality make this a wonderful place to take a break during a trip along the garden route.
Bread & Brew at Crags superette is equally great! It is a particularly nice spot for families with kids as there are lots of lovely farm animals to look at and a fun playground area. They also serve simple food and baked goods at the restaurant against a backdrop of quirky decor in a cosy patio area.
Thyme and Again is a small farmstall that serves light meals and drinks. They have an attached store also where you can purchase jams, biscuits, baked goods and even wine. Food and drinks are available for takeaway or sit-down in a quaint little garden. A playground area makes it a great stop for those traveling with kids.
Monkeyland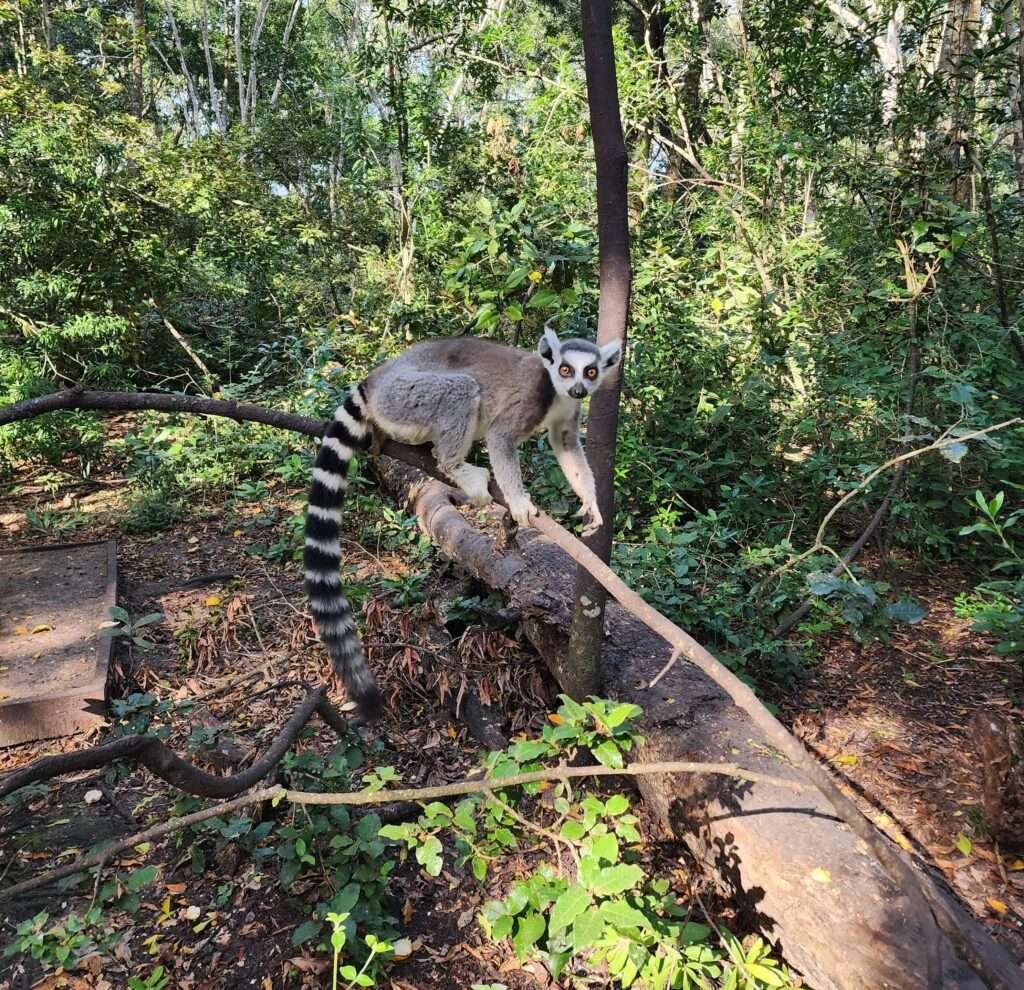 Monkeyland, located near Plettenberg Bay is a primate sanctuary where over 500 primates from nine different species freely roam. While it's not directly in Natures Valley, it's just a short 20-minute drive away. If you have a passion for primates, it's a fantastic destination to explore. Here, you can enjoy the unique experience of strolling among the monkeys while gaining valuable insights about these creatures.
Birds of Eden
Birds of Eden is the World's largest single-dome free flight aviary! With 3,500 birds from over 220 species, it's a paradise for bird lovers!
Forest Nature Spa near Natures Valley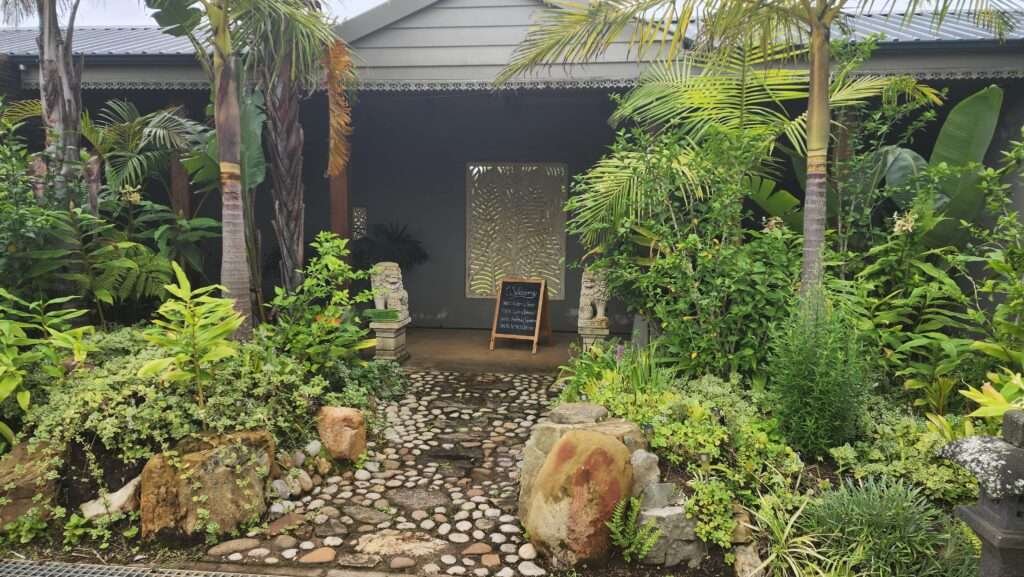 This cozy spa and lodge, surrounded by a beautiful forest, provides a luxurious escape, perfect for unwinding after a day of travel or adventure. Pamper yourself with a spa package or a relaxing massage, and you'll leave feeling rejuvenated.
Where to stay in Natures Valley
Nature's Valley Rest Camp: This is the primary accommodation option within Natures Valley Village. They offer a range of self-catering accommodations, including chalets and camping facilities. Booking in advance is highly recommended, especially during peak tourist seasons. For a broader range of options, consider checking Google Maps and booking directly with the property. Most options might not be available on major booking websites.
If you can't find what you need in Natures Valley, check out the Crags region. There are more accommodation options there. I highly recommend Natures Way Farm Stay, just a 15-minute drive from Nature's Valley. It's on a working farm and a lovely base from which to explore the area.
A bit further out, are places such as Plettenberg Bay and Storms River Village. Plettenberg Bay is just 25km west and has a plethora of accommodation options, while the Storms River Village is about 45km east.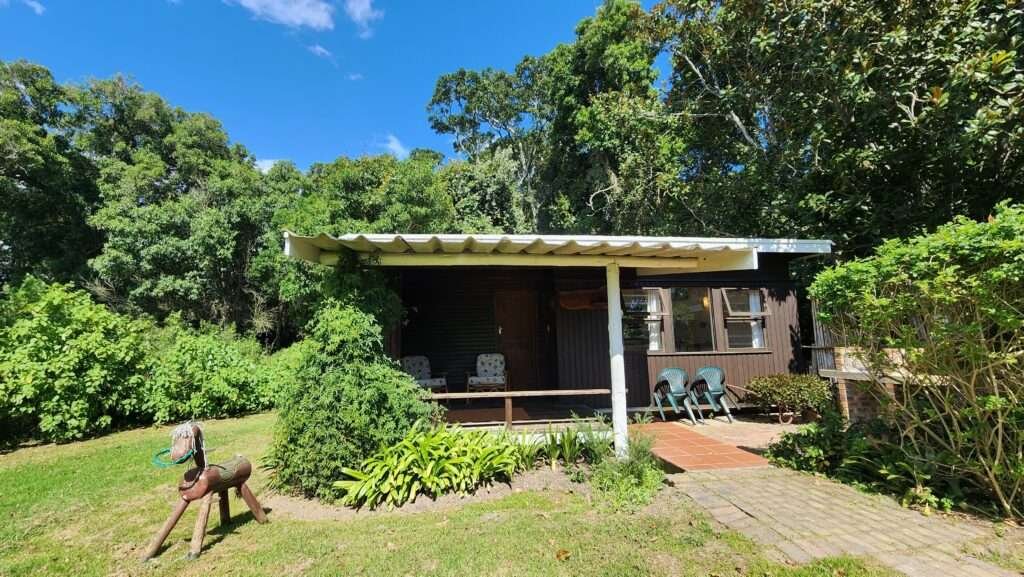 Natures Valley is a beautiful spot on South Africa's Garden Route. If you love nature and a more peaceful and quiet atmosphere, it's a must-visit in this part of the Garden Route.
How to get to Natures Valley
Nature's Valley is about a 40-minute drive from Plettenberg Bay and is conveniently accessible via the N2 highway. If you're traveling from Plett, take the N2 towards Storms River Mouth or Port Elizabeth (also known as Gqeberha). After passing The Crags, look out for the Nature's Valley turnoff, marked R102.
The road then goes down a steep valley with lots of twists and turns. After you come down the pass, take a right onto Lagoon Drive. Then, shortly after, turn right again onto St George's Drive and keep going until you reach the end, which will lead you to St Michaels Ave.
Map showing main attractions in and near Natures Valley