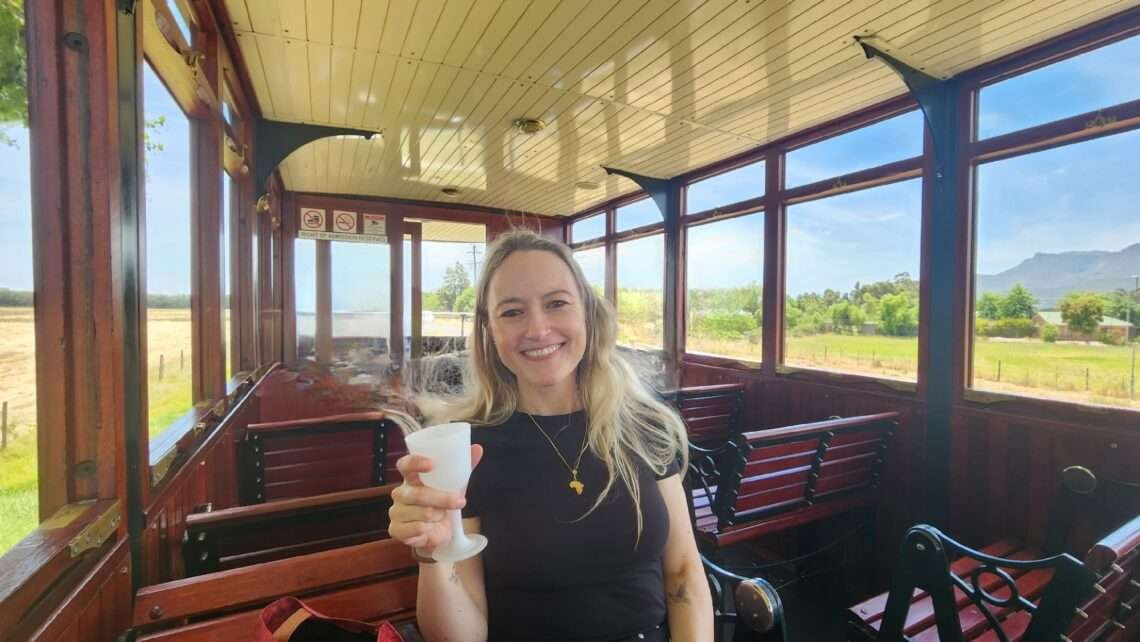 Franschhoek Wine Tram: Everything you need to know
The Franschhoek Wine Tram provides a convenient and flexible way to explore the Franschhoek wine valley. With a hop-on, hop-off tram tour you can visit a number of wine estates while not having to worry about driving between estates or other transportation hassles. All in All, the Tram allows you a carefree adventure across the Winelands that is safe and fun! Learn how to get the most out of your Franschhoek Wine Tram experience by reading on.
Choosing your Franschhoek Wine Tram route
The Wine Tram offers five different routes, each marked by a specific color (blue, orange, pink, red, navy). Each color route includes 7 or 8 unique wine estates. Before getting your tickets, take a moment to explore and pick a route that matches your wine preferences. Whether you enjoy reds, whites, or sparkling wines, there's something for everyone. The official Franschhoek Wine Tram website has detailed information on each route, including the wine estates, departure times, and ticket prices. Some estates also offer special pairings like wine and chocolate or gourmet lunches. It's a good idea to choose just 3 or 4 wineries for a single day to avoid feeling rushed.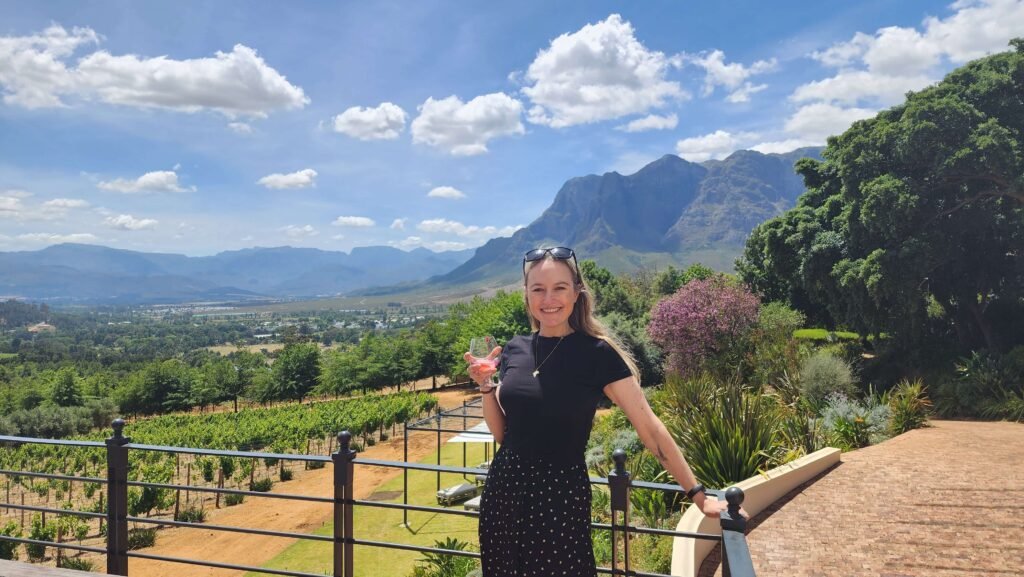 Booking tickets for the Franschhoek Wine Tram
To avoid disappointment, it's best to book your tickets in advance. Tickets for the Franschhoek Wine Tram can be purchased online through their official website or in person at the Franschhoek Wine Tram ticket office located at 32 Huguenot Rd, Franschhoek.
Getting to the Franschhoek Wine Tram Terminal
Franschhoek is approximately an hour's drive from Cape Town. If you don't have a car, consider using a shuttle service or tour operator like the Franschhoek Wine Tram Explorer Tour with City Sightseeing that offers transportation to and from Franschhoek. Another fantastic choice is to stay within the town of Franschhoek itself, making the journey to the terminal much more convenient.
Note: The color lines available on the tour from Cape Town are limited, so it's advisable to reach out to City Sightseeing before your journey to avoid any potential disappointment.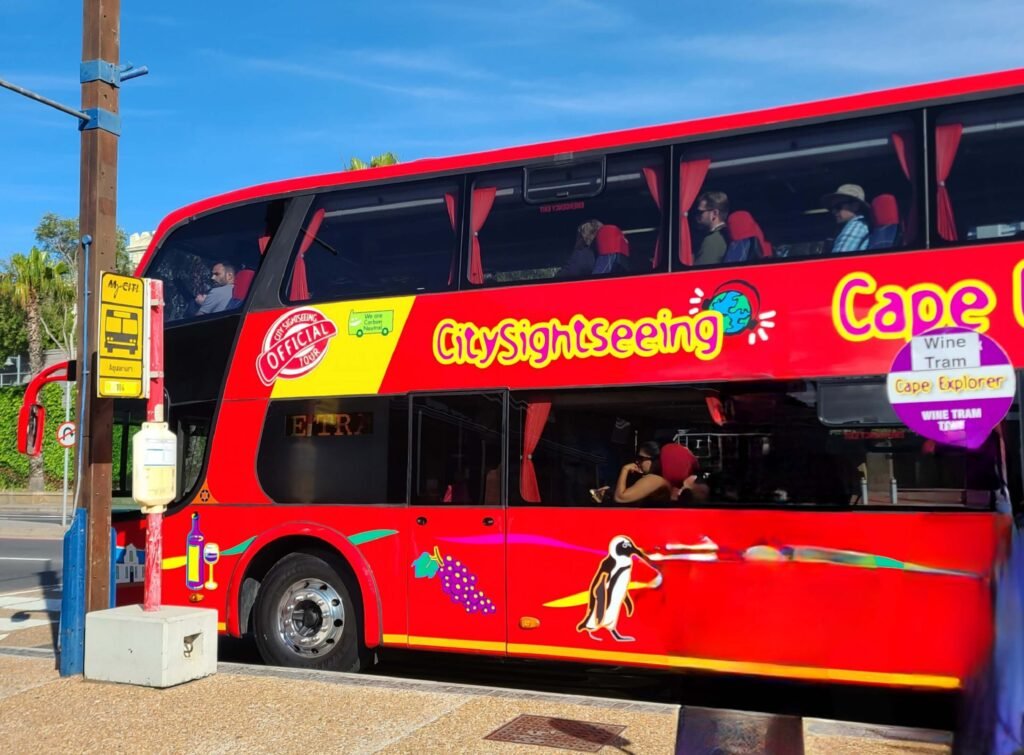 What to expect on the Franschhoek Wine Tram
Each colored line on the wine tram is actually a combination of double-decker bus and open-air tram. If your ride starts with a bus, that's okay – you'll still get a chance to switch to the tram. And just so you know, both the bus and the tram offer a great experience.
Arriving at the Franschhoek Wine Tram
All the routes start at the Franschhoek Terminal in Franschhoek Town, except for the navy and oragne lines, which kick off at the Groot Drakenstein Terminal. This terminal is a quick 12-minute ride (or 14 km) from Franschhoek. But don't worry about getting there on your own – your ticket includes a shuttle service from the Franschhoek Terminal to Groot Drakenstein. Arrive early to allow time for parking, collecting your tickets, and enjoying a coffee or snack at one of the local cafes. The ticket office staff are helpful and can provide additional information about the day's tour.
Hop-on, Hop-off System
Once aboard the tram or open bus, you have the flexibility to hop on and off at any of the wine estates along your chosen route. You can explore the wineries at your own pace, giving you the flexibility to spend more time at places that you wish to.
Timed Schedule
The Franschhoek Wine Tram operates on a timed schedule, so you have a specific amount of time at each estate before the next tram or bus arrives. The schedule is a little tricky to read at first, but you will get the hang of it. If you're still confused, the knowledgeable guide who joins you on the tour will be happy to help. The time between pickups is 45 minutes to 1 hour. If you wish to stay longer at one particular wine estate, then just catch the next bus/tram that arrives 1.5 / 2 hours after drop off.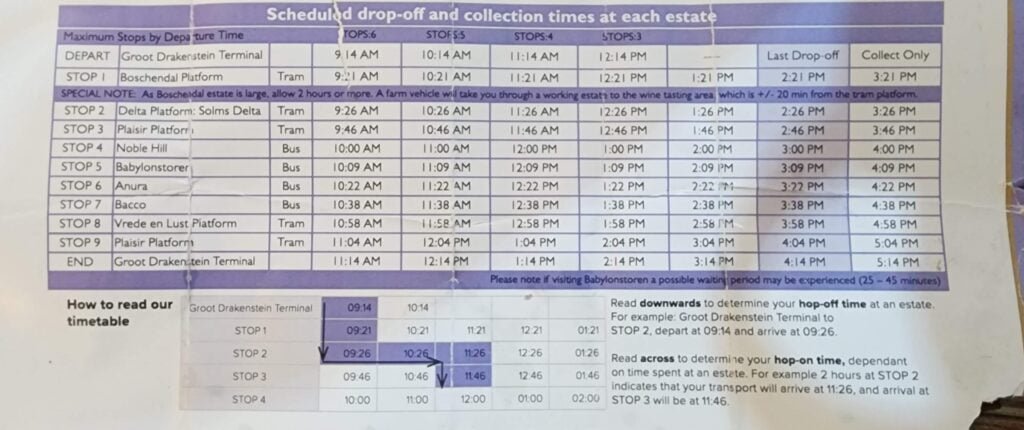 Onbaord the Franschhoek Wine tram
The beautiful tram cars have open sides, providing unobstructed views of the stunning landscape. Dress comfortably, wear sunscreen, and don't forget a hat and sunglasses, as the South African sun can be quite intense. The tram ride itself is so much fun, offering a leisurely journey through the vineyards with knowledgeable guides sharing insights into the region's history and winemaking traditions.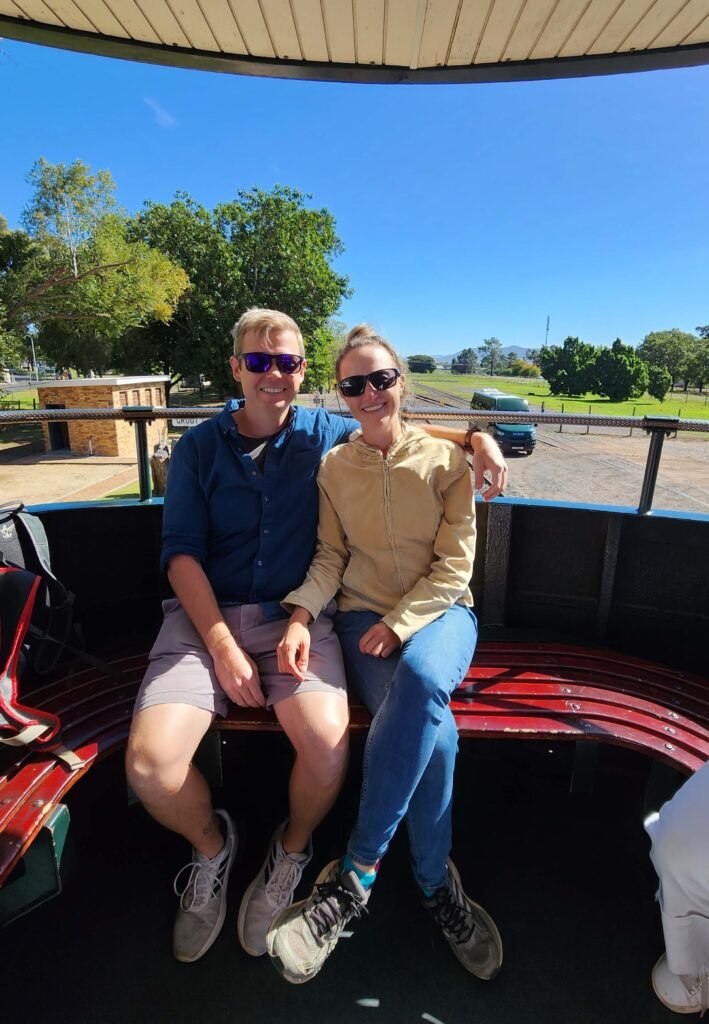 Wine Tastings
At each wine estate, you'll have the opportunity to explore the vineyards, cellars, and tasting rooms. Most estates offer the option to purchase your favorite bottles, too. Plan and book your own tastings, activities and dining. Tastings, lunch and other activities will be for your account and can be settled with each winery directly.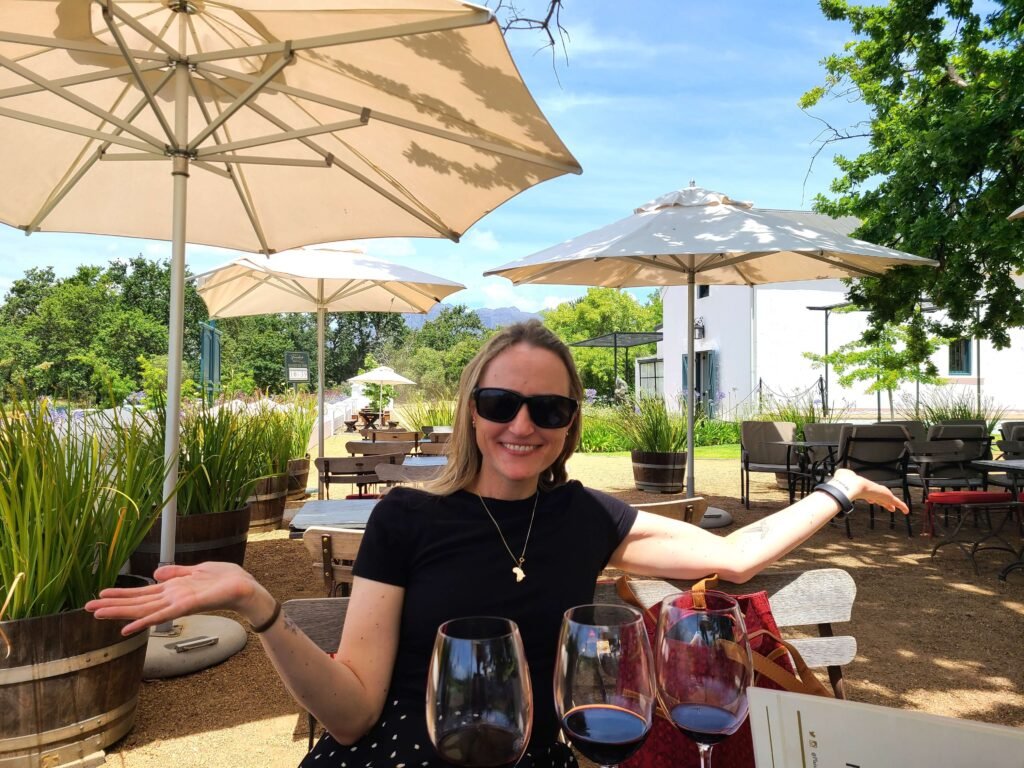 Lunch and pairings
While many wine estates welcome walk-ins for wine tastings, it's important to note that reservations are often required for lunches and specific pairings. If your itinerary includes a lunch stop, I recommend making a reservation beforehand to secure a seat, particularly during the busy tourist season. If you prefer a more casual option, some estates offer picnics amid the vines, which also require advance bookings. Please be aware that tastings, lunch, and other activities are at your own expense and should be settled directly with each winery. They are not covered by the ticket price of the Franschhoek Wine Tram Tour.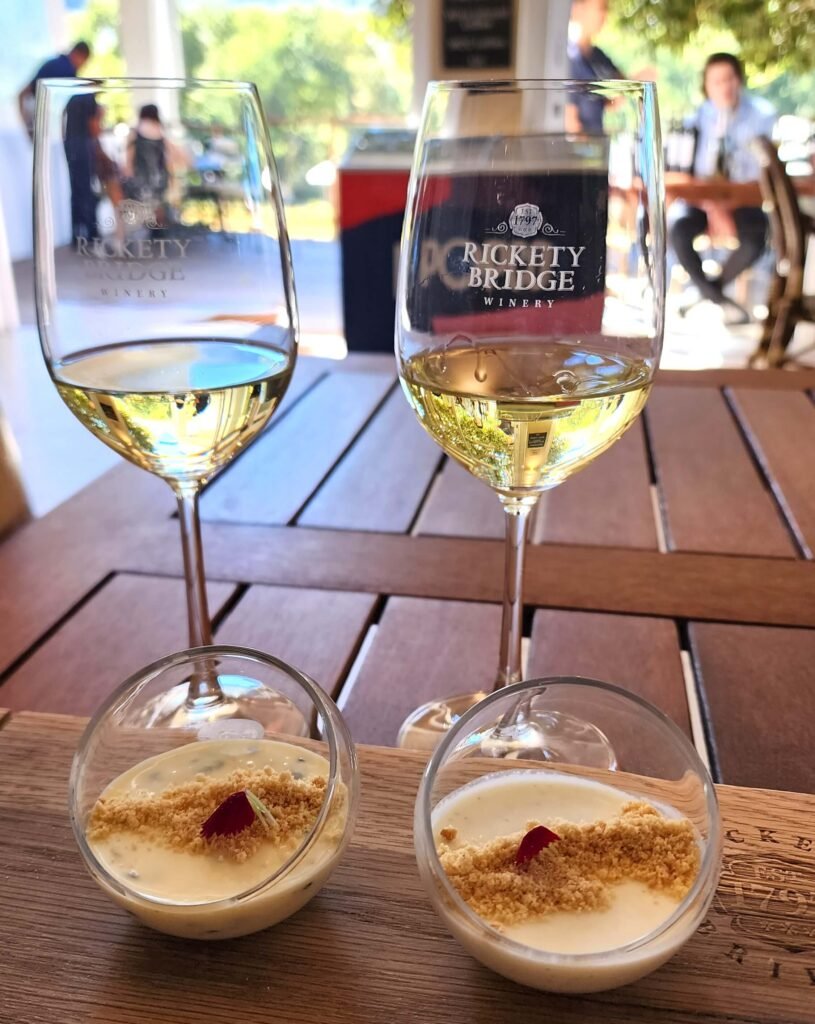 Wine Purchases at Estates
Wine purchased while on the tour can be handed to one of the tram staff members for safekeeping and collected at the end of your tour.
Returning to Franschhoek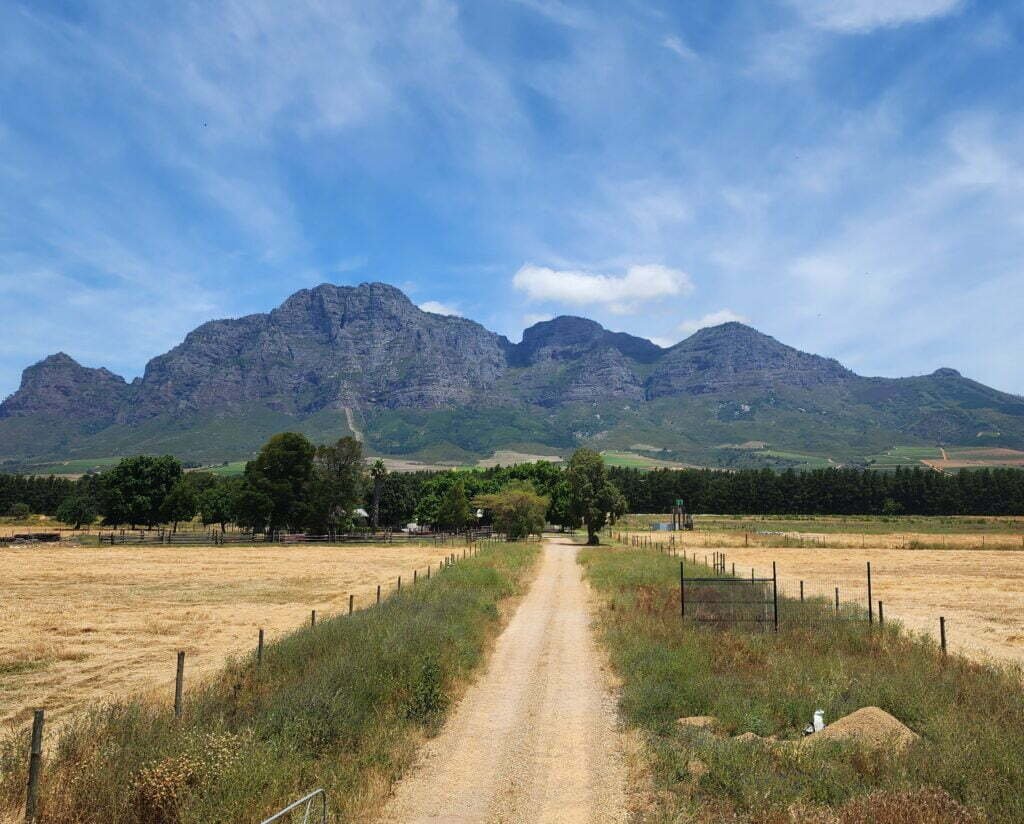 At the end of your tram journey, the return trip to the village is either by tram or bus, depending on your route.
In short, the Franschhoek Wine Tram is a safe and fun way to explore the beautiful Winelands. Now, the only tough part is deciding which route to take!
Top Tips for the Franschhoek Wine Tram
Travel slowly. Some of the estates can take up more time than you expect. There's much more to them than just wine tasting. With beautiful walks through gentle hills and vineyards, to on-site shops and markets to browse, it's worth taking your time.
Start early. This is especially true if you are planning on spending just one day in the area. An early start lets you really enjoy a couple of estates before sundown.
Eat a good breakfast before. Trust me, I learned the hard way. Too much wine on an empty stomach at 8am is just asking for a headache. Eat a hearty breakfast before embarking on the route! (Of course, most of the estates have restaurants or platters available so you can eat your breakfast at your first tasting also if you prefer.
Make lunch reservations. This applies if there's a very specific restaurant you want to eat at on the tour. The estates can get very busy, especially on the weekends and in summer. Avoid disappointment by making a reservation ahead of time.
Prioritize – Start by picking your top two wineries from the timetable. Usually you can get to about 3/4 estates on the tram, but perhaps you want to spend all your time at just two of your favorites.
Stay in Franschhoek. I can not express this enough. You will be happy making this choice. Even just 5 estates can feel like a lot in one day. To truly experience the region, spend at least 4 or 5 days in the Franschhoek or Stellenbosch area.
Where to stay in Franschhoek
Franschhoek Village: Staying in the village allows easy access to the town with its shops, galleries, and restaurants. There are boutique hotels, guesthouses, and bed-and-breakfasts within walking distance of the main attractions.
Wine Estate Accommodation: Many of the region's vineyards offer accommodation, providing a setting surrounded by vineyards and mountains.
Luxury Lodges and Boutique Hotels: Franschhoek has several luxury lodges and boutique hotels that offer upscale amenities, spa services, and fine dining. These accommodations often provide a more exclusive and intimate experience.
Self-Catering Villas or Cottages: If you prefer more independence, there are self-catering options such as villas or cottages where you can enjoy a home-like atmosphere.
Guesthouses and Bed-and-Breakfasts: There are numerous guesthouses and B&Bs in and around Franschhoek, offering a more personalized experience with local hosts.
Booking.com is a good starting point to find accommodation.
My personal recommendation for the budget friendly traveller is Cabriere Cottage. Even though it's only a 15 minute walk from the center of Franschhoek Town, it's far enough away that it feels secluded, safe and peaceful.
It's a self-catering unit on a farm next to Pigcasso. The room was a bit rustic but very neat and clean. The open-plan self-catering unit is furnished with a comfortable king-size bed and an en-suite bathroom with a shower and toilet. It's very handy that they also have a gas stove top to deal with South Africa's load shedding, which is electricity supply cut-offs that occurs regularly around the country. The best thing about the unit is its BBQ (braai) area and porch. At night, we spent time just sitting by the fire, admiring the millions of stars in the sky without any noise or pollution obscuring our view.