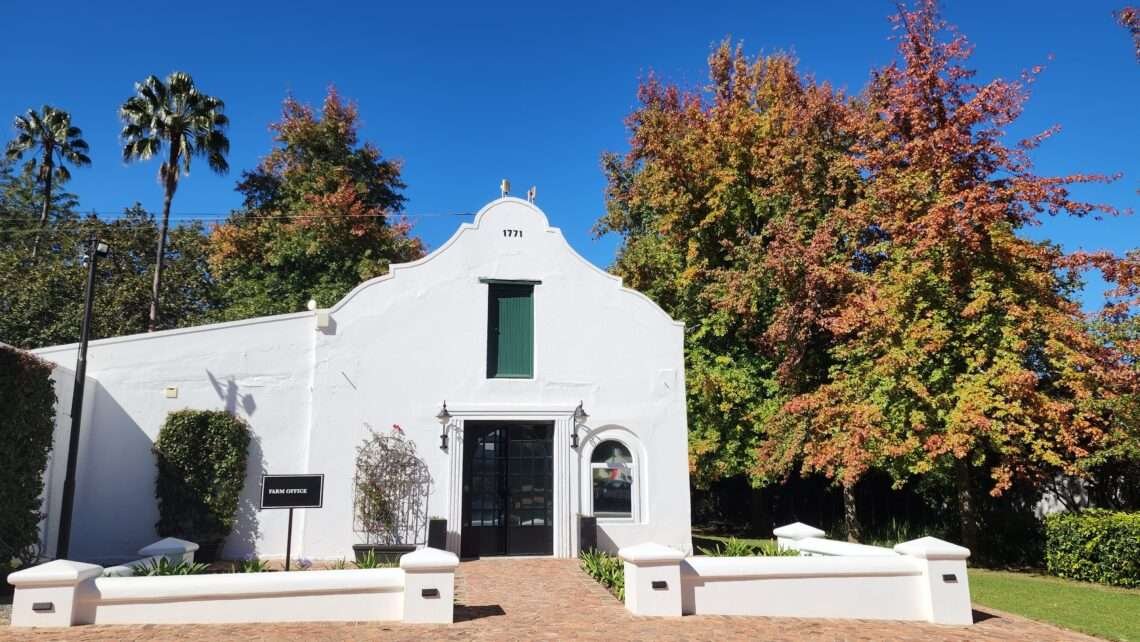 Warwick Estate, Stellenbosch: A Wine Tasting Experience
Warwick Wine Estate is situated in the Stellenbosch region of the Cape Winelands, just a 50 minute drive from the center of Cape Town.
Tucked away in the scenic surroundings of rolling hills and vineyards, the boutique Warwick Estate is a renowned destination for lovers of fine wine in South Africa. With a rich and storied heritage, tracing its origins back to the year 1771, Warwick is renowned for both its exquisite wine and culinary delights. The vineyards that grace the estate have flourished for close to two centuries, showcasing the region's deep-rooted connection to viticulture and the art of winemaking.
The Picturesque Grounds of Warwick Wine Estate
As you arrive at Warwick, an instant sense of intimacy and effortless elegance surrounds you.
Majestic Oak trees stand tall along the path, their branches reaching skyward in a wonderful display of natural beauty. A sparkling pool is the centerpiece at the entrance, inviting you to pause and admire its pretty allure.
The Wines of Warwick Estate
The wines of Warwick Wine Estate are a true testament to the artistry and dedication of their winemaking team. With a commitment to quality and a deep understanding for the terroir, Warwick produces a range of exceptional wines.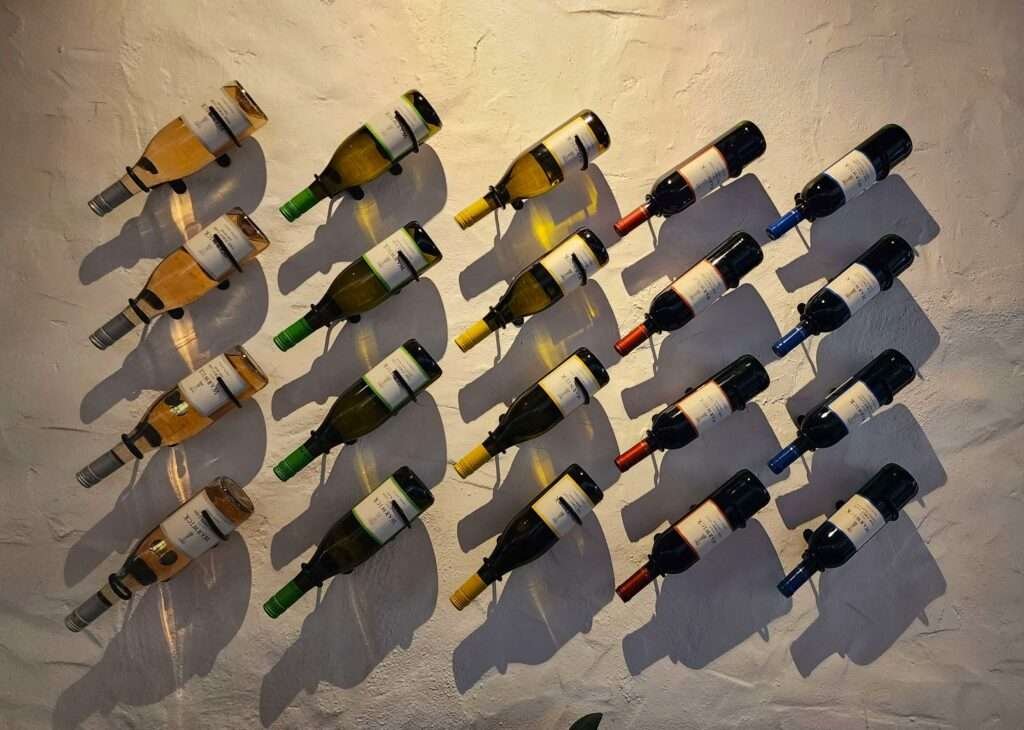 At the heart of their offerings is their flagship Bordeaux-style red blend, the Warwick Trilogy. This iconic wine showcases the harmonious mix of Cabernet Sauvignon, Cabernet Franc, and Merlot grapes. The result is a complex and elegant masterpiece. With its layers of flavors, velvety texture, and well-integrated tannins, the Trilogy is a true expression of Warwick's winemaking prowess.
Warwick Wine Estate also produces exceptional single-varietal wines that highlight the unique characteristics of each grape. Their Cabernet Sauvignon is a standout, boasting deep, intense flavors of blackcurrant, blackberry, and dark chocolate.
For those seeking a refreshing white wine, Warwick offers their Sauvignon Blanc, a vibrant and crisp expression of the varietal. Bursting with citrus and tropical fruit flavors, this wine is a delightful companion to warm summer days or a perfect match for seafood dishes.
Wine Tasting at Warwick Estate
Whether you prefer the indoor ambiance, the refreshing outdoor patio, or the relaxed picnic gardens, Warwick Estate's wine tasting areas cater to a range of preferences. Each space also provides a unique backdrop to sample and savor the estate's exquisite wines.
The indoor tasting room at Warwick Estate welcomes you with a decor that strikes the perfect balance between homeliness, style, and simplicity.
Similar to the indoor tasting room, the outdoor tasting patio at Warwick Estate is a delightful space that combines practicality and style.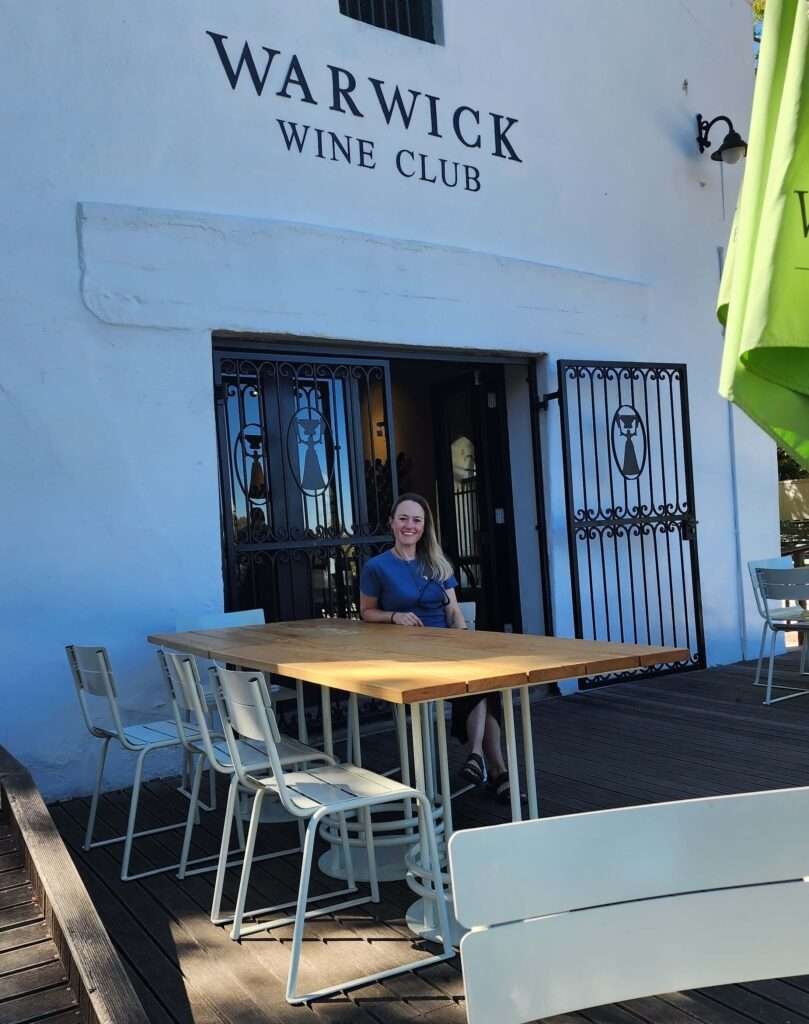 From the patio space, you have great views of the manicured lawns. The manicured lawn serves as a versatile space, whether it's used for hosting events, picnics, or simply enjoying a leisurely moment outdoors.
Wine Tasting Options
When it comes to the wine tasting, there are three options to choose from:
The First Lady Tasting: Warwick has a proud history of being home to South Africa's first female winemaker, Norma Ratcliffe. In honor of her achievements, Warwick's wine range 'The First Lady' was introduced. Wines in the range include the MCC, Rose, Sauvignon Blanc, Chardonnay, Pinotage and Cabernet Sauvignon – R50 / less than $3
The Premium Tasting: This range includes Sauvignon Blanc, Old Vine Chenin Blanc, Pitch Black, The Cape Ladies Blend and the Blue Lady Cabernet Sauvignon – R100 / $5.5
Trilogy Vertical Tasting: Enjoy a vertical blind tasting of Warwick's Flagship wine. Also, if you correctly match the vintage and pairing note you receive your tasting for free –R350 / $19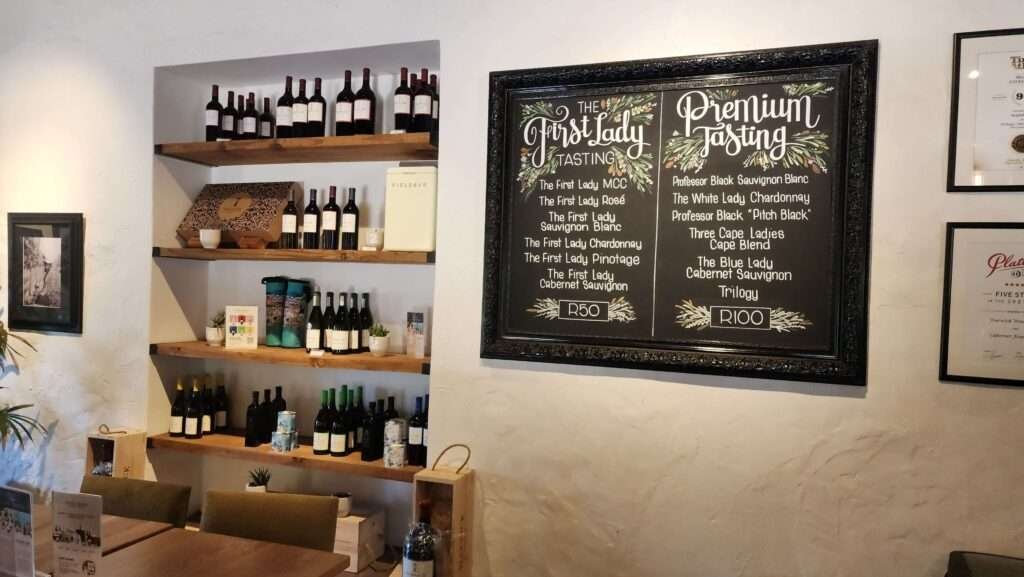 I decided to indulge in the Premium Tasting experience at Warwick Estate, and it turned out to be an excellent choice! While I may not consider myself a wine connoisseur, I have a simple approach to wine—I either enjoy it or I don't. With that in mind, I must say that the Professor Black, the Blue Lady, and the Trilogy stood out as my top three favorites from the tasting.
The Professor Black impressed me with its depth of flavor and character. The Blue Lady, on the other hand, has its own unique and captivating qualities. As for the Trilogy, it showcased the epitome of Warwick Estate's winemaking expertise, leaving me wanting more.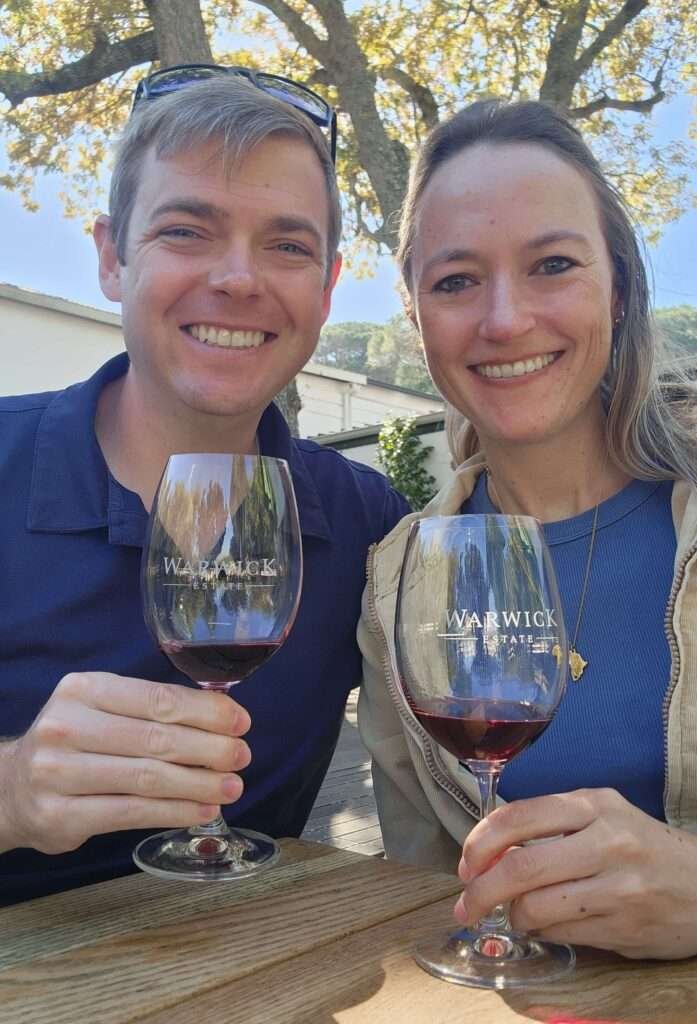 In addition to regular tastings, you can also enjoy a unique wine pairing experience at Warwick: Either gourmet or sweet & savory. These pairings feature wines from both the First Lady and Premium tasting ranges, offering a delightful combination of flavors to complement your culinary journey.
The Gourmet Pairing – R150 / $8
First Lady MCC Brut Rosé & strawberry marshmallow
First Lady Dry Rosé & Dalewood Huguenot one year old mature cheese
Professor Black Sauvignon Blanc & Goats cheese ball with fresh basil
Old Vine Chenin Blanc & honey and almond nougat
Blue Lady Cabernet Sauvignon & beef biltong
Sweet & Savoury Pairing (Vegan) – R150 / $8
First Lady MCC Brut Rosé & dried figs sprinkled with salt
First Lady Rosé & vegan carrot cake sprinkled with pecan nuts
Professor Black Sauvignon Blanc & mandarin segments sprinkled with salt
Old Vine Chenin Blanc & butternut chickpea bites
Blue Lady Cabernet Sauvignon & vegan chocolate pecan tart sprinkled with salt.
Reservation and Contact Information for wine tasting at Warwick
While we didn't have a reservation, we noticed that the outdoor seating patio area at Warwick is relatively compact. Therefore, if you plan to visit with a group of 6 or more, I highly recommend making a reservation in advance. This will ensure that you and your party can secure a comfortable and enjoyable spot on the patio.
For reservations, visit their official website or contact them at the following details:
Warwick Estate has a charming and peaceful setting, and the estate's history is really interesting. I love that they focus on red wine and have talented female winemakers. The service is delightful, and their wines are some of the best I've tasted in the region. Warwick has won my heart, and I can't wait to go back for more. Whether you're indulging in a wine tasting, embarking on a vineyard tour, or savoring a gourmet meal, Warwick Estate offers an unforgettable experience.
To read more about some of my other favorite Boutique Wine Estates in Stellenbosch, click here.