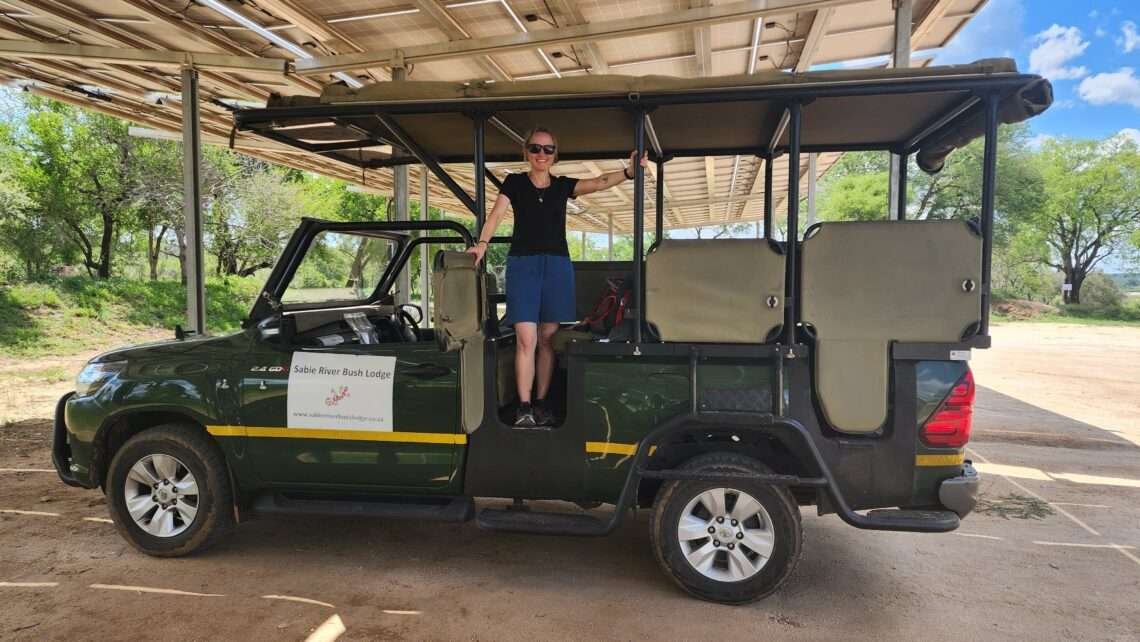 Kruger National Park: A Useful Guide
The Kruger National Park is a sought-after tourist hot spot in South Africa, and for good reason. This guide serves to provide a general overview of what you need to know for a first time visit to the park.
Where is the Kruger National Park?
The Kruger National Park is located in the Mpumalanga and Limpopo Provinces of South Africa.
---
Click on the asterix in the map below to get directions.
So, what's there to know about a trip to Kruger National Park?
1. An Overview of Kruger National Park
A short history of the park
In 1898, Paul Kruger, who was the president of the 19th century Transvaal Republic in what is now South Africa, established the original Sabie Game Reserve. His intentions were to protect the declining wildlife populations of the region due to over-hunting. Thereafter, Scottish-born James Stevenson Hamilton was appointed as the first Warden of the park in 1902.
Years later, in 1926, the National Parks Act was passed and, as a result, different game reserves in the area merged to form what we now know as the Kruger National Park. Subsequently, the park was opened to the public in 1927 and attracts over one million visitors a year.
How big is the park?
Its present size of approximately 19,000 square kilometers, or 8,000 square miles, extends from the Limpopo river in the north to the Crocodile river in the south, a distance of nearly 380 kilometers.
The vegetative landscape
The vegetation of the Kruger National Park is mostly mixed woodland, with vegetation thickening during the summer months. Subsequently, wildlife sightings are a bit more difficult through the dense thicket during this time. However, we visited in November and still had amazing sightings of many of the parks animals.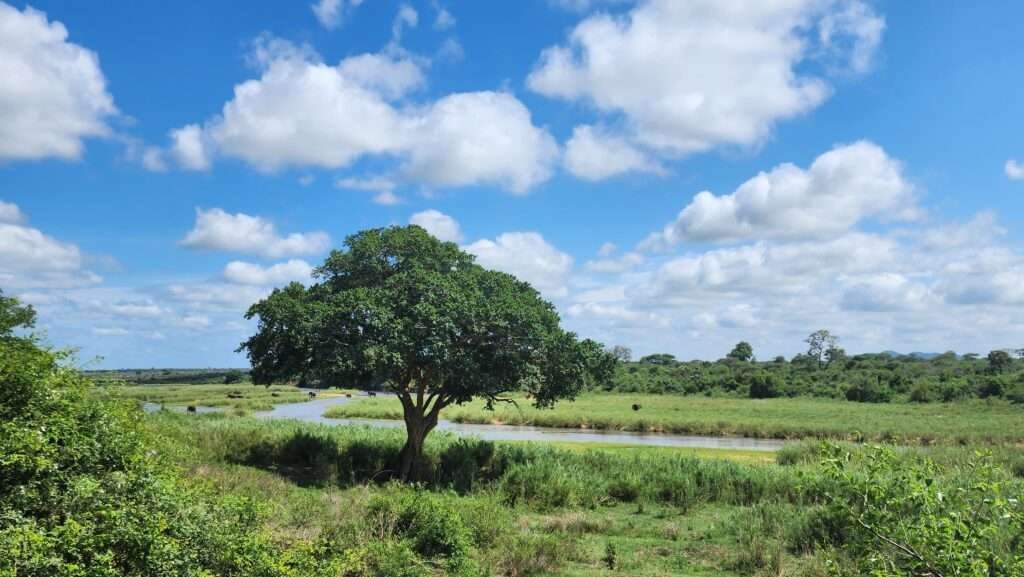 2. Why choose Kruger National Park?
The map below shows the location of Kruger National Park in the North East province of South Africa.
Kruger National Park is the perfect place for a first safari trip in Africa. Although it is a 4-5 hour drive from Johannesburg, it is fairly easy to reach by car. In addition, the Kruger National Park is one of the best places in the world to see the 'big five', which is leopard, lion, rhino, buffalo and elephant. However, there's a lot more to see in Kruger than just the famous 'big five'. Other animals you can see here include kudu, cheetah, hyena, hippos, wild dogs, all kinds of smaller antelope, zebras and wildebeest, to name a few.
3. How long should you stay in the park?
This is really up to you and depends on budget and time constraints. You can see a lot in one day but to really have the best opportunity for wildlife sightings, I recommend spending at least 3 or 4 days in the park.
4. What is the best time of year to visit?
Game viewing is possible any time of the year, with each season having its unique attractions. Essentially, the Kruger has two distinct seasons, the drier winter from May to October and the sunny, rainy season from November to April.
The dry winter from May to October
May to the end of November is a popular period due to the vegetation thinning, making it easier to spot and track the animals. In addition, animals congregate around the permanent water holes which offers a very rewarding experience, especially for a first timer on safari. Winter can be very chilly in the morning and evening game drives, so be sure to pack warm clothes for those drives. September is the end of winter and the start of spring, which is a particularly lovely time owing to warmer weather conditions.
The rainy summer from November to February
It rains heavily during this period, peaking in January and February. However, this results in lush, thick, and magnificently green vegetation. You can see many young summer-born animals and, furthermore, it is an excellent time for bird watching.
Want to get an even more detailed, month-to-month account of the weather in Kruger?
To read more about the specific conditions month-by-month in the Kruger National Park, go2africa provides an excellent guide.
5. Self-drive or guided tour?
There are different advantages to both these options. Whether you are self-driving or travelling as part of a tour package, do your research carefully.
Self-driving
I myself have not driven around Kruger National Park, so I am unable to provide sufficient information on this. However, many of my friends advise that self-driving through Kruger is feasible and a rewarding experience, provided you do just a little research beforehand. I did come across this site when searching, which I thought provided good advice for self-driving in Kruger.
Guided Tour and how to choose the right one for you
If you're like me and a little pressed for time, or anxious about driving yourself, then a tour company is an excellent way to go!
Most companies provide both private and group tours, so it depends on your budget or preference. There are hundreds of tour companies to choose from and it can be difficult to find one that's just right for you. I chose to do the tour with Wildlife Safaris, and its was an incredibly well organized and fantastic wildlife viewing experience.
My tips for finding the right tour company
While searching, it's important to consider the following:
5.1 Is the Panorama Route included?
Including Panorama with a tour of Kruger is a popular choice as it is easily accessible en route between Johannesburg and Kruger. If you are interested to learn more about the Panorama Route, follow this link here. Another question worth asking is whether you want to complete the Panorama Route before or after Kruger? In my case, I wanted to do it before which was something Wildlife Safaris offered over many other companies.
5.2 Accomodation
Each company is affiliated with different lodges, so it's important to do your research. The lodge makes a big difference to your overall experience. We stayed at Sabie River Bush Lodge with wildlife safaris and it was magical (follow this link to see more about our stay at Sabie bush lodge).
5.3 The number of game drives
We found that 6 game drives, including a sunset and night drive, was sufficient for us. Of course, this is absolutely up to you. Early morning and evening drives are best as this is when animals are most active, so make sure the company incorporates these times in to their drives.
5.4 Communication
It is important that the company you choose has clear, efficient and timely communication (we learnt this quickly, even just through initial email enquiries).
5.5 Cost
While most companies are similarily priced, some tour operators offer much better value for money than others. Just be aware of price comparisons for what you are getting when doing your research.
5.6 Pick-up location
Some companies only offer pick up at the main Kruger gate. On the other hand, a company like wildlife safaris includes transport to and from Johannesburg. Watch out for extra charges to and from the Kruger National Park. Most tour companies are affiliated with certain accomodations in Johannesburg, so check with them ahead of time if they are able to pick you up if you have already booked your accomodation.
5.7 Exclusions
Make sure you know what exactly is and isn't included in your safari package as the little costs can add up quickly. You might think you are getting a bargain, so don't allow yourself to be suddenly surprised with extra payments.
5.8 Vehicles
This is important because if, like myself, you have a preferance for open game vehicles then ensure the company includes these on your trip. The higher game vehicles really give you a feel of being on a safari and make wildlife viewing much easier.
5.9 Group size
Group size matters. Perhaps you want to meet new friends and so a larger group suits you. On the other hand, maybe you want a private safari with just you and your partner. We opted for a small group size tour of 8-10 people. This afforded us the opportunity to meet people but it was also intimate enough to still enjoy the experience.
5.10 Reviews
Lastly, and most importantly, read the reviews carefully for each tour company. The guides can make a huge difference to your overall experience, so it's good to read other people feedback on specific guides and their experiences.
6. Where to stay in the Kruger National Park
The park is massive and if it's your first time visiting the park there's a high probability you will only see a small fraction of it.
What gate should I enter Kruger National Park at?
There are several gates and rest camps scattered across the park. Most gates are in the south-west regions of the park because this is the direction the majority of people travel from. In addition, the southern part of the park receives higher rainfall, resulting in concentrations of wildlife in the south. If you are self-driving, the most popular gate that people enter through is Orpen or the main Paul Kruger gate.
Should I stay inside the park or outside the park?
There are many high-end, luxury resorts both inside and outside the park. So, whether you stay inside or outside the park, there are accomodation options suitable for every traveler.
Staying outside the park: Sabie River Bush Lodge
We thoroughly enjoyed our stay at Sabie River Bush Lodge (image below), which is only a 20 minute drive from the Paul Kruger gate. It is a little slice of heaven, with a viewing platform over a resident pod of hippos in the river. On our first night there, we were fortunate to see elephants wandering along the river banks also. To be completely honest, it felt like we were inside the park already due to the African feel of the surrounding bush and of course the local resident hippos. For more on our stay at Sabie River Bush Lodge during our travels of Kruger National Park, click here.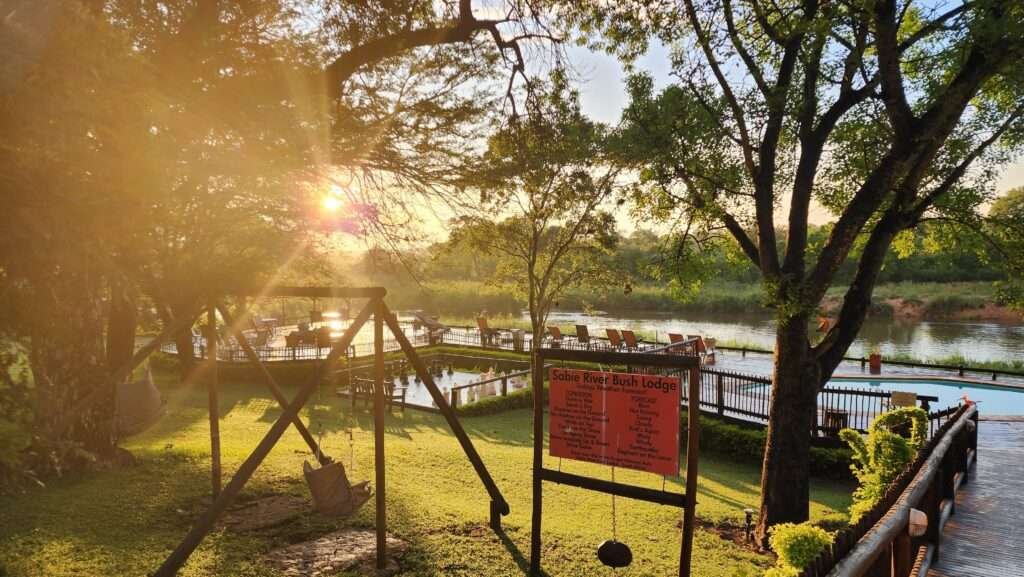 Staying inside the park: Skukuza
If you're visiting Kruger, it's likely you will find yourself at Skukuza at one point or another. Skukuza is the capital of the park, but also the largest rest camp. It offers luxurious accomodation, to small chalets, camping sites and picnic spots.
Fun fact! The camp was named after the first warden of the Kruger National Park, James Stevenson-Hamilton. Locals gave him the nickname Skukuza, which means 'he who sweeps clean' because of his enormous efforts and the role he played in making the park what it is today.
South Africa is host to many amazing places, but Kruger National Park is one of those that continues to stand out and provide a once in a lifetime opportunity to travelers. You won't regret a trip to this captivating destination!
If you liked this post, check out my personal account of a four day trip to the Kruger National Park.