Hiking at Areena: Special memories with a Giraffe
Located just 23km from East London, Areena Riverside Resort is a hidden gem nestled along the scenic Wild Coast region of the Eastern Cape. While Areena is most well known for its overnight stays and a great restaurant, there's also plenty of hiking trails running through the reserve. If you stay overnight, you can take short hikes through the reserve without a guide. However, if you're just a day visitor, you can request guided walks of 5 to 8 km. These guided hikes include a stop at the stunning abseil Krantz site, with panoramic views of the Kwelera river and the beautiful valley below. And here's a fun touch – you might even get Abby the giraffe as your hiking buddy, making your adventure even more special.
A hiking adventure with Abby at Areena
Creaky Knees, a community hiking group based in East London, gathers every Thursday to enjoy a morning of hiking at a chosen location. The hiking trail for today day brought the group to the splendid destination of Areena Reserve.
After finishing the paperwork at the main reception, we set off on our morning walk. The circular trail led us up a sloping hill past the ziplining platforms, to a viewpoint over the valley and finally through a neighboring farm. We then turned around and walked back along the same path to the reception.
We were all so excited when we discovered who would be taking charge of our hike. To oursurprise, Abby the giraffe became an unexpected yet lovely companion on our trail. As we made our way, Abby would frequently cross our path, playfully interrupting our progress. The gentle giant certainly adds an extra layer of joy and uniqueness to a hiking experience.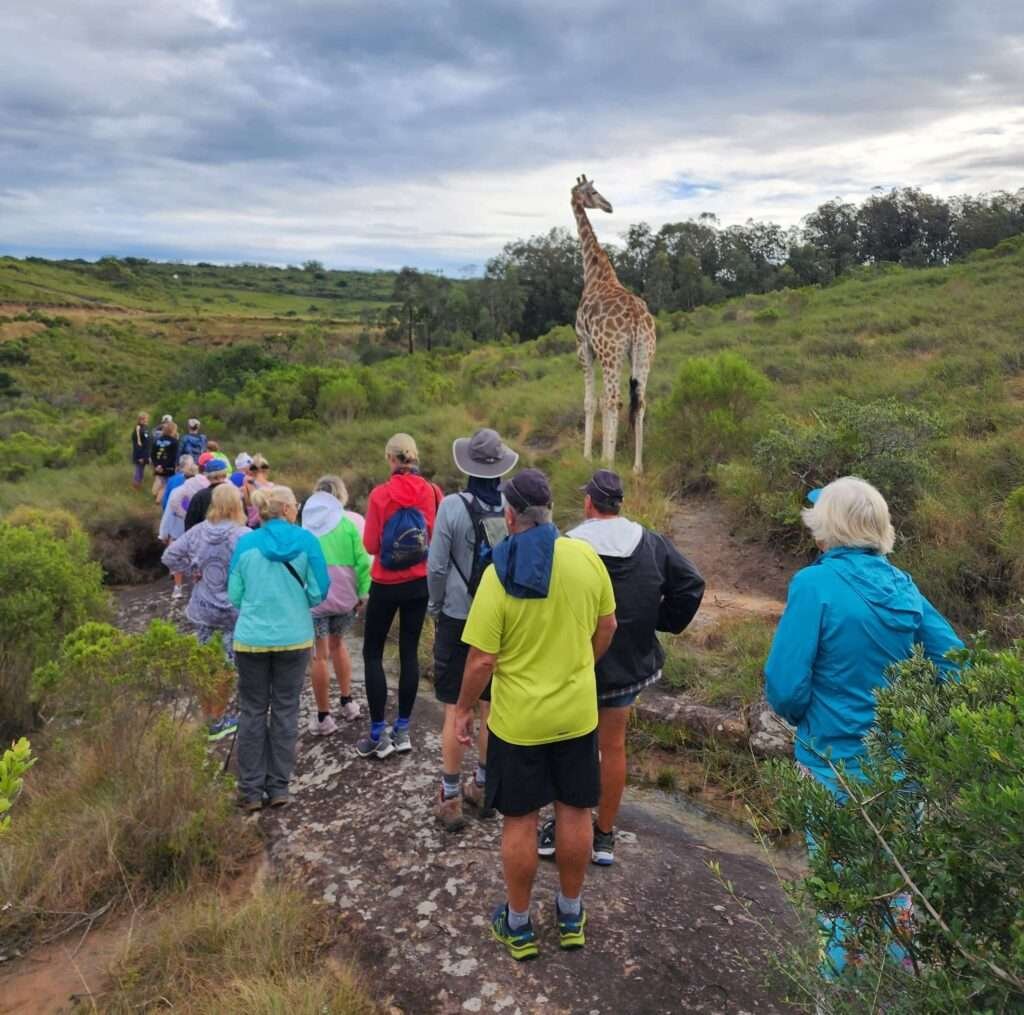 The Krants Viewpoint
Hiking at Areena usually includes a stop at the Krantz viewpoint, overlooking the Kwelera River. This scenic spot is also where Areena hosts its abseiling activity – an adventure where thrill-seekers descend the cliff with just a rope keeping them secure. We took a well-deserved 10-minute break, soaking in the beauty around us before setting off for the next part of our hike.
About Abby, Areena's hand-reared giraffe
Undoubtedly, one of the highlights for any visitor to Areena is the chance to interact with this remarkable 14-year-old giraffe, Abby. While paid interactions are the norm, hiking at Areena gives you this unique opportunity for free, if you're lucky. Although not guaranteed, Abby does sometimes follow guests along the trails. Eager for a special experience, I lingered behind, taking the opportunity to feed Abby.
Despite often being mistaken for a female, Abby is in fact a male. His journey to adulthood was marked by tragedy, as his mother fell victim to poachers when he was just a young giraffe. However, through the devoted care and nurturing of Areena's staff, Abby flourished into the magnificent creature he is today. The employees at Areena, who were accustomed to nurturing smaller young animals, found Abby's size to be unusually large. Consequently, they dubbed him 'Abnormal Baby Boy'. Abby's remarkable bond and comfort in the presence of humans have made him the star attraction at Areena. Visitors from far and wide flock to witness his friendly demeanor up close and personal. Imagine our surprise and excitement when Abby became an unexpected bonus during our hiking trail!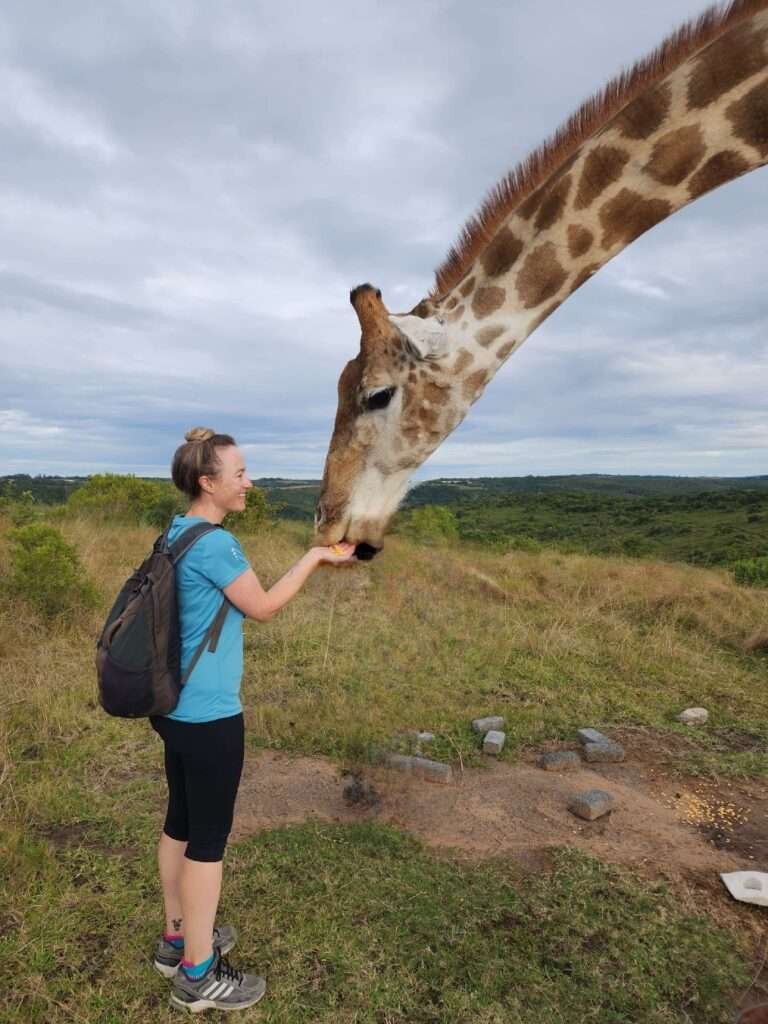 While hiking, we were incredibly fortunate to meet not only Abby but also three additional giraffes from the reserve. Interestingly, Abby shares the reserve with his female offspring, Gemma. Perhaps this was Gemma herself who we saw?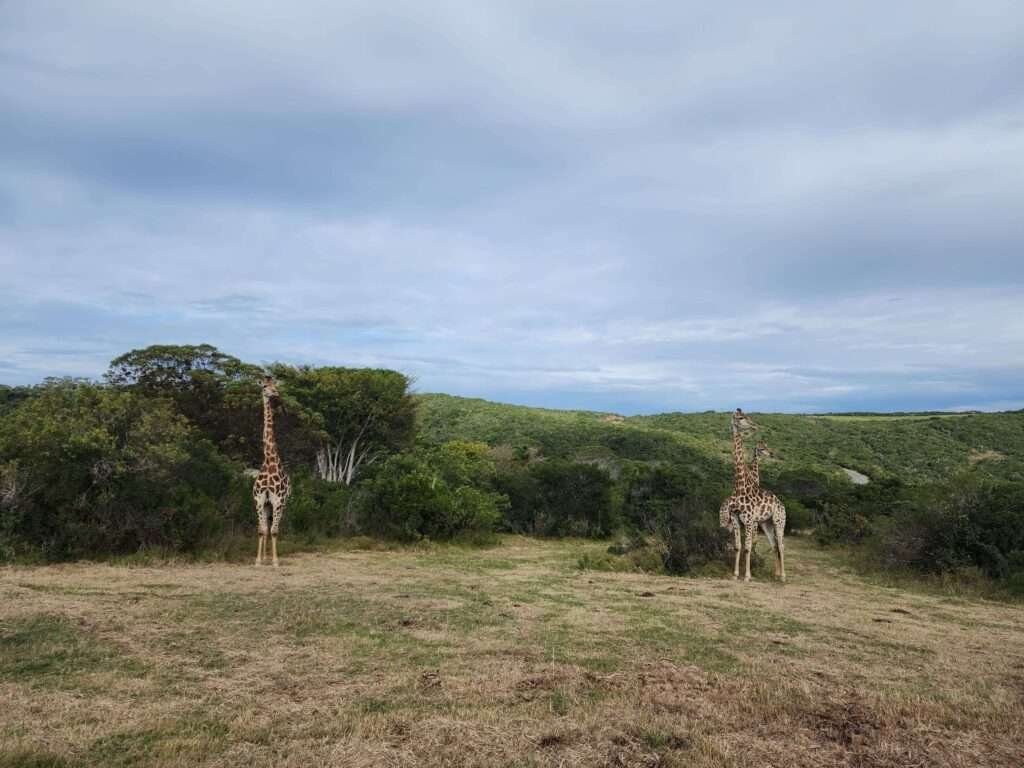 Hiking at Areena: Beyond Giraffes, Wildlife Wonders Await
Although Abby stole the spotlight during our walk, Areena Reserve is home to a diverse range of wildlife beyond giraffes. Wildlife includes blue wildebeest, impala, nyala, zebra, ostrich, and waterbuck, among others. We even saw Emus, birds that bear some resemblance to ostriches. Although not native to South Africa, it was great seeing these unusual looking birds at Areena. In the green grassland, the male Emu's bright blue head stood out distinctly.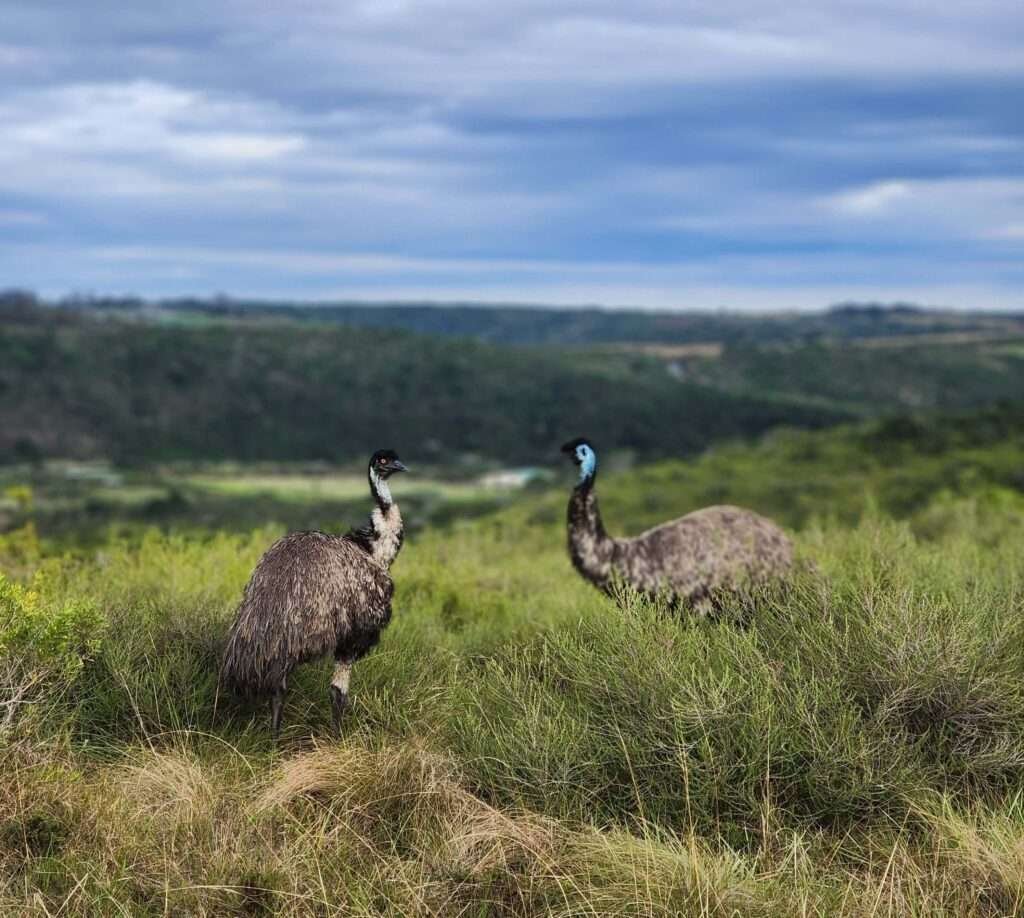 Exploring A Neighboring Farm: Sunlit Crops & Sustainable Harvests
Passing through the gate to the neighboring farm, we said goodbye to Abby. The farm has a very pretty landscape. As we walked, sunlight broke through the clouds, casting a lovely glow on the crops. We learnt that the farm supplies fresh produce like citrus fruits and pecan nuts to the Areena Quays restaurant. As we walked through the farm, we picked at the guava trees. The fruit was delicious!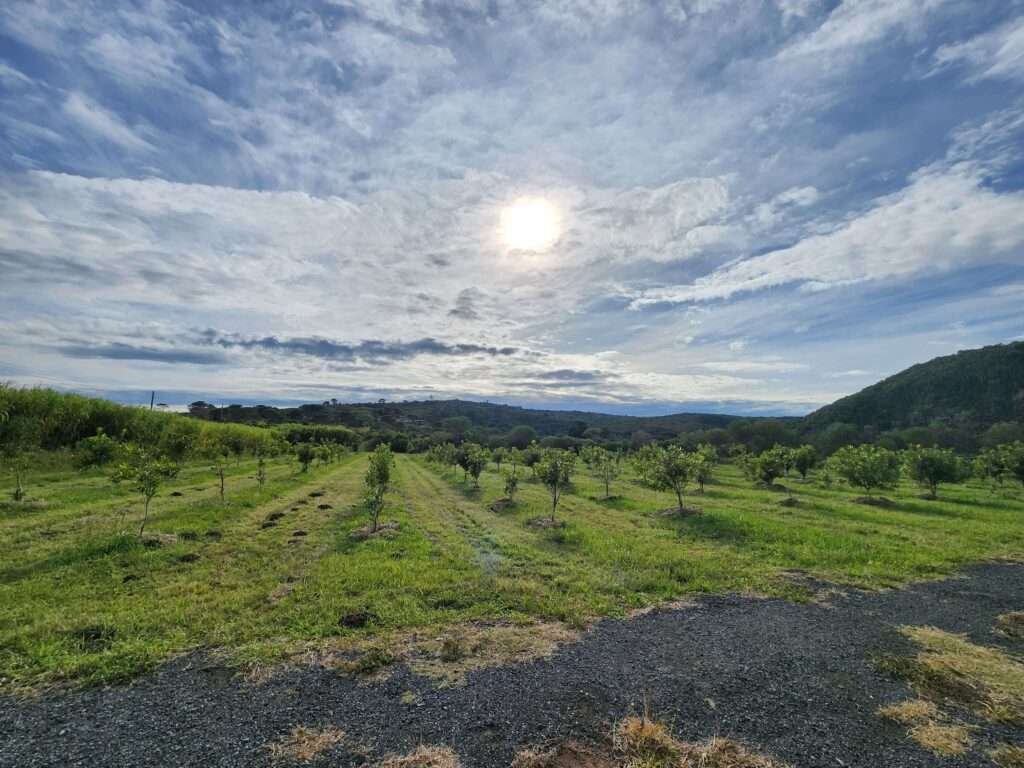 Areena's pursuit of pure honey production
We also came across Areena's honeybee hives, where diligent bees work tirelessly to produce authentically pure honey. True purity in honey lies in its abundant pollen content, which provides vital antibacterial enzymes crucial for combating toxin accumulation in our bodies. Our guide enlightened us about the unfortunate truth that many honey sellers often mislead consumers by claiming their products to be 100% pure. However, this deceptive marketing ploy conceals the fact that some beekeepers resort to cost-cutting measures such as feeding bees sugar water or filtering out pollen to create a falsely pristine honey. At Areena, such practices are unequivocally absent. Their honey genuinely earns the label of '100% pure honey'.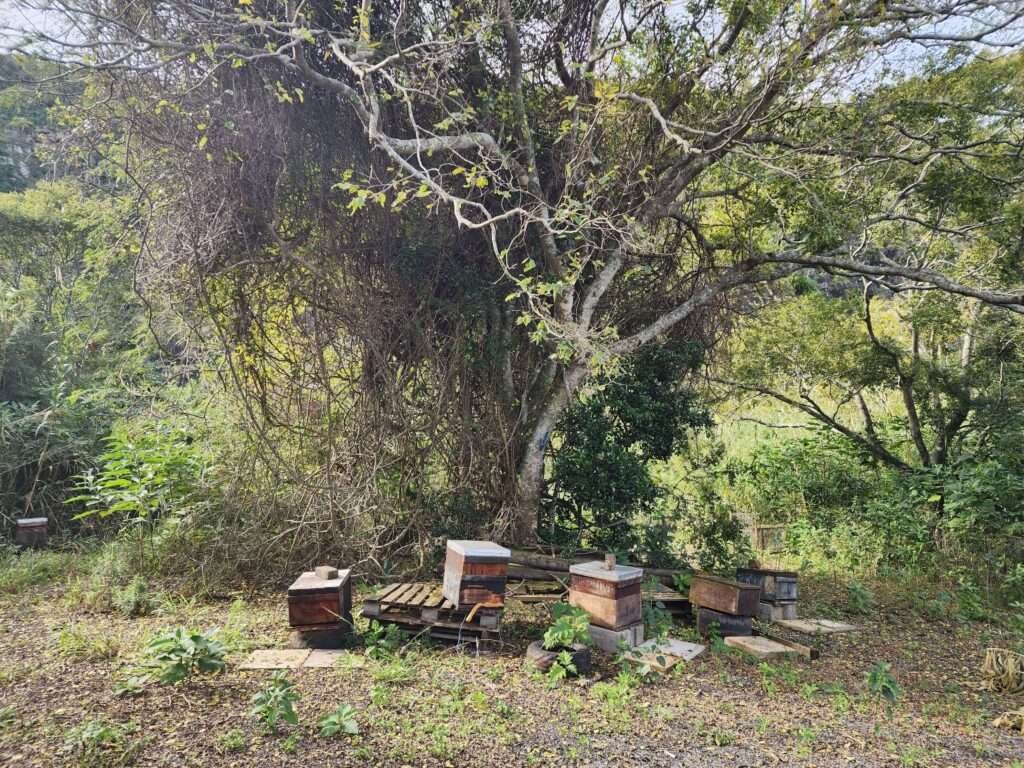 A glimpse of a dashing Blue Wildebeest while hiking at Areena
Suddenly, a rustling in the thicket caught our attention. A small group of Blue Wildebeest darted out in a burst of energy. Unlike their black wildebeest counterparts, the Blue Wildebeest have a distinctive silvery blue sheen on their hides. With a brief but inquisitive glance in our direction, they quickly disappeared back into the thick bush.
Abby awaits, guiding us back
After exploring the farm, we found ourselves back at the same gate we entered. We were so happy to see Abby still hanging around, almost like she was waiting for us to come back.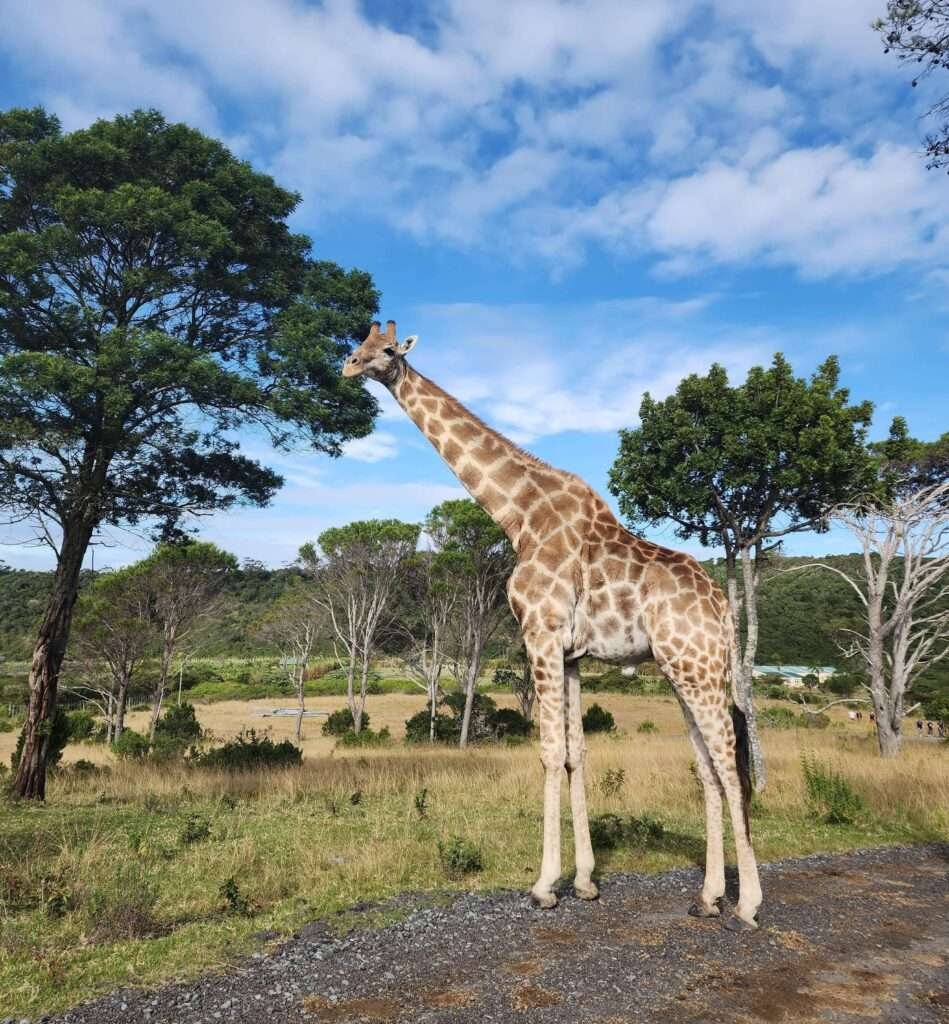 Areena Riverside Resort is a true gem on the Wild Coast. Whether it's the beautiful hiking trails at Areena, unexpected giraffe companions like Abby, or the sustainable practices on the neighboring farm, every part of the hiking experience is memorable.
If you enjoyed reading this, go ahead and click on the image below to check out Areena. You'll find a bunch of awesome experiences just waiting for you!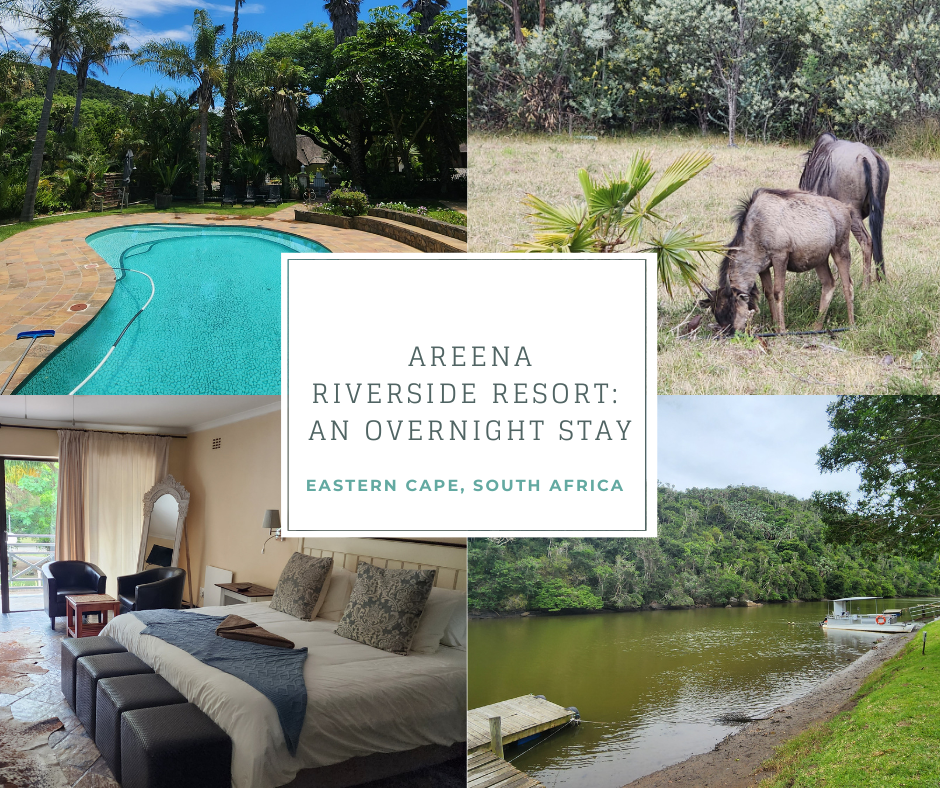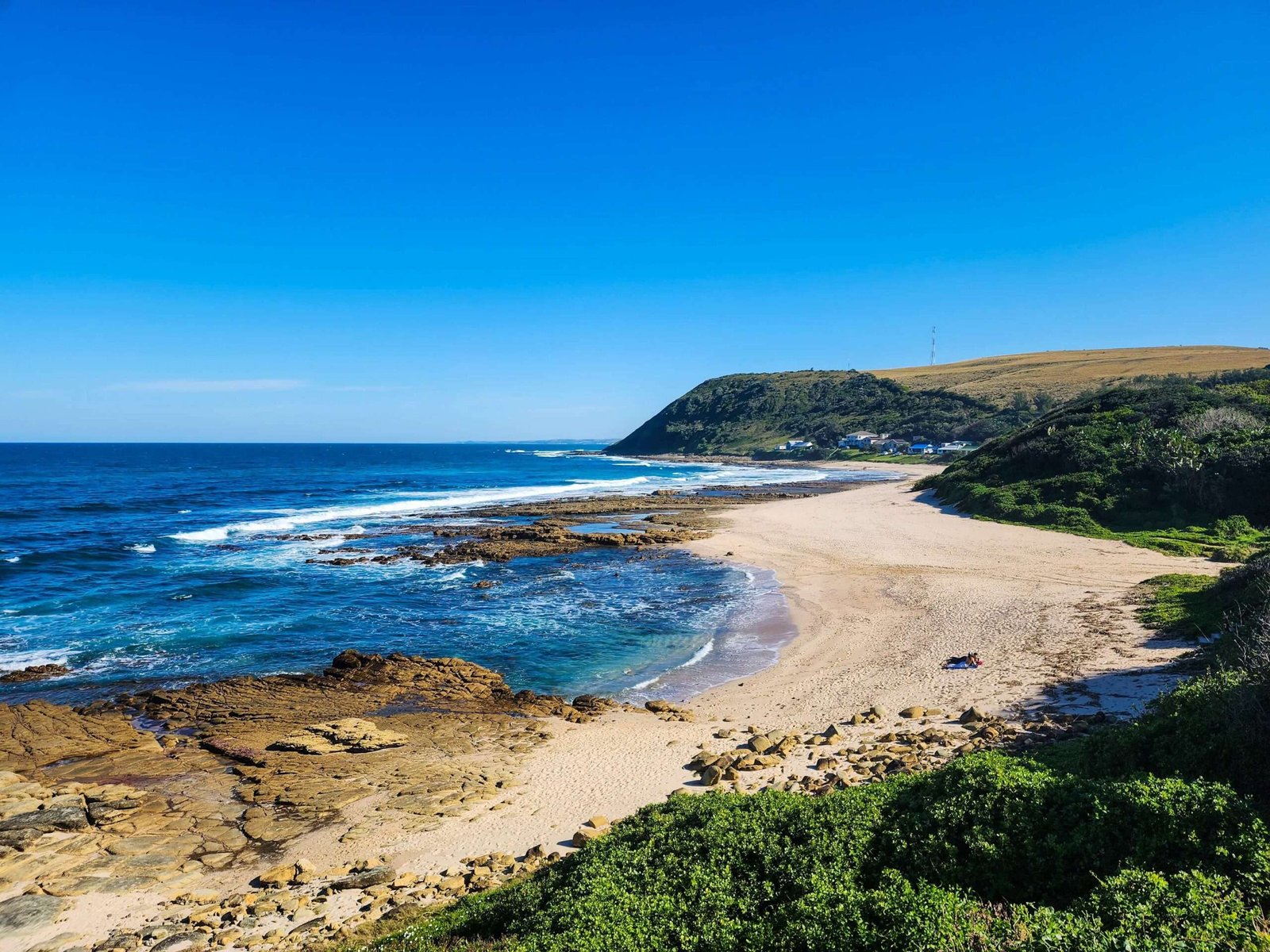 A little off the beaten track, these easy-to-reach places along the Wild Coast are beautifully...