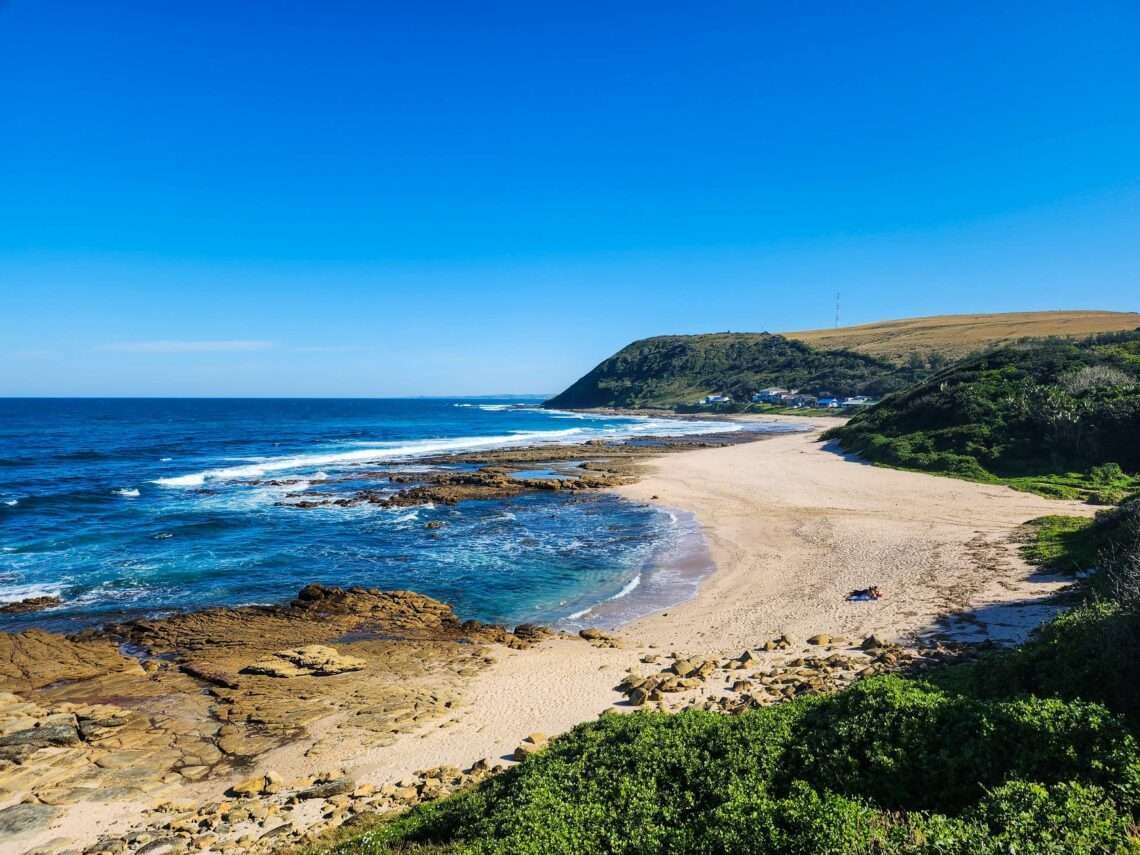 Easy to reach places along the Wild Coast (incl. the Jikeleza Route)
The Wild Coast is a region of South Africa extending from the Kei River mouth in the Eastern Cape to the Mtamvuna River in Kwa-Zulu Natal. It has remained relatively undeveloped over time, providing travelers with an unspoilt and picturesque coastline. Combined with a rich cultural heritage, the region is undeniably one of South Africa's most breathtaking and fascinating destinations. However, it also remains one of the less explored due to inadequate infrastructure and challenging road networks. Venturing to popular spots along the Wild Coast like Port St Johns, Coffee Bay, and Lusikisiki can prove challenging without a four-wheel drive vehicle. Consequently, this might restrict some travelers from fully experiencing some sections of the Wild Coast.
Luckily though there are still plenty of incredible and easy to reach places to explore on the edges of the Wild Coast, near the town of East London and towards Kei Mouth. Many of these destinations lie along the Jikeleza Wild Coast Route, just outside the official boundaries of the Wild Coast Region. However, they still manage to capture the genuine essence and charm of the area.
Easy-to-reach-places along South Africa's Wild Coast (incl. Jikeleza Route)
Areena Riverside Resort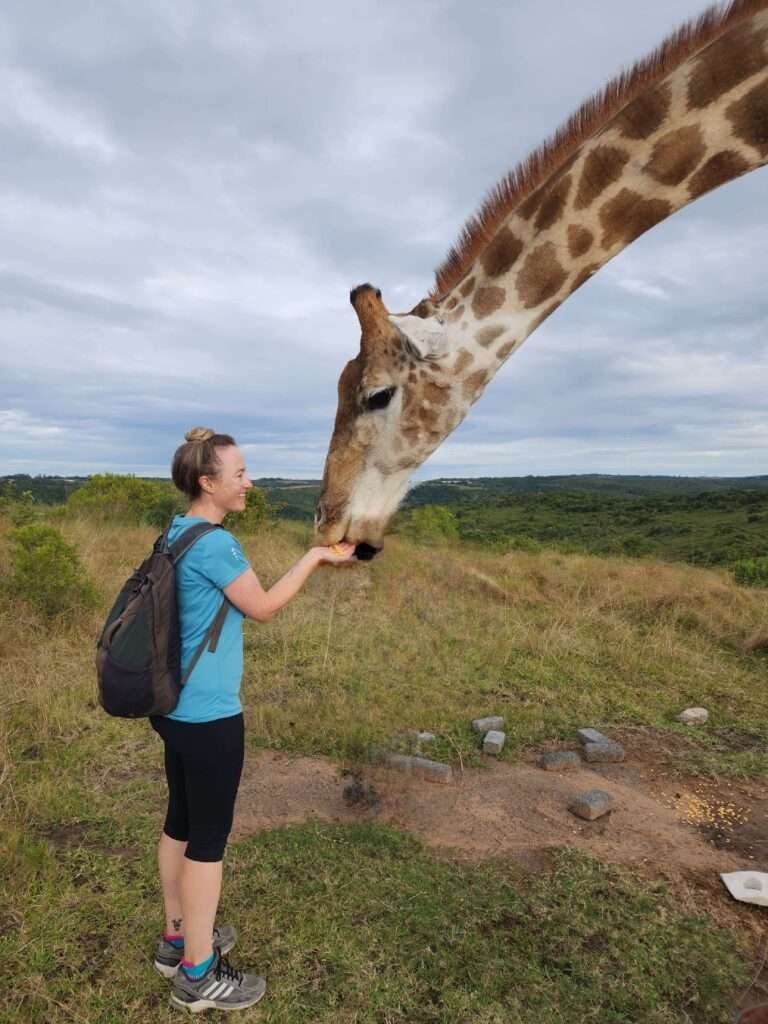 Situated on the serene banks of the Kwelera River, Areena offers a perfect escape from the hustle and bustle of everyday life. Accommodation options include camping, riverside lodges, and chalets. For adventure seekers, Areena has fun activities, too, such as ziplining, abseiling, paintball, archery, mountain biking, and fishing. Areena's spa offers massages and treatments, while the Areena Quays restaurant serves a varied A La Carte Menu with daily specials. Sundays feature a popular Lunch Buffet with a diverse selection of dishes.
Yet, the real star at Areena is Abby, a friendly 14-year-old giraffe raised by hand, who enjoys the company of visitors. If luck is on your side, Abby might even join and guide you on one of the hiking trails around Areena reserve.
Cintsa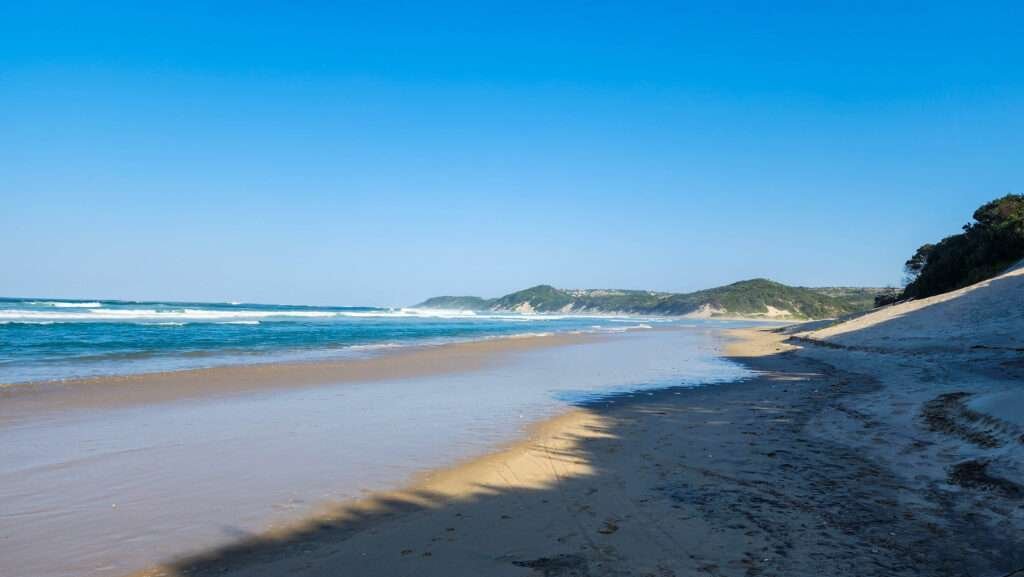 Less than an hour's drive from the East London International Airport, lies the delightful seaside resort of Cintsa. Split by a tranquil lagoon, the town is divided into two distinct sections: Chintsa East to the north and Chintsa West to the south. The coastal region that encompasses all of Chintsa is ideal for leisurely strolls, surfing adventures, and blissful relaxation. On the western side, there is a lovely swimming beach while the Eastern side boasts a beautiful, uninterrupted coastline extending for around 17 kilometers, so its a great place to enjoy lengthy walks along the beach.
Where to stay in Cintsa
Cintsa offers a wide range of accommodations to suit every preference, ranging from caravan and camping sites, cozy bed and breakfast establishments, self-catering chalets, to upscale guest houses and luxury resorts.
One of the highly sought-after resorts in Cintsa is the renowned Crawfords Beach Lodge, which also features a relaxing and rejuvenating spa. For stunning views and a tranquil atmosphere, the Purple Haze Eco Lodge stands as another favorite choice among visitors. Here, you can expect an environment where peace and quiet reign, with nothing but a starry sky at night to captivate your senses. Buccaneers on the Beach, popular with budget-conscious travelers, continues to be a cherished option, offering a wonderful beachfront experience. Adding to the allure of the region, the recent addition of the lavish Prana Lodge, complete with an attached restaurant and spa, presents a luxurious haven for discerning guests seeking the ultimate indulgence.
Tea in the Trees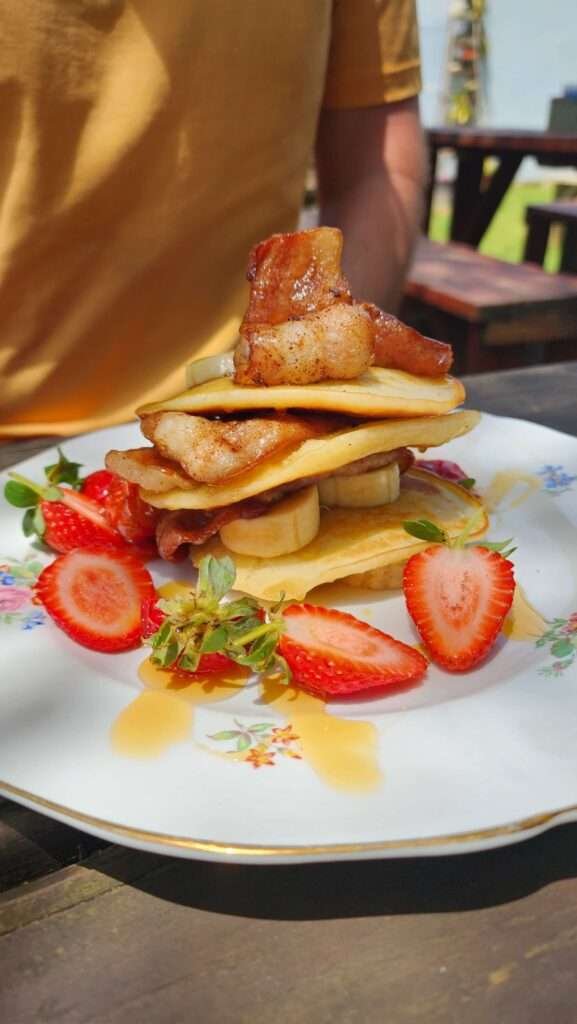 While exploring Cintsa, make sure to include a visit to the quaint Tea in the Trees. This unique establishment not only serves great food and beverages, but there are also market stores to wander through. In addition, there is also a small on-site shop brimming with a variety of treasures. From second-hand books and clothing to enticing items like sweet chili, lemongrass, ginger, homemade marmalade and lemonade. Tea in the Trees is the perfect place to either relax, grab a bite to eat or spend some leisurely time browsing the market and store.
Emerald Vale Brewery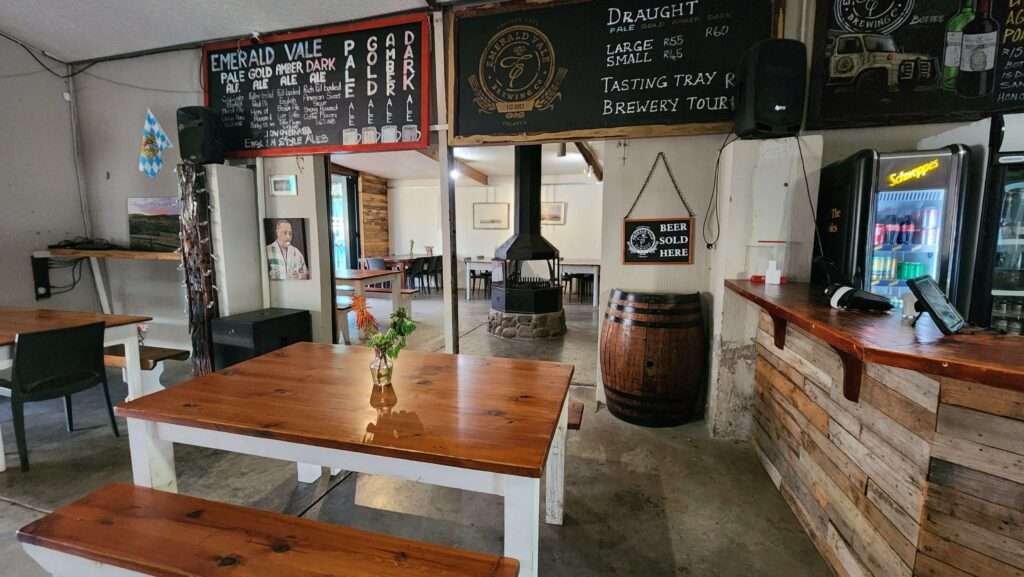 Established in April 2012, the Emerald Vale Brewery draws its name from the sprawling 400-hectare Emerald Farm. While the brewery is well loved by beer drinkers, it's more than just a craft beer venue. Their on-site restaurant serves up delicious meals and non-alcoholic drinks, too. Visitors can also enjoy the amazing views by going on hikes, runs, or mountain bike rides along the trails that wind through the farm.
Olivewood Estate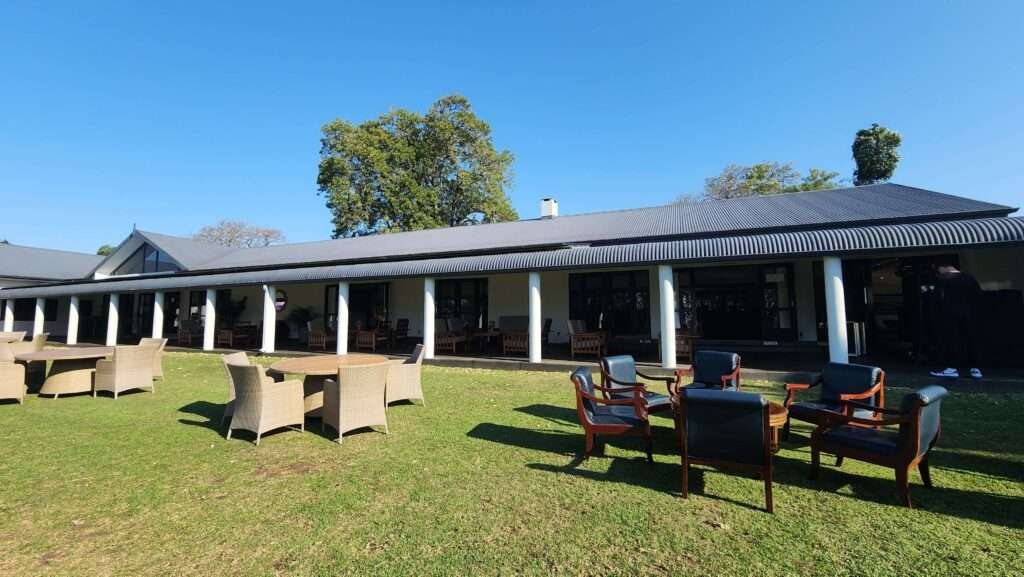 Olivewood Estate, nestled near the heart of East London, is both a luxury residential estate and a high-end hotel center. Day and overnight visitors can take advantage of the different amenities on site, including a golf course, restaurant and hiking trails. In addition, the estate provides the perfect backdrop for weddings or conference events. With both lovely views and world-class facilities, Olivewood Estate presents a harmonious blend of luxury, nature, and a truly elevated lifestyle.
Inkwenkwezi Private Game Reserve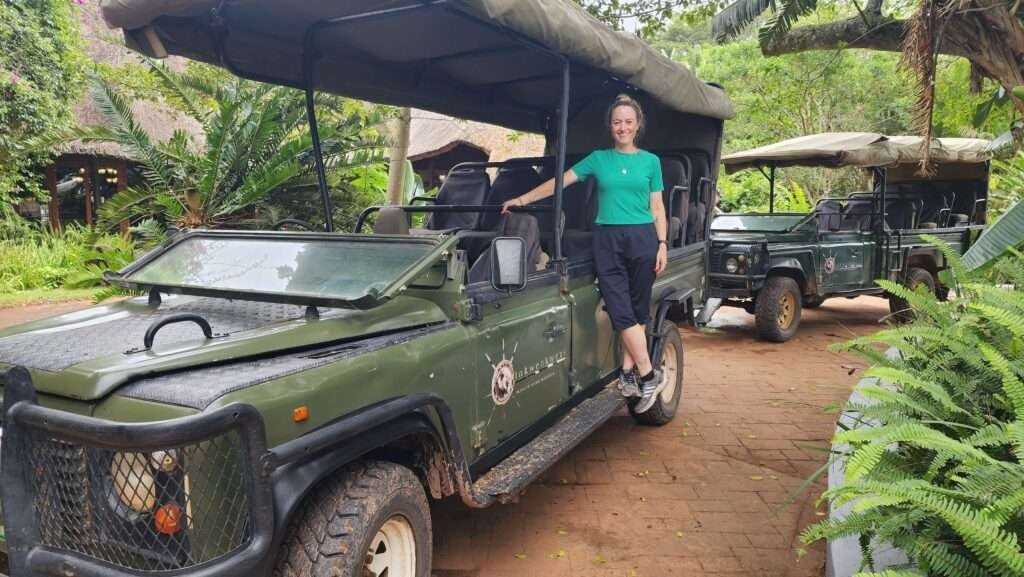 Just a short 10-minute drive from the heart of Cintsa lies the captivating Inkwenkwezi Private Game Reserve. Located amidst picturesque landscapes of undulating hills, this stunning reserve offers a sanctuary for a diverse array of plant and animal species. Overnight or day guests can enjoy guided wildlife drives, tranquil canoeing excursions, a forest walk, or experience the thrill of a guided quad biking tour. In addition, the Sunday lunch buffet at the Enthombeni Restaurant offers an outstanding variety of dishes and desserts.
Where to stay in Inkwenkwezi Private Game Reserve
Within the confines of Inkwenkwezi Game Reserve, you'll find remarkable lodging choices such as the Bush and Valley Camp Lodge, offering luxury accommodations surrounded by nature. If you're seeking more affordable options in close proximity, Umnenga Lodge and Cintsa Sands Lodge provide budget-friendly alternatives.
Heading north from the Cintsa region, you'll encounter the authentic starting point of the famed 'Wild Coast.' This easily reachable expanse of the Wild Coast provides a perfect retreat for beach lovers and individuals seeking a laid-back and unhurried way of life.
Haga Haga
Haga Haga is a small village with a safe swimming beach, surrounded by a picturesque natural landscape. The tranquil beauty of the protected lagoon waters and numerous rock pools serve as perfect playgrounds for families and young children. Beyond the beach, Haga Haga offers a host of beloved activities, from gorgeous hikes to the thrill of whale and dolphin watching. If you're a birdwatcher, you will be mesmerized by the abundance of birdlife which includes Narina Trogons, Long Crested Eagles and Kingfishers.
Where to stay in Haga-Haga
Although Haga-Haga offers limited accommodation options, the choices available are nothing short of outstanding. Among the options, Oppieplaas Country Estate stands out, lying within the Mtwentwe Reserve. This endearing estate offers cottages, a spacious studio, and a welcoming B&B, all providing outstanding views. As you relax on your porch, savoring a cup of coffee, you may even be fortunate enough to spot various wildlife species, such as giraffes leisurely wandering in the distance.
For those seeking seaside comfort, the Haga Haga Hotel beckons with its 11 en-suite rooms. Each room offers amazing ocean views from sea-facing balconies. Additionally, the hotel presents sea-facing chalets, complete with decks, barbecue facilities, open-plan lounges, and kitchens, providing an ideal coastal retreat.
Morgan Bay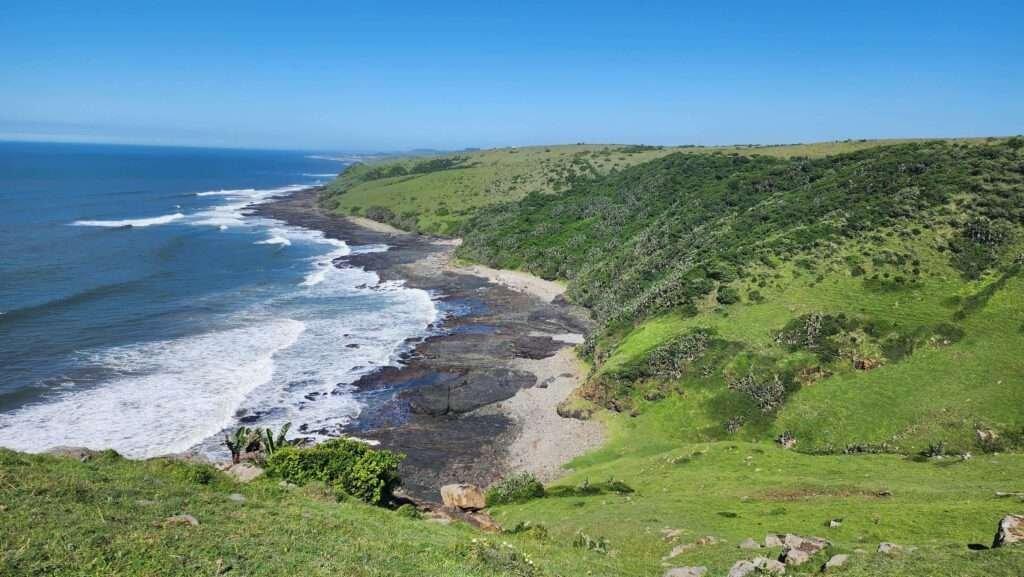 Resting between Kei Mouth to the North and Haga Haga to the South, lies the idyllic coastal gem of Morgan Bay. Boasting magnificent beaches, abundant fishing spots, thrilling surfing waves, and outstanding hiking trails, it is a paradise for nature enthusiasts. Within this haven, the renowned Morgan Bay Cliffs emerge as a standout attraction. Majestic and awe-inspiring, these towering cliffs reach impressive heights of around 50 meters, offering unrivaled panoramic vistas of the Indian Ocean. Whether you seek a breathtaking spot for sundowners or a scenic hiking route, the cliffs epitomize the essence of the 'Wild Coast,' showcasing its raw and untamed beauty.
Where to stay in Morgan Bay
Morgan Bay offers a wide range of properties to suit diverse budgets and preferences. Whether you seek a self-catering home, a delightful bed & breakfast, a hotel, a welcoming backpackers, or a serene caravan park, you'll find the perfect accommodation to make your stay memorable. Among the plethora of options, two highly regarded establishments stand out: the esteemed Morgan Bay Hotel and the renowned Mitford Hotel. These establishments have garnered reputations for providing exceptional comfort, service, and an unforgettable experience for guests in the beautiful setting of Morgan Bay.
Kei Mouth
Kei Mouth is a picturesque and enchanting seaside village that embraces a slower pace of life, ideal for travelers seeking tranquility and simplicity. This idyllic destination is renowned for its entertaining sight of cows leisurely roaming along the beach. While Kei Mouth exudes a laid-back atmosphere, there is no shortage of activities to keep you busy. Take leisurely walks through the village, uncovering hidden gems like the cross viewing deck. Dive into the refreshing waters for a swim, cast your line for a rewarding fishing expedition, fly colorful kites in the coastal breeze, ride horses along the beach, or simply relish in the joy of beachcombing. Kei Mouth invites you to embrace a serene and fulfilling coastal experience, immersing yourself in the natural beauty and embracing the unhurried pleasures it offers.
The pont is only one of three remaining car-transporting pontoon river ferry services in South Africa. Serving as a lifeline for communities residing in remote destinations north of Kei Mouth, vehicles, passengers and livestock board the pont on a daily basis. Furthermore, it is also a gateway to popular hotels in the region such as Seagulls and Trennerys. Beyond its local significance, the pontoon grants convenient access to the untamed beauty of the Transkei, a captivating stretch of coastline between the Great Kei River and the Umtamvuna River, aptly known as the 'Wild Coast'.
Where to stay in Kei Mouth
Despite its small size, Kei Mouth offers a diverse range of accommodation options to suit various preferences. Among these, one of my personal favorites is the Nautical Beach Cottage, a charmingly designed self-catering chalet. This delightful retreat boasts a well-arranged living area that seamlessly opens onto a verandah, complete with a built-in braai area. Immerse yourself in the serene ambiance as you witness the mesmerizing expanse of stars adorning the unpolluted night sky.
Endalweni Private Game Reserve lies along the banks of the Great Kei River, just 8kms from Kei Mouth and Morgan Bay. Simple yet prettily decorated rooms sleeping 2-4 people can be found at the reserve. The surrounding landscape offers walks, mountain biking, bird watching, wildlife viewing and picnicking.
Seagulls and Trennerys are highly sought-after and exceptional options for accommodation. However, it's important to note that reaching these establishments requires crossing the pont (ferry) in Kei Mouth. Occasional repairs or adverse weather conditions may render the pont unavailable for crossing. When making reservations at these resorts, it's advisable to keep this in mind. In case the pont is inaccessible, an alternative route entails driving beyond Butterworth, which may add approximately 2 hours (165km) to your journey on poorly maintained access roads.
---
With their exceptional blend of convenient accessibility and breathtaking natural splendor, these destinations deserve to be at the forefront of any South African road trip