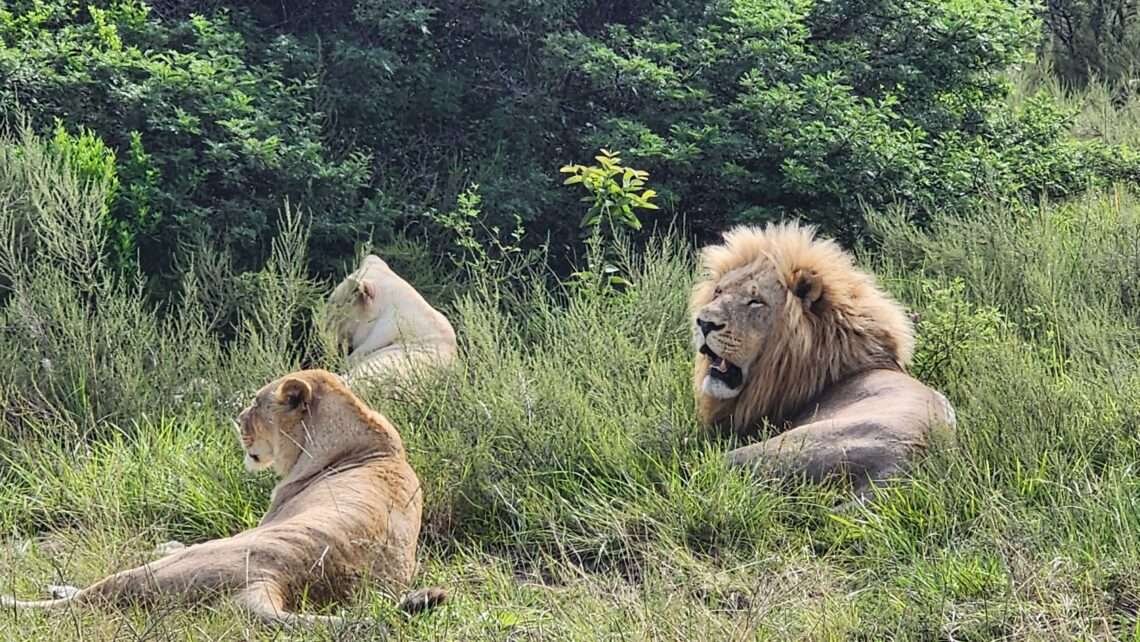 Inkwenkwezi Reserve: How to spend one day
Situated just 28km from East London along South Africa's Wild Coast Jikeleza Route in the Eastern Cape Province, Inkwenkwezi Private Game Reserve sprawls across 4500 hectares. Home to a diverse range of plant and animal species, it proudly hosts four of the big five: lion, buffalo, leopard, and rhinoceros. The reserve offers a variety of experiences, from forest walks and wildlife drives to Sunday buffets and quad bike tours. While there is accommodation available, you can also just visit for the day. That's exactly what we did, and we managed to pack a lot into one day. In this blog post, I'll show you what we did to make the most of a day at Inkwenkwezi.
Arriving at Inkwenkwezi
To reach Inkwenkwezi, just drive through the big thatched gate. It opens on its own with sensors as you approach.
From the parking lot, head for the reception area. It's a lovely room with sofas, books and a coffee station.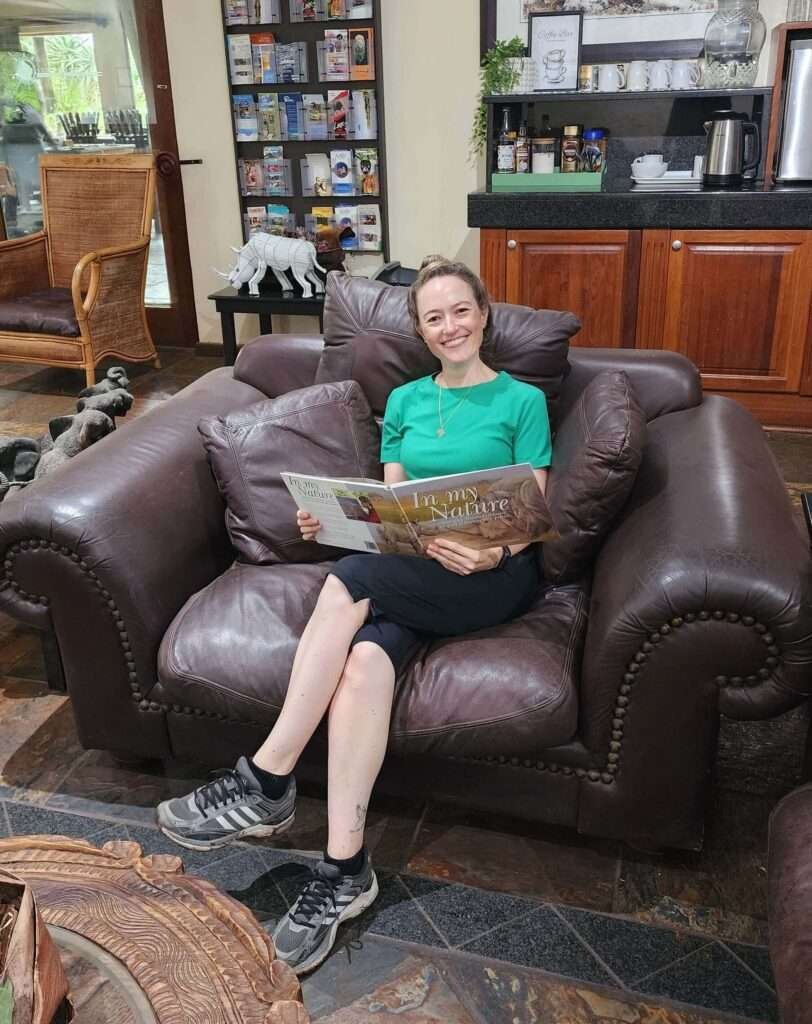 Fun Encounters with Ava
Ava, a beautiful and curious African Gray parrot who's the star of the reception area, will keep you smiling during your wait. I love birds, so hanging out with Ava and watching her funny ways was so much fun! Amazingly, Ava can mimic three languages: Xhosa, Afrikaans, and English.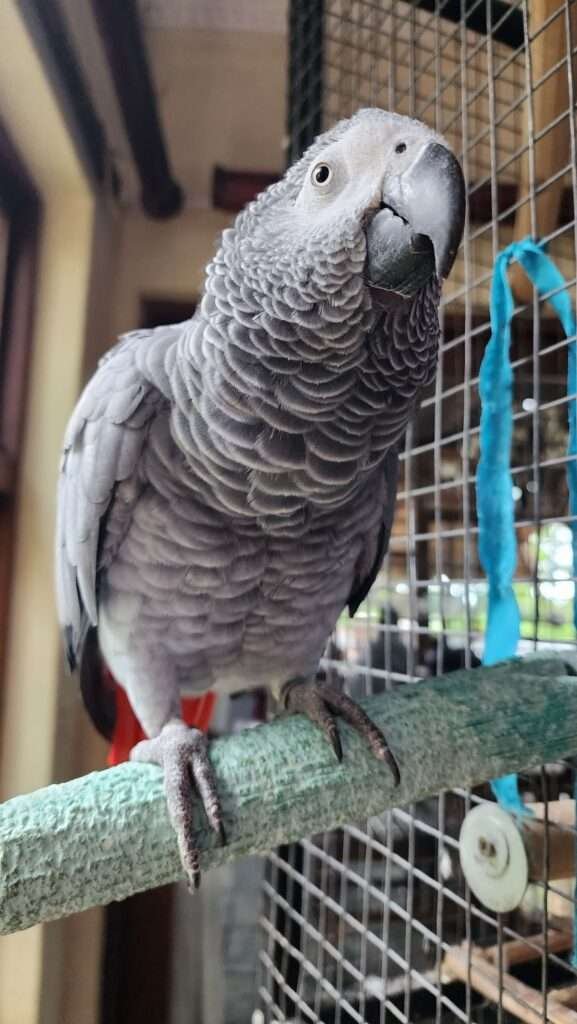 The Inkwenkwezi gardens
Take a moment to wander through the gardens near the reception. You'll be pleasantly surprised by the variety of flowers and birds around. As we strolled, it was hard to miss the brightly colored flowers, popping out of the surrounding greenery. There are plenty of the Strelitzia reginae flowers in the garden, also. This beautiful flower is native to South Africa and is also known as crane flower, bird of paradise, or isigude in Nguni.
While we kept walking, we found a cute pond with koi fish and a little bridge. It's lovely to stand on the bridge and watch the fish playing around in the water.
Inkwenkwezi has a wide variety of bird species, too, with a whopping 286 identified within the reserve. While I couldn't capture them all in photos, we were fortunate to spot a few in the garden, like a malachite kingfisher, loeries, starlings, the African Hoopoe, and a yellow-billed hornbill.
Wildlife at the Inkwenkwezi entrance area
In the gardens, you can enjoy more than just birds and flowers, though. We were lucky to see one of the reserve's antelope species right in the parking lot. The blesbok, a medium-sized antelope native to South Africa, has a striking reddish-brown to copper-colored coat. Males have a more vibrant color than females. They sport a unique white face with a dark-brown band from one eye to the other. Both males and females have lyre-shaped, ringed horns, with the males' being a bit larger and sturdier.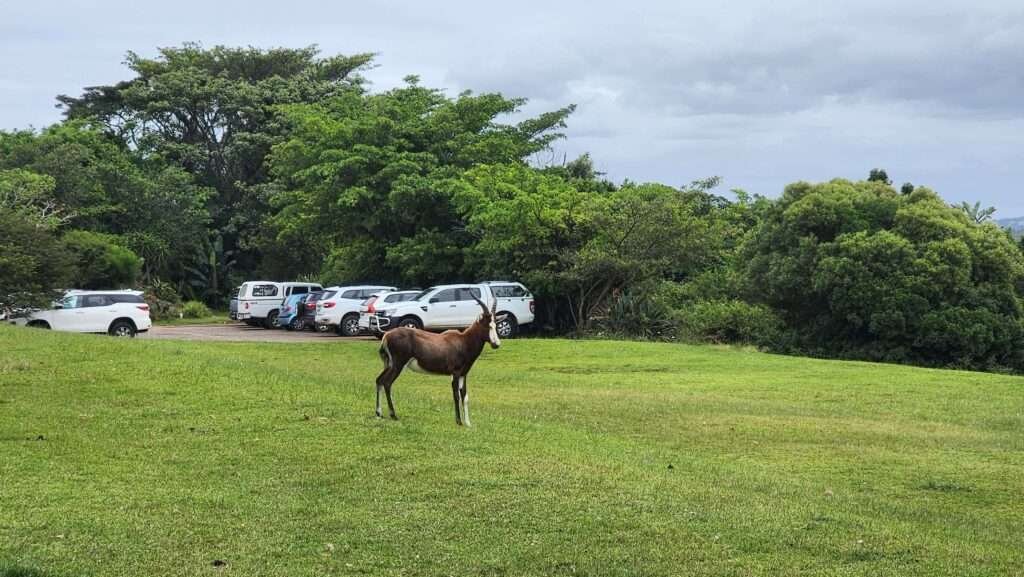 Another frequent guest in the garden is the beautiful little impala. Coming from the Zulu language, the name "impala" means "gazelle," perfectly describing their graceful nature. These medium-sized, slim antelopes are sometimes humorously called the "Macdonald's of the bush," highlighting their role as a tasty and fast meal for predators in the wild.
There's one more visitor that guests can't overlook – the ostrich. With remarkable intelligence, this endearing creature has developed a clever routine. Like clockwork, every day during lunchtime, she casually wanders down to the restaurant area, driven by her understanding that a treat of food scraps awaits her arrival. We enjoyed seeing her rather impatiently trying to get to the food she knew was coming her way…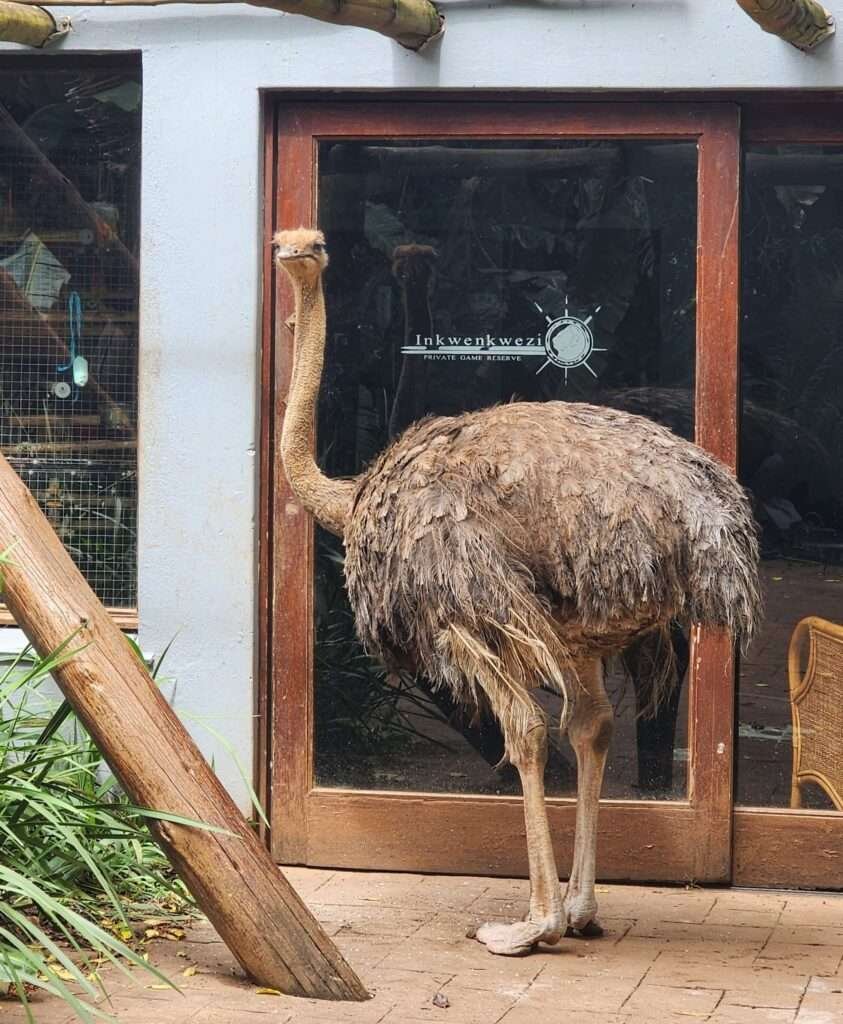 Having spent enough time looking around the gardens and reception area, it was time for our Umtiza Forest walk
The Umtiza Forest, a hidden gem at Inkwenkwezi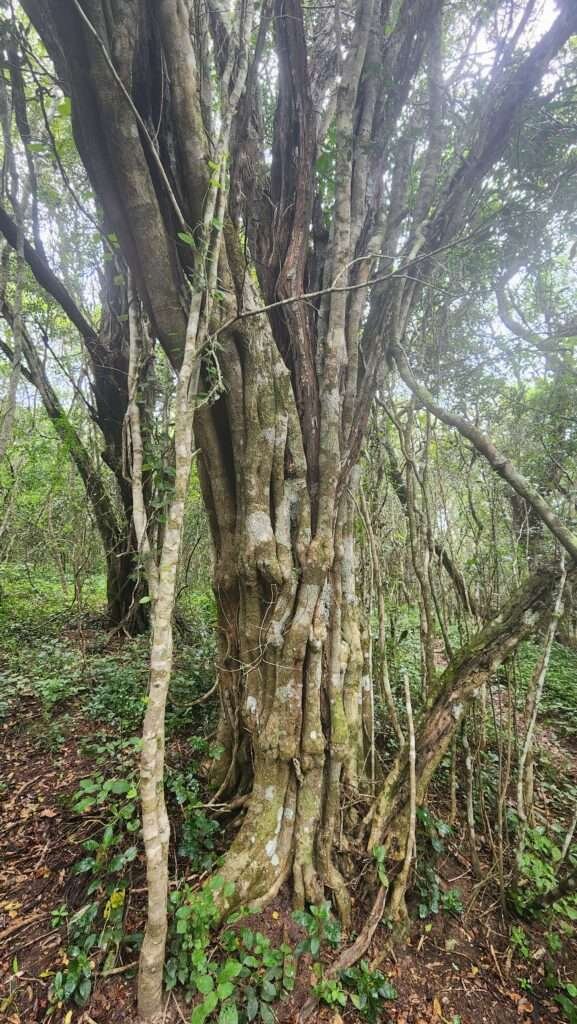 Inkwenkwezi offers a 1 hour walk through the Umtiza forest, a small patch of forest that is home to the last three known populations of Umtiza trees. The 1 hour walk is both interesting and educational. Along the way, we learnt all about the different plant species, as well as their important traditional and medicinal uses. The hands on experience is a great way to get a little insight into the beautiful plants that flourish at Inkwenkwezi.
Sunday lunch buffet at Inkwenkwezi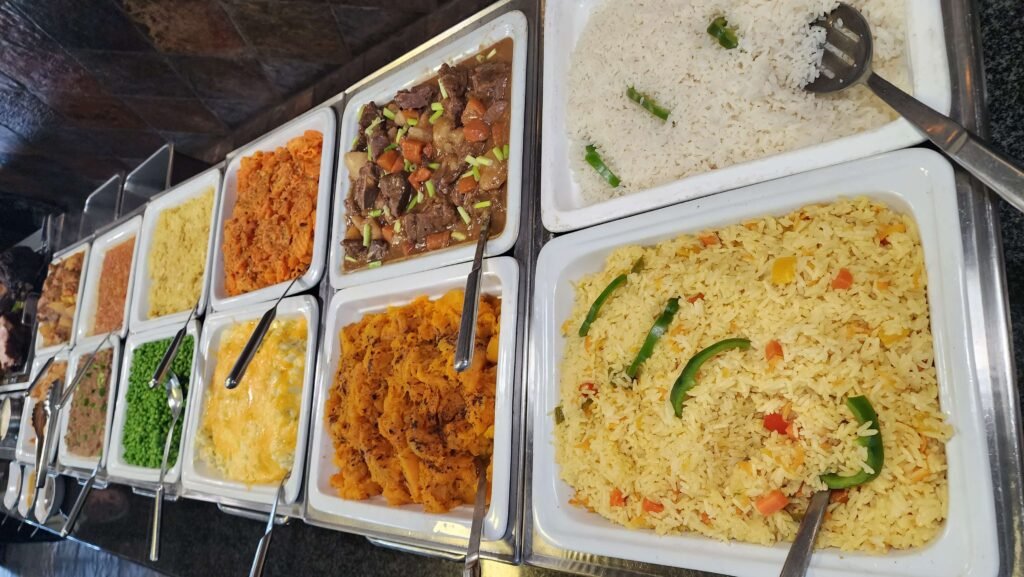 If there's one thing you absolutely can't miss on a day trip to Inkwenkwezi, it's their Sunday buffet. I mean, we loved our forest walk and the wildlife drive was of course fantastic, but let me tell you, that buffet was something else. We spent 2 hours at the buffet, and by the end of it we were happily stuffed! Seriously, from the roasted meats to the veggies and the dessert table, every bit was just delicious! Honestly, I'd make the trip back to Inkwenkwezi just for that buffet
A wildlife drive at Inkwenkwezi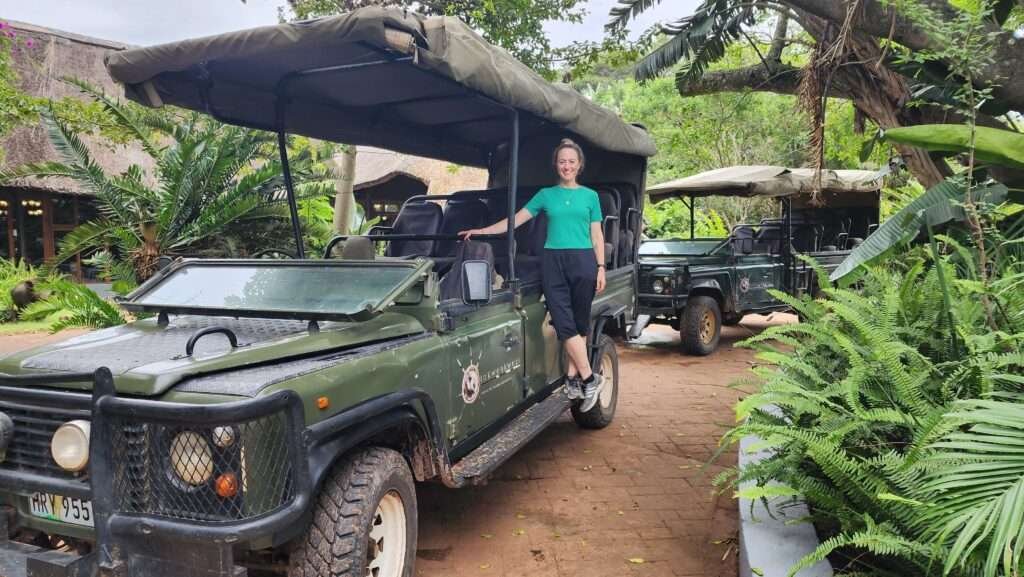 After an already fulfilling morning of animal sightings, it was time for our game drive.
The Inkwenkwezi Game Drive is an exciting off-road venture in open 4×4 vehicles. We saw plenty of wildlife on our drive, including blesbok, zebra, a fish eagle, monkeys, and more. It's not just about the wildlife during your drive, though. There are lots of other fascinating things to see along the way, such as intricate termite mounds and special plants. The drive also includes a visit to the rare white lion enclosure. While the lions are kept in a smaller, separate enclosure within the reserve, there's still a sense of adventure and adrenaline getting up close and personal with these magnificent creatures.
Where to Stay at Inkwenkwezi
At Inkwenkwezi, you have the choice of accommodation options both within the confines of the reserve and in nearby locations outside the reserve.
Within the reserve
There are two accommodation options situated within the reserve. The Bush Camp Lodge offers comfortable accommodation for 10 guests in five en-suite safari tents. The Valley Camp Lodge offers six custom designed luxury tents that can accommodate a total of 12 guests. For more information on accommodation at Inkwenkwezi, visit their site here.
Near the reserve
The gorgeous Umnenga lodge, located just 6km from Inkwenkwezi, offers a cost-effective alternative for accommodation.
For another exceptional option, consider Chintsa Sands Lodge, conveniently located only 4km from Inkwenkwezi and just 50m away from the beach.
Contact Information & Reservation for Inkwenkwezi
For reservations and enquiries, contact Inkwenkwezi at one of the following:
Email: pgr@inkwenkwezi.co.za
Telephone: +27 (043) 734 3234
Stay updated with Inkwenkwezi's latest offerings and ongoing specials by following their Facebook page.
Where to find Inkwenkwezi Private Game Reserve
While staying at Inkwenkwezi, consider the short 10-minute drive from the main entrance to reach the lovely Cintsa West Beach. Situated along South Africa's spectacular Wild Coast, this picturesque beach is a great destination that is certainly worth a visit if you happen to be in the area.
Inkwenkwezi is truly a special destination in the Eastern Cape. Whether you decide to stay overnight or simply visit for the day to partake in the exciting activities available, Inkwenkwezi guarantees an unforgettable adventure in the stunning Wild Coast of South Africa.