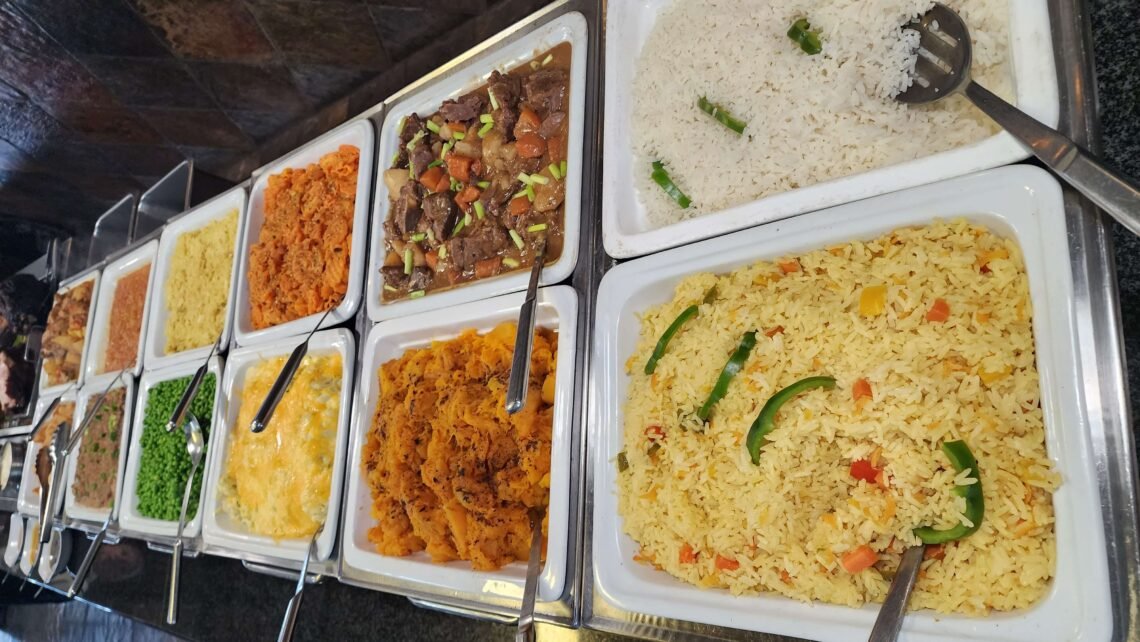 Inkwenkwezi Sunday Buffet: A Feast For The Senses
The Inkwenkwezi Sunday Buffet is located at the Emthombeni Restaurant within Inkwenkwezi Private Game Reserve along South Africa's Wild Coast region of the Eastern Cape Province. The restaurant hosts a HUGE Sunday buffet between 12:00 and 14:00 every week. They serve everything, from a selection of roasted meats, grilled vegetables, and stews to an assortment of fresh salads, artisanal bread, and mouthwatering desserts.
A sensory overload at Inkwenkwezi's Sunday Buffet
Emthombeni restaurant is where the magic of the Inkwenkwezi Sunday Buffet happens! The restaurant has subtle African vibes and you can choose to sit either inside or outside.
Top Tip: For the best experience, aim to arrive at noon to kick things off with the salad bar. They don't start serving the mains until 12:30. This way, you have enough time to try out different starters before moving on to the main dishes.
The Starters
I always get overwhelmed at buffets, not knowing where to start. However, I thought starting at the salad bar would be a good idea. Honestly, this wasn't the highlight of the buffet for me, because I had my eye on the meat and dessert table already. But let me tell you about their watermelon salad! Who would think a combination of feta and watermelon would work so well? It tasted amazing! Although I don't eat fish, I was told that their tuna bake is also out of this world.
Don't forget to sample the butternut soup and the bread rolls – it's really good! The rolls are freshly baked every day and you can taste the difference to store-bought, for sure. As for the butternut soup, it's an explosion of melt-in-your-mouth goodness. I went back for seconds (and then, guiltily, thirds).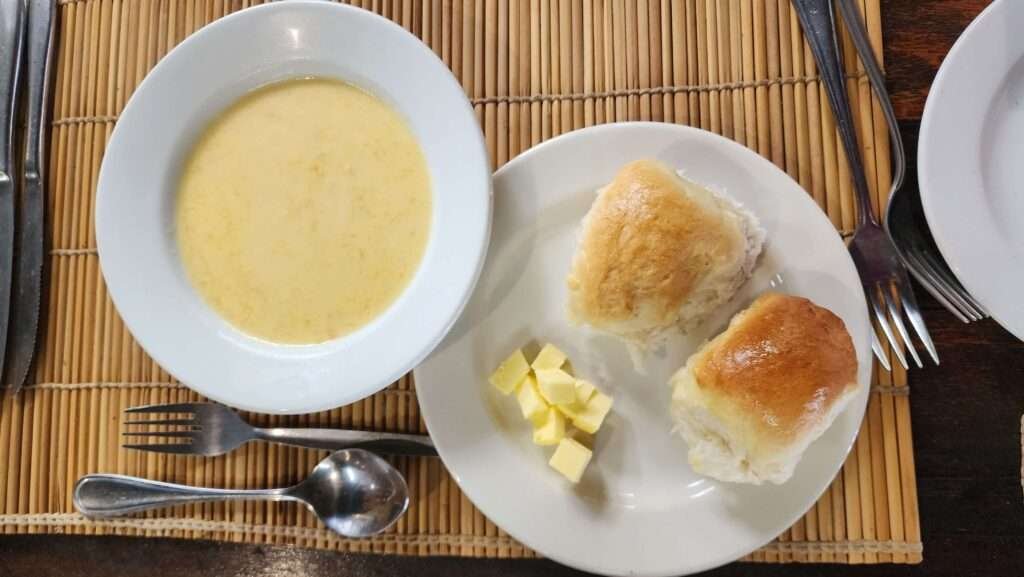 The mains
Next, let's talk about the meaty mains. There's calamari, chicken, fish, a rich venison stew, and that oh-so-tender pork belly and ribs. Each bite was spot on! By the end of this, I started to feel pretty full. I couldn't believe there was a whole selection of veggies and other dishes I still needed to fit in somewhere! Nevermind the dessert table I was still closely watching….
If you're a carnivore at heart, you will love the meat carving station. Here, you get to choose your favorite meat, just the way you like it. For the beef, you can choose from medium-rare to well-done.
The veggie dishes are just as varied and plentiful as the meat dishes, with everything from potatoes, to cheesy broccoli, baby carrots and rice.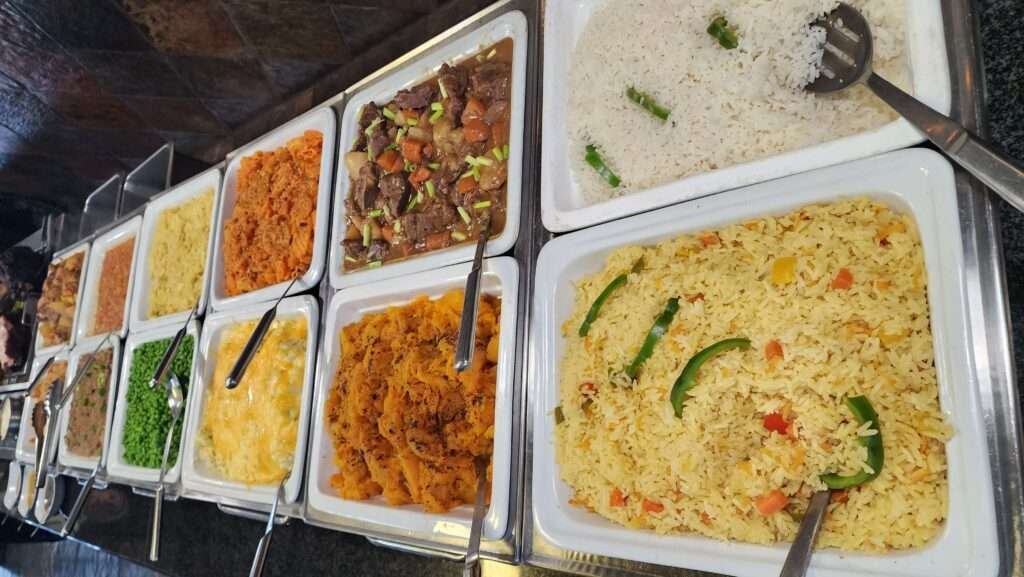 Desserts
Oh my goodness! I must confess, I have quite the sweet tooth, and it would be simply impolite not to sample every dessert on offer, don't you think? From jelly and custard to malva pudding, peppermint tart, milk tart, granadilla cheesecake, and a variety of ice cream flavors, they have it all! However, the true winner for me on the dessert table was the exquisite Crème Brûlée. It was perfectly cooked with a heavenly caramelized crust that had a hint of smokiness. I was in heaven!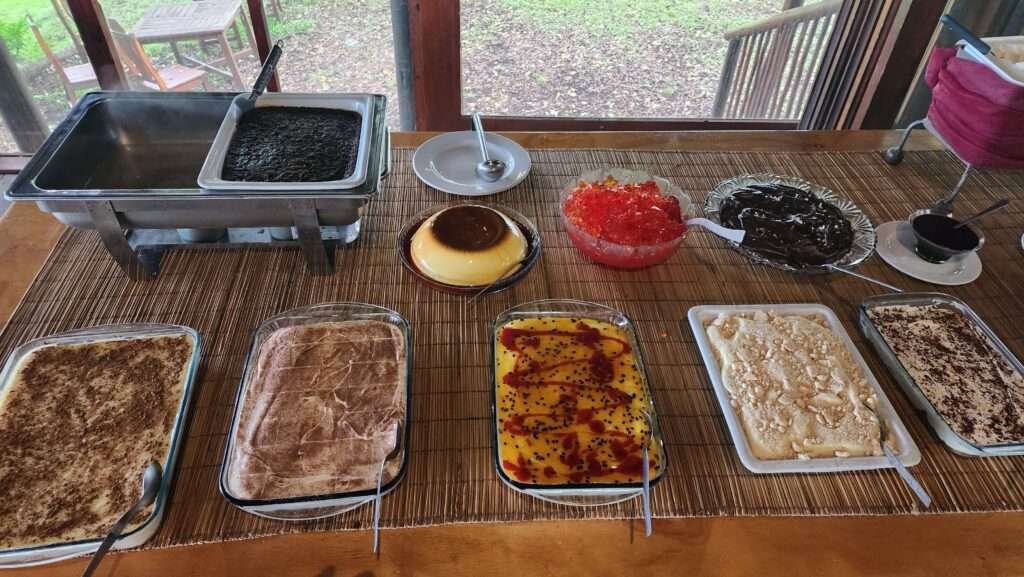 The Gin Station
The drinks menu is a story of its own. One standout? The Gin Station, a place that immediately grabbed my attention. You pick your favorite gin, pair it with the tonic or water of your liking and then add a burst of fruity goodness to your creation. I felt like a mixologist, creating my perfect drink!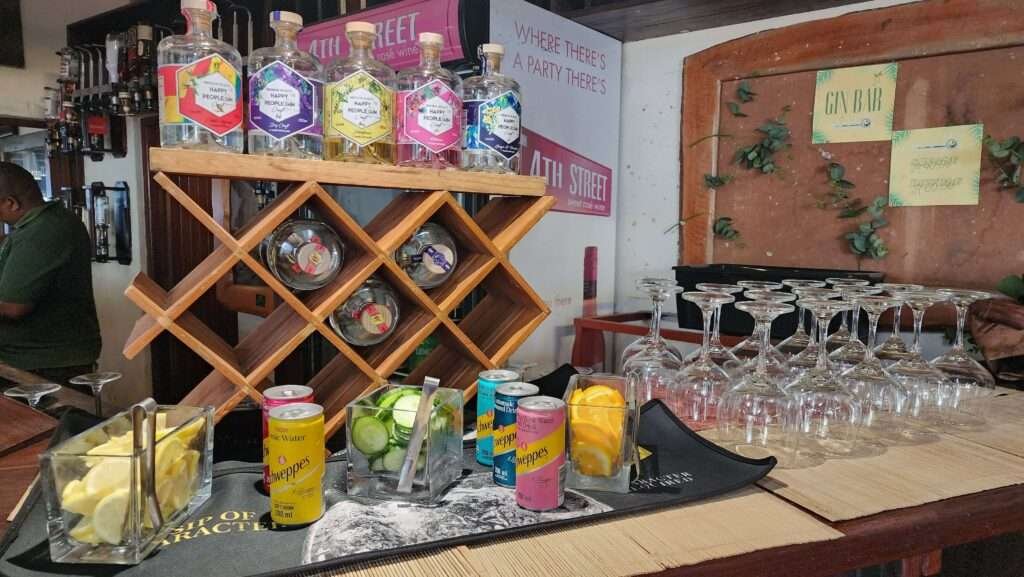 To sum it up, the Inkwenkwezi Sunday Buffet is an absolutely wonderful meal. From the moment you arrive, you'll be surrounded by a beautiful setting with gardens and friendly staff. The buffet offers a wide range of starters, main courses, and desserts, so there's something for everyone. What's more, you can even incorporate a game drive or forest walk during your visit to Inkwenkwezi. So, why not fill up on their delicious buffet and enjoy a day out at Inkwenkwezi!
Inkwenkwezi Sunday Buffet Information
Time: 12:00 – 14:00
Cost: R225 per adult (50% off for children under 10; Free for children under 3)
Bookings are essential and can be made by calling Inkwenkwezie on 043 734 3234 during office hours. (08h00-17h00)
Contact and Reservation for the Inkwenkwezi Sunday Buffet
For reservations and enquiries, contact Inkwenkwezi at one of the following:
Email: pgr@inkwenkwezi.co.za
Telephone: +27 (043) 734 3234
Stay updated with Inkwenkwezi's latest offerings and ongoing specials by following their Facebook page.
Where to find Inkwenkwezi Private Game Reserve
Address: Inkwenkwezi Private Game Reserve, Schafli Road, East Coast, East London
For precise location details, please click on the following link for Google Maps directions.