Hogsback Brewing Company: A Wonderful Beer and Gin Tasting
The Hogsback Brewing Company lies on the Corner of Main & Wolfridge Road in the quaint village of Hogsback in the Eastern Cape Province of South Africa. Nestled in the Amathole Mountains, Hogsback is well known for both its natural beauty and its quirky and irresistible charm. Much like Hogsback itself, the Hogsback Brewing Company effortlessly integrates into the town's cozy and welcoming ambiance.
In fact, as soon as you step inside the brewery, you'll get a feeling of homeliness and intimacy. The brewery's snug indoor space has simple, red bar stools and wooden tables. Take a glance at the chic chalkboard menu hanging up, which displays what's on offer. There's a good variety, from gin and beer tastings to savory meat and cheese platters, sweet desserts, and light snacks.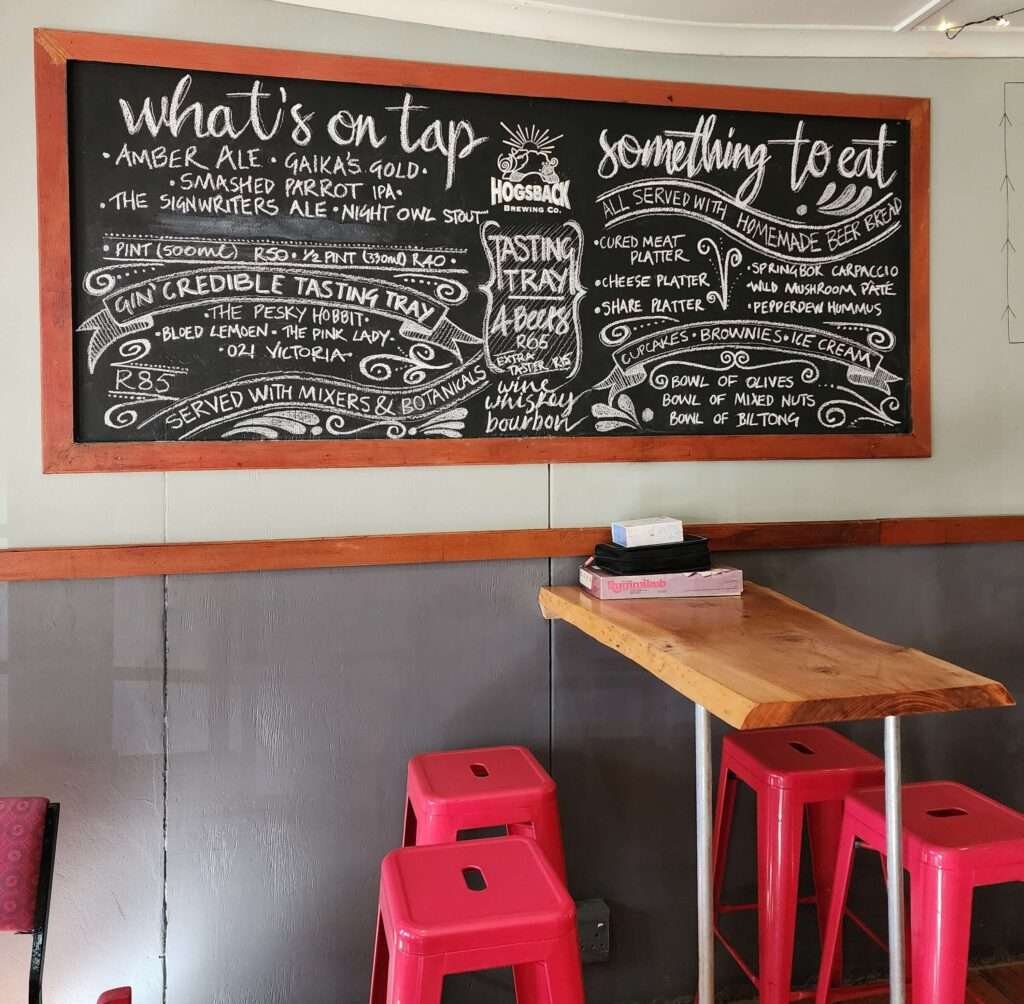 The brightly colored, small display of sale items in the corner of the bar room also caught my eye. Here, you can find great things to buy, from chopping boards and caps to home-made spreadables likes Pâté, hummus and pesto dip.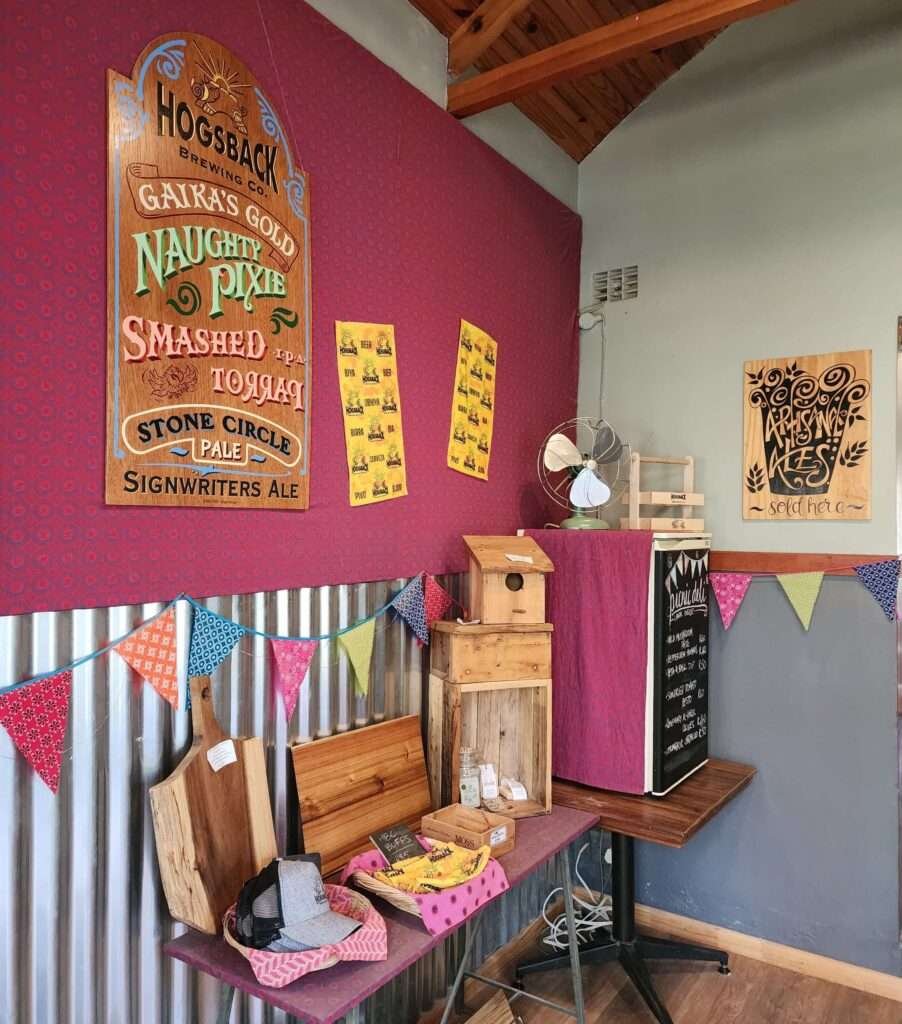 The Beer Garden
Inside has its charm, but the real highlight at the Brewing Company is the beer garden. There are a few long benches and tables scattered around, surrounded by these tall, gorgeous trees. What's more, the edges are lit up by string lights, creating a cozy and dreamy atmosphere.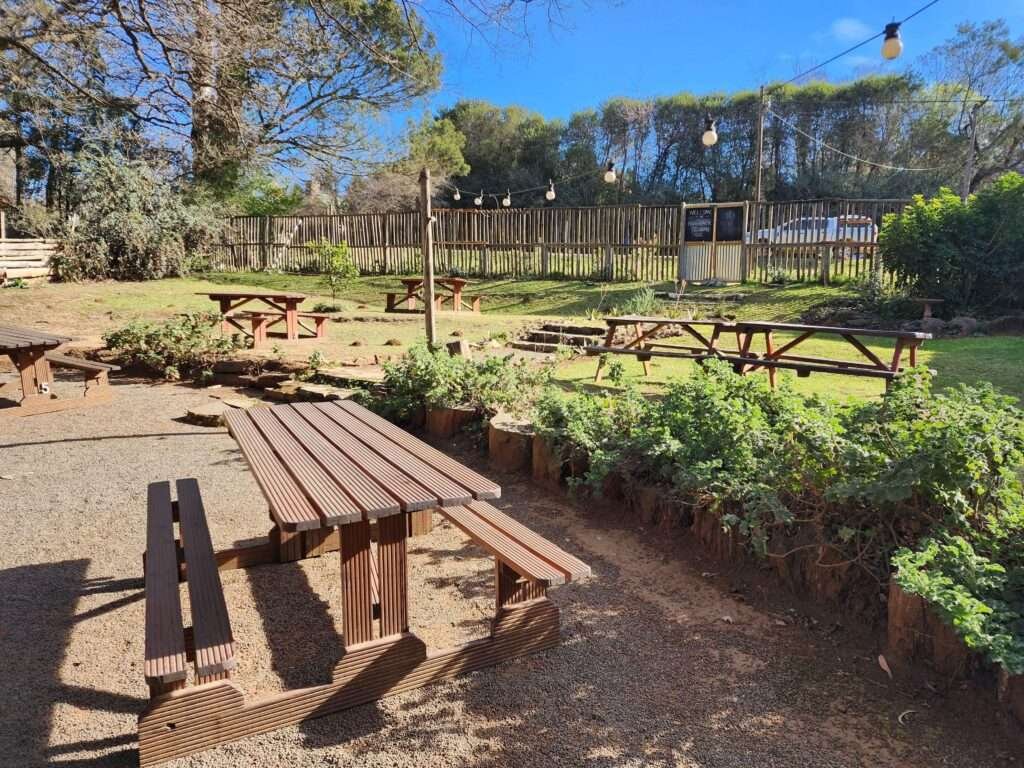 Now, let's talk about what makes Hogsback Brewing Company special—their own locally brewed beer. Although I'm not much of a beer fan, my partner decided to try the sample set. I have to admit, looking at those beers on the tray, I was tempted! One that I really enjoyed was the Gaika's Gold, with its subtle hint of citrus and a smooth taste. They also give you a sheet of paper with details about each beer in the sample, and on the other side, there's some cool history and fun facts about beer. Well then, who ever said that drinking beer wasn't educational?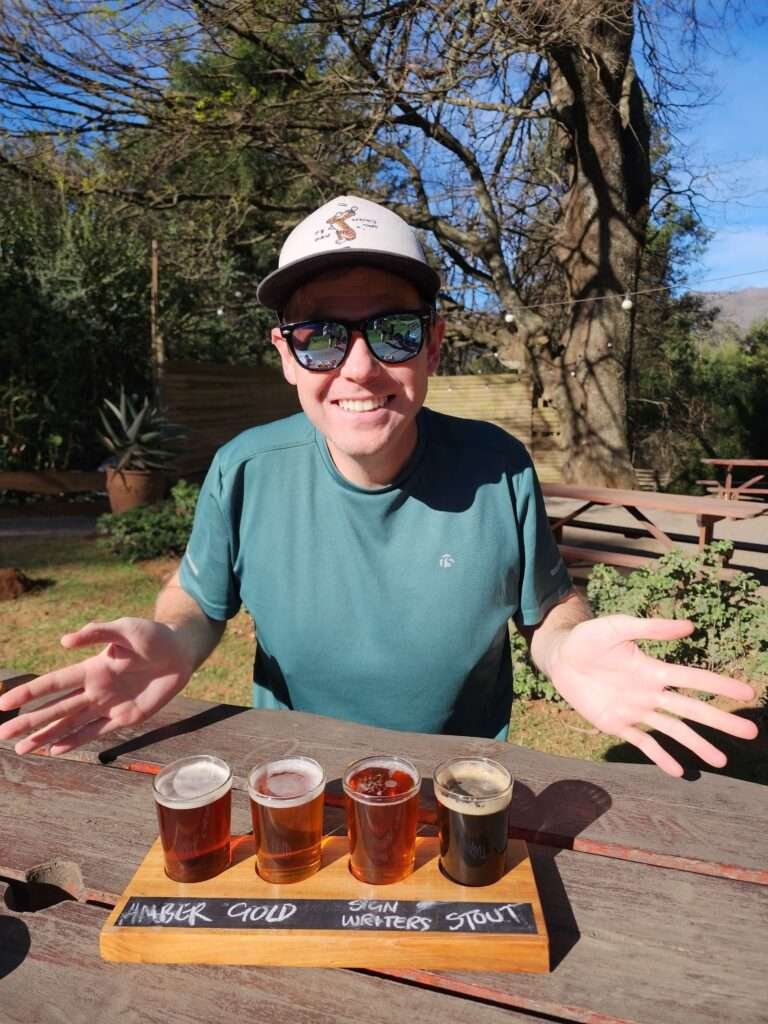 Gin Tasting at the Hogsback Brewing Company
As a gin lover, going for the gin sample set was a no-brainer for me. Thankfully, it went beyond what I expected, and their Gin Tasting turned out to be truly amazing! Just like with the beer sampling, I picked up some cool tidbits about gin while enjoying my sips. Here's a fun fact for you: did you know there are more cocktails based on gin than any other spirit? Pretty cool, right? One standout for me was the Pink Lady, an excellent blend of pink rose-tinted tonic and classic Juniper Gin. Throw in a slice of cucumber, and you've got this refreshing, crisp flavor – perfect for a hot summer day.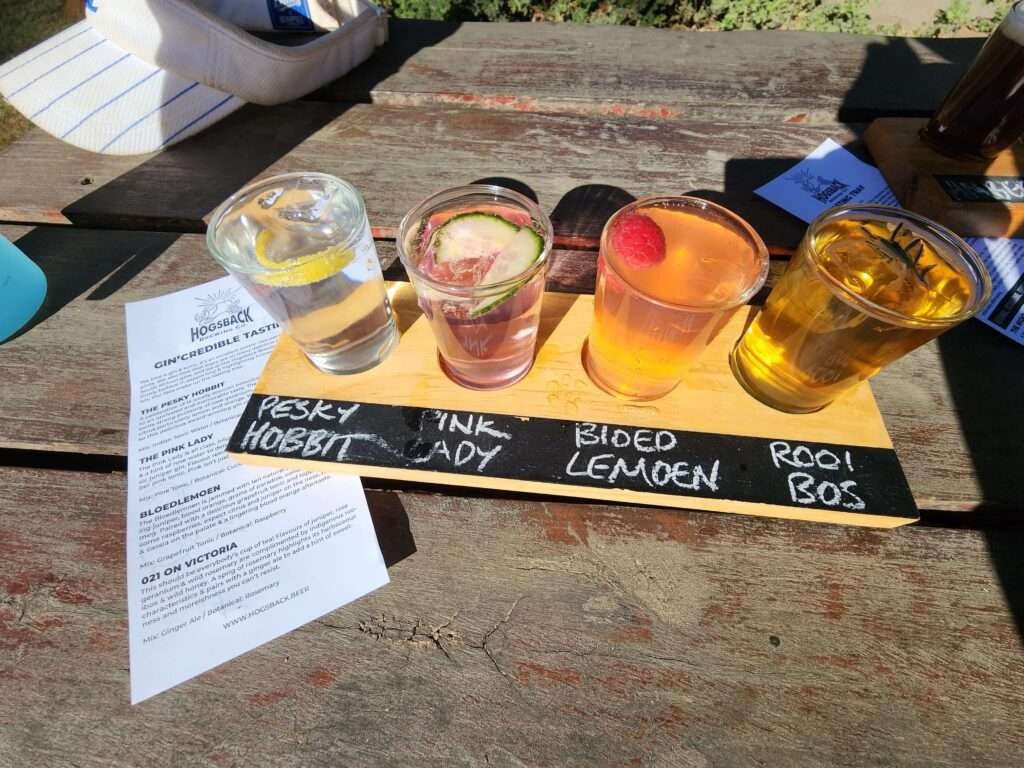 All in all, the Hogsback Brewing Company is more than just a spot to enjoy great drinks – It's a place that captures the true spirit (pun intended) of Hogsback.
Where to find the Hogsback Brewing Company
The Hogsback Brewing Company lies on the Corner of Main & Wolfridge Road in Hogsback.
Contact Information for the Hogsback Brewing Company
Visit their Facebook page or alternatively contact the Brewery via email at beerme@hogsback.beer or telephone at +27 72 492 6868
Where to stay in Hogsback
There are plenty of wonderful accommodation options in Hogsback, but Maple Grove Cottage stands out for me as a top choice. Reached within a convenient 10 minute drive of the Brewery, its offers both privacy and tranquility.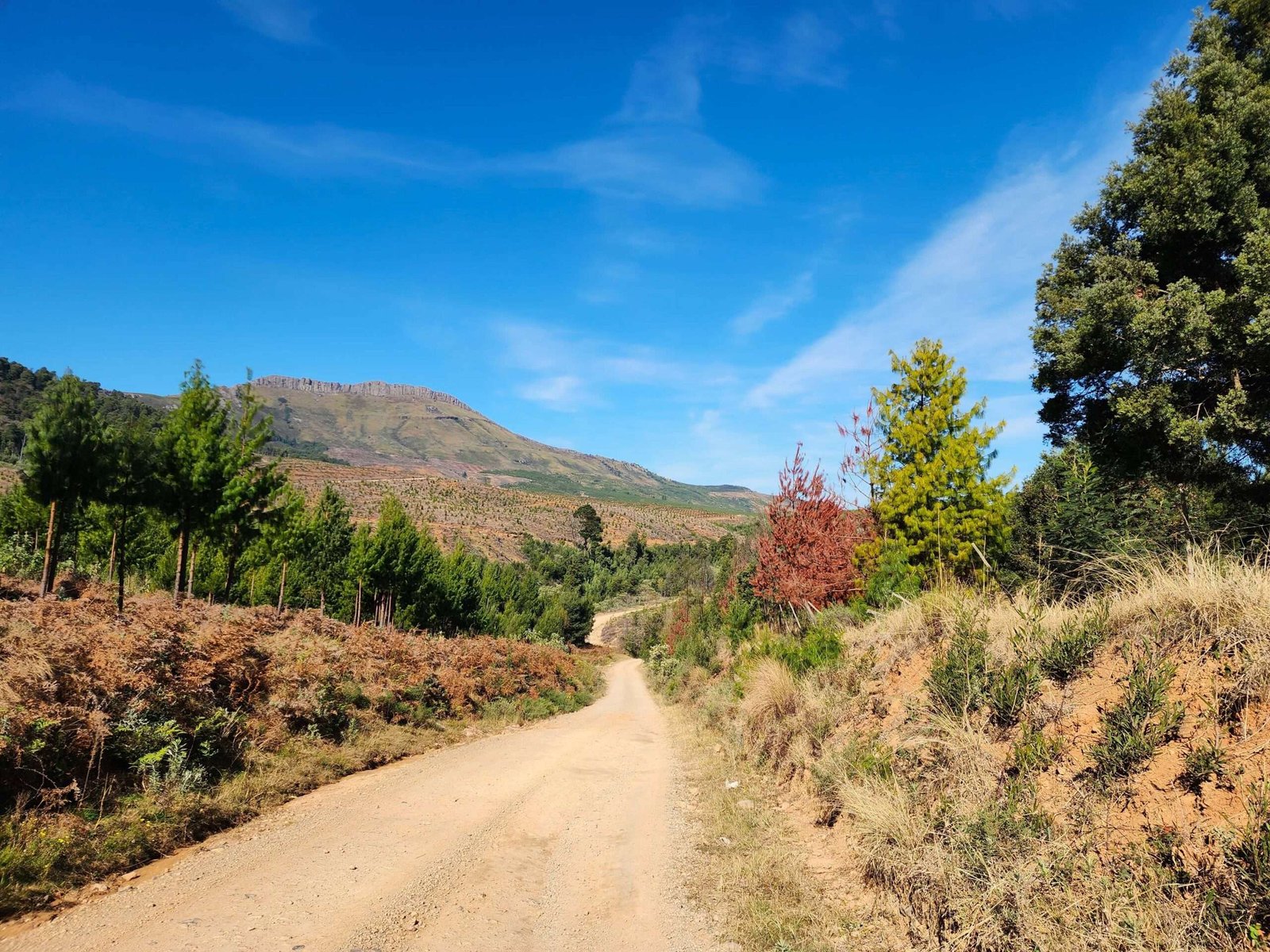 Hogsback, a mystical village in the Eastern Cape of South Africa, transports its visitors to...