Storms River Village: Discover the best things to do
Storms River Village is a small town that forms part of the Tsitsikamma section of South Africa's Garden Route in the Eastern Cape Province. The village takes its name from the Storms River, which meanders to the east of the village and eventually forms a river mouth within the Tsitsikamma National Park.
Note: Many people confuse Storms River Village with Storms River Mouth because they're very close to each other. However, Storms River (also called Stormsrivier) is a small village just off the N2 highway. It lies near the Tsitsikamma National Park's Storms River Mouth Camp.
The villages unique charm combined with various accommodation options, restaurants and adventure activities makes it a popular stopover for travellers along the Garden Route. The village also serves as a gateway to the Tsitsikamma section of the Garden Route National Park, which is renowned for its indigenous forests, dramatic coastline, and the Storms River Mouth with its iconic suspension bridge. What's more, there are also a range of outdoor activities within and surrounding the village, including hiking, kayaking and the world's highest commercial bungee jump.
Things to do in Storms River Village
From hiking to dining to adventure, there's something for everyone who visits Storms River village.
1. Walk and explore the village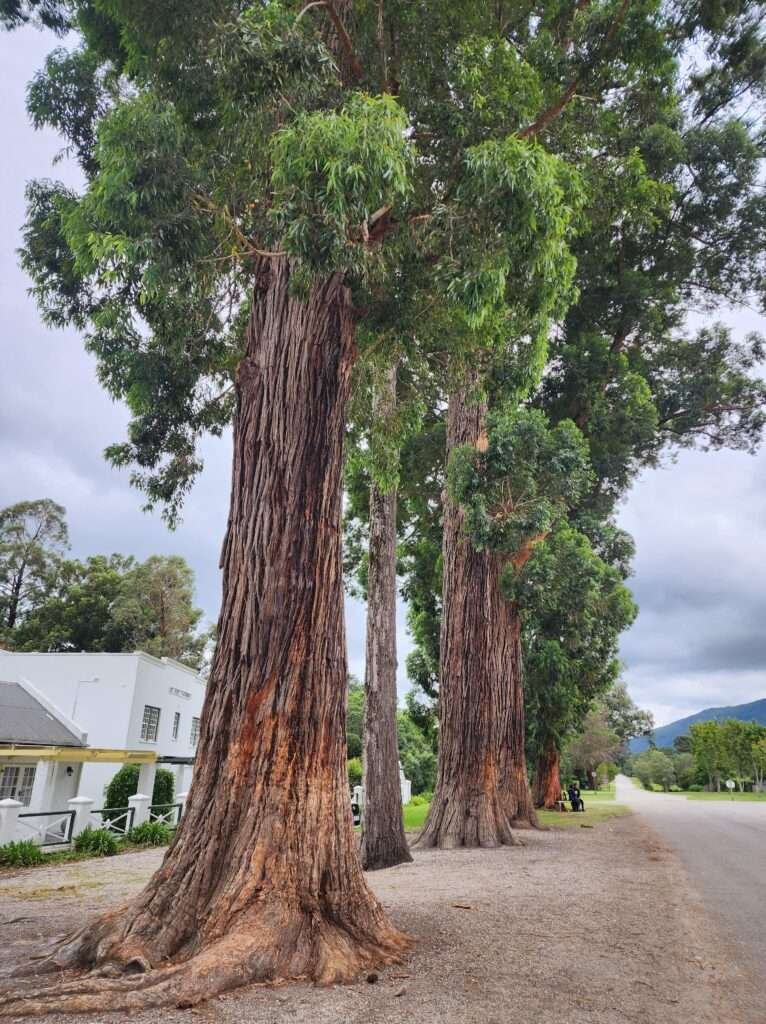 Massive trees line the streets, where frequent mist gives the town an added eerie feel. Also, with the mountains in the background, it's a beautiful setting for a walk to soak in the village's sights and sounds.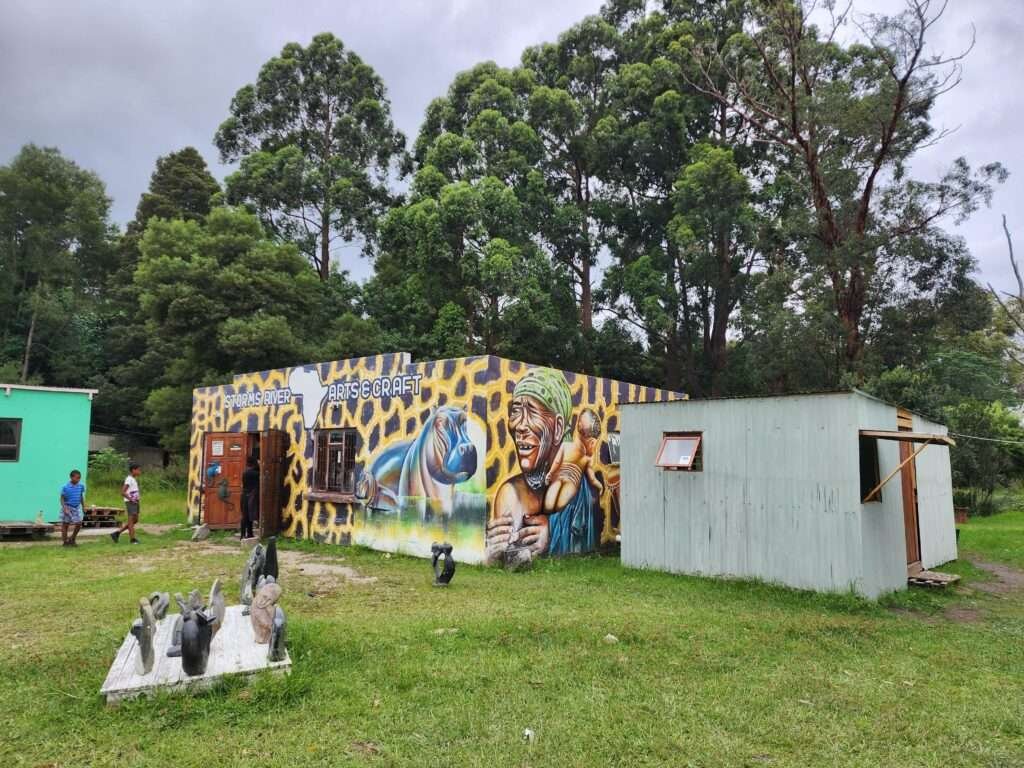 In the corner of the village lies a small Arts and Crafts shop selling African souvenirs, such as stone carvings and African canvas prints.
A General and Liquor Store has basic supplies, such as firewood, alcohol, fresh vegetables and fruit and meat. The store does however lack variety and is rather limited with what they stock. Because of this, I would suggest buying what you might need at a larger supermarket along the way to Storms River Village.
2. Eat at one of the Storms River Village's Restaurants
While there isn't a huge selection of restaurants to choose from in Storms River, there are a handful of excellent options.
Woodfire Pizza, Papa Afrika
Papa Afrika is a simple but wonderful restaurant serving wood fired pizza. The pizza is thin and crispy with a generous amount of toppings.
Marilyn's 60s Diner
With its Cadillac's and Chevy's, neon rimmed signage, 50 and 60's decor, and Elvis and Marilyn memorabilia, Marilyn's 60s Diner is a unique place to eat. This restaurant offers a nostalgic movie-style diner experience. Menu items include breakfast, milkshakes, as well as all 'American' hamburgers and hot dogs.
Taste Bistro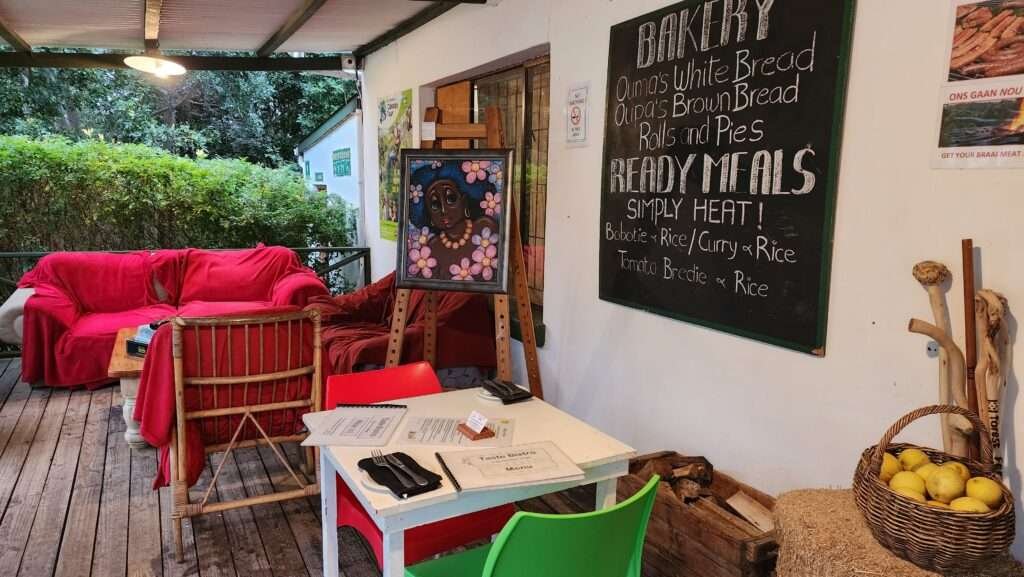 The Taste Bistro's menu is small, but what they do serve tastes excellent! Specifically, their home-made pies and freshly baked goods are amazing. Also, keep an eye out on their specials board which changes daily.
Tsitrus Cafe
Tsitrus is a quirky cafe with lots of locally made curios scattered throughout. They have both an upstairs and a downstairs, with ample seating. Overall, it's a wonderful place to relax, read a book and enjoy delicious food. Their pot pies are an absolute must-try!
Hunters Pub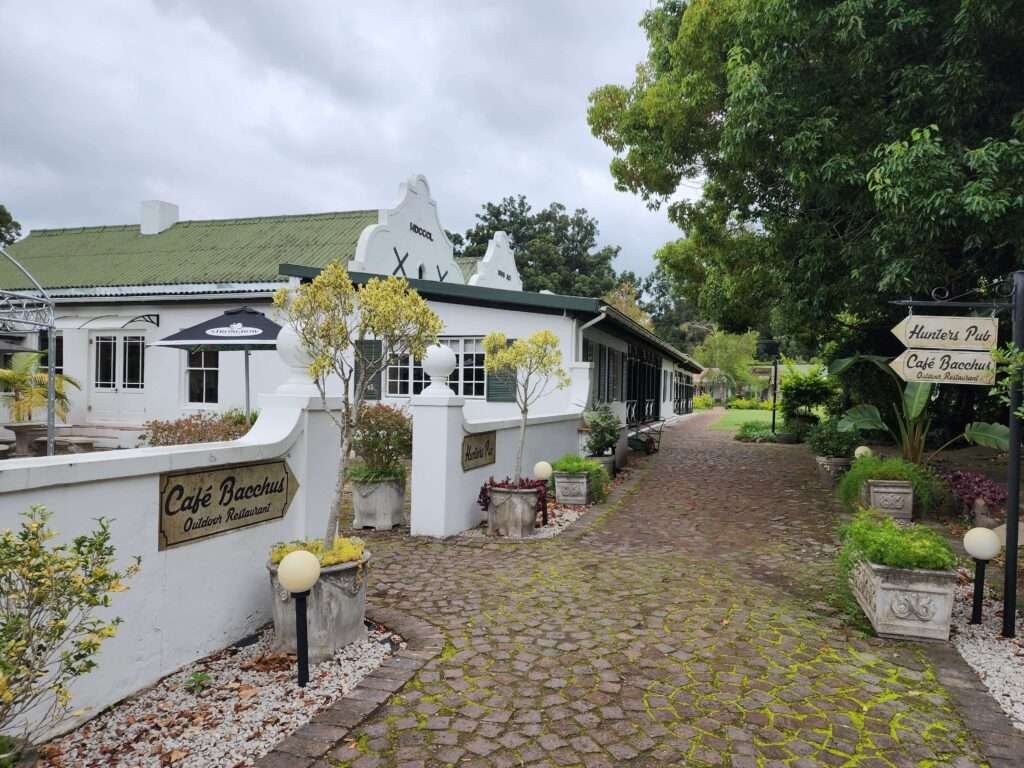 Hunters Pub is a fantastic place to grab a drink or a meal. A wood fire and soft lighting create a romantic atmosphere.
3. Enjoy fun and adventurous activities
For those seeking adventure, there are many fun activities to enjoy in the village and the surrounding area. From black water tubing and kayaking to bungee jumping and hiking trails, there's a little of everything.
Segway Tour
The guided Segway Tours at Storms River Village are a fun way to explore both the forest and the village. First passing through the small village, the tours then follow a road that leads deep into the Tsitsikamma Indigenous forest. Included in either the 1 hour or 2 hour tour is a 15-20 minute training session. Therefore, even those with zero experience riding a Segway can enjoy this fun activity.
Forest Canopy Tour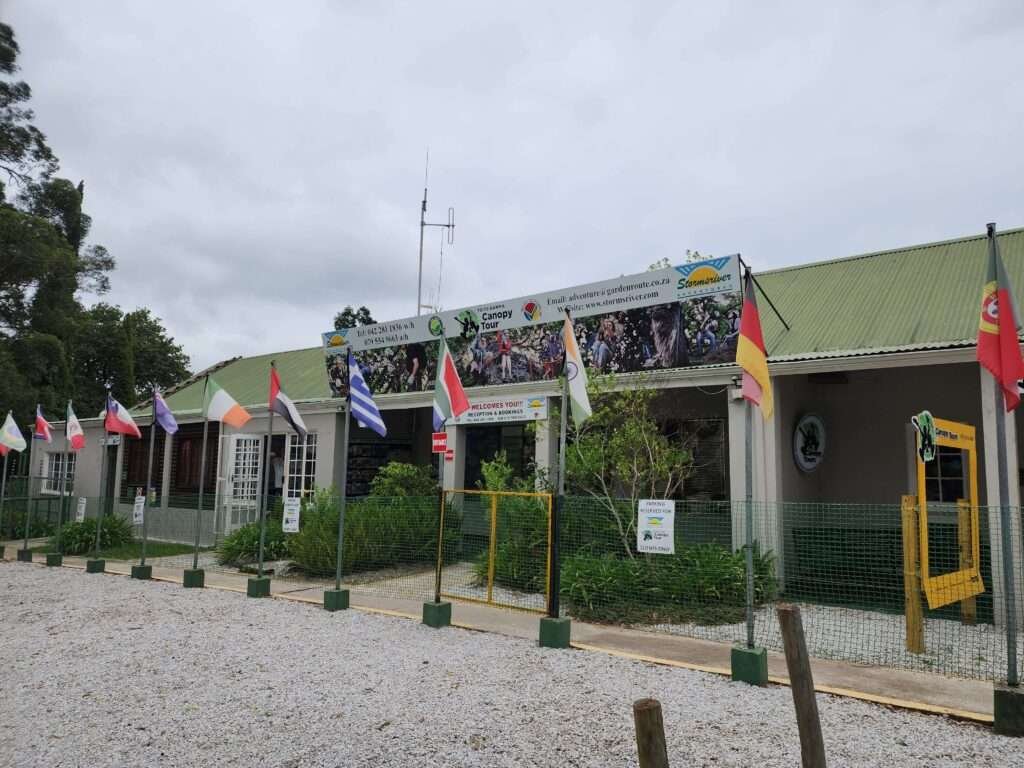 The 2 to 2½-hour zipline canopy tour entails ziplining from one platform to another along a steel cable, suspended at heights of up to 30 meters above the forest ground. You will be safely harnessed the entire time. There's also no jumping or climbing in this activity, as each zipline transports you to the next platform without effort on your part.
4. Go hiking in Storms River Village or the surrounding area
The Storms River Village and surrounding Tsitsikamma National Park is home to some of the most beautiful and popular hiking trails in South Africa, including the well known Otter Trail.
Hiking Trails starting AT Storms River Village
There are five designated routes, beginning with the 2km Goesa Trail and extending further into the Plaatbos Nature Reserve with the Green (5.09km), Red (7.78km), Yellow (8.09km), and Red/Yellow Combination (11.2km) routes. The walks all start and end at the Stormsriver Adventure Centre in Storms River Village.
Hiking Trails NEAR Storms River Village
The Ratel Trail starts and ends at the Tsitsikamma Big Tree. There are three routes to choose from, marked with different colored footprints: red (4.2km), yellow (2.6km), and green (1km).
Within a 20 minute drive of Storms River Village lies the Storms River Mouth within Tsitsikamma National Park. Storms River Mouth is well-known to hikers as the beginning of the famous Otter Trail, a tough, multi-day hike that goes along the rocky coastline all the way to Nature's Valley.
Starting from the Storms River Mouth Rest Camp, there are four hiking trails to explore, offering distances ranging from 1 to 6 kilometers. These include the Mouth Trail that leads to the iconic suspension bridge, the Lourie Trail that gently meanders through the forest, the longer Blue Duiker Trail taking you deeper into the forest (3.7 kilometers, 2 hours), and the Waterfall Trail , which leads to a beautiful waterfall along the first day's route of the Otter Trail.
Storms River Village is a charming destination along South Africa's Garden Route. With its lovely streets, accommodation, and dining options, it's a great stop for a road trip in the region. But it's more than just a place to pause—it's also the gateway to Tsitsikamma National Park and other nearby attractions.
How to get to the Storms River Village
Getting to Storms River is easiest by car. If you want to fly and then drive, you can pick from the nearby airports in George, Port Elizabeth, or Cape Town, and rent a car to reach Storms River.
Where to stay in Storms River Village
Storms River Village has a range of accommodation options to suit every budget and taste.
For those on a budget, two of the most well-known backpackers in the village are Tube and Axe Backpackers and Tsitsikamma Backpackers.
There are also plenty of hotels and guesthouse to choose from. A quick search on Booking.com will reveal an array of options within the village.
My personal favorite accommodation option in Storms River Village is the Beautiful Garden Cottage. The cottage features two levels, including an adorable loft area on the upper floor with two single beds. The cottage's indoor fireplace in the open plan kitchen and living room is perfect for a chilly evening. A separate bedroom on the ground floor has a double bed.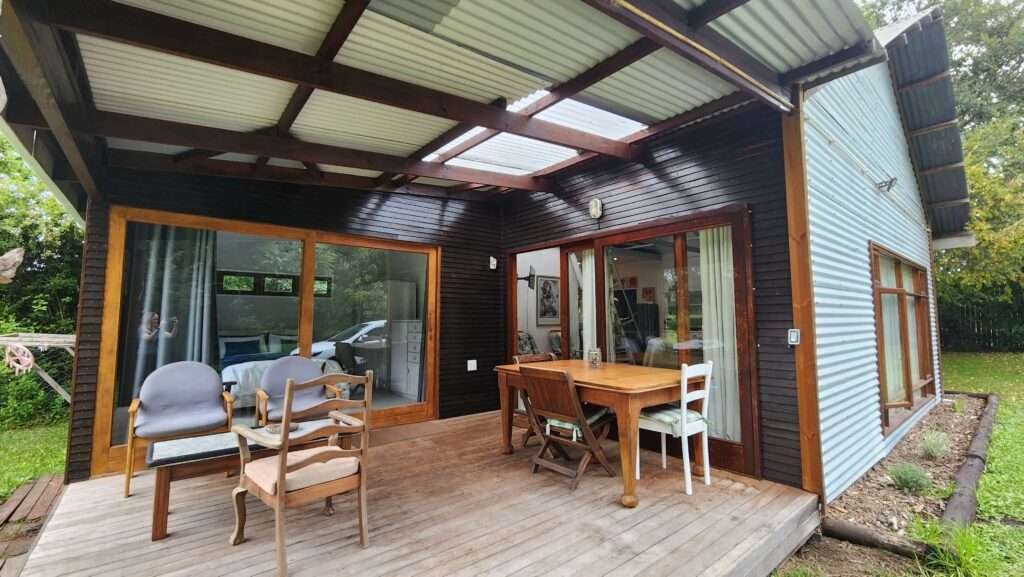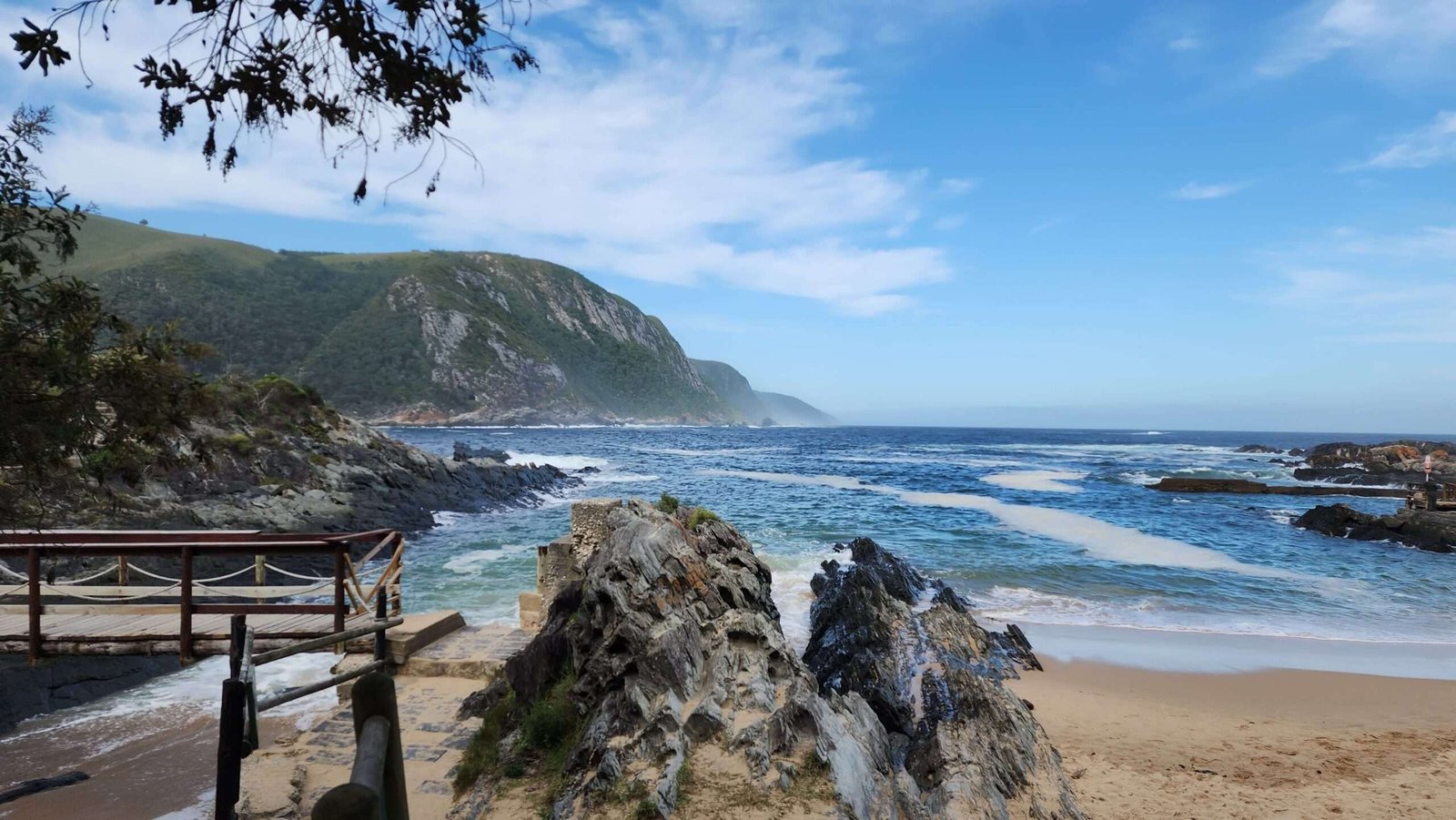 The Storms River Mouth hiking trails showcase the beauty of Tsitsikamma, with trails winding along...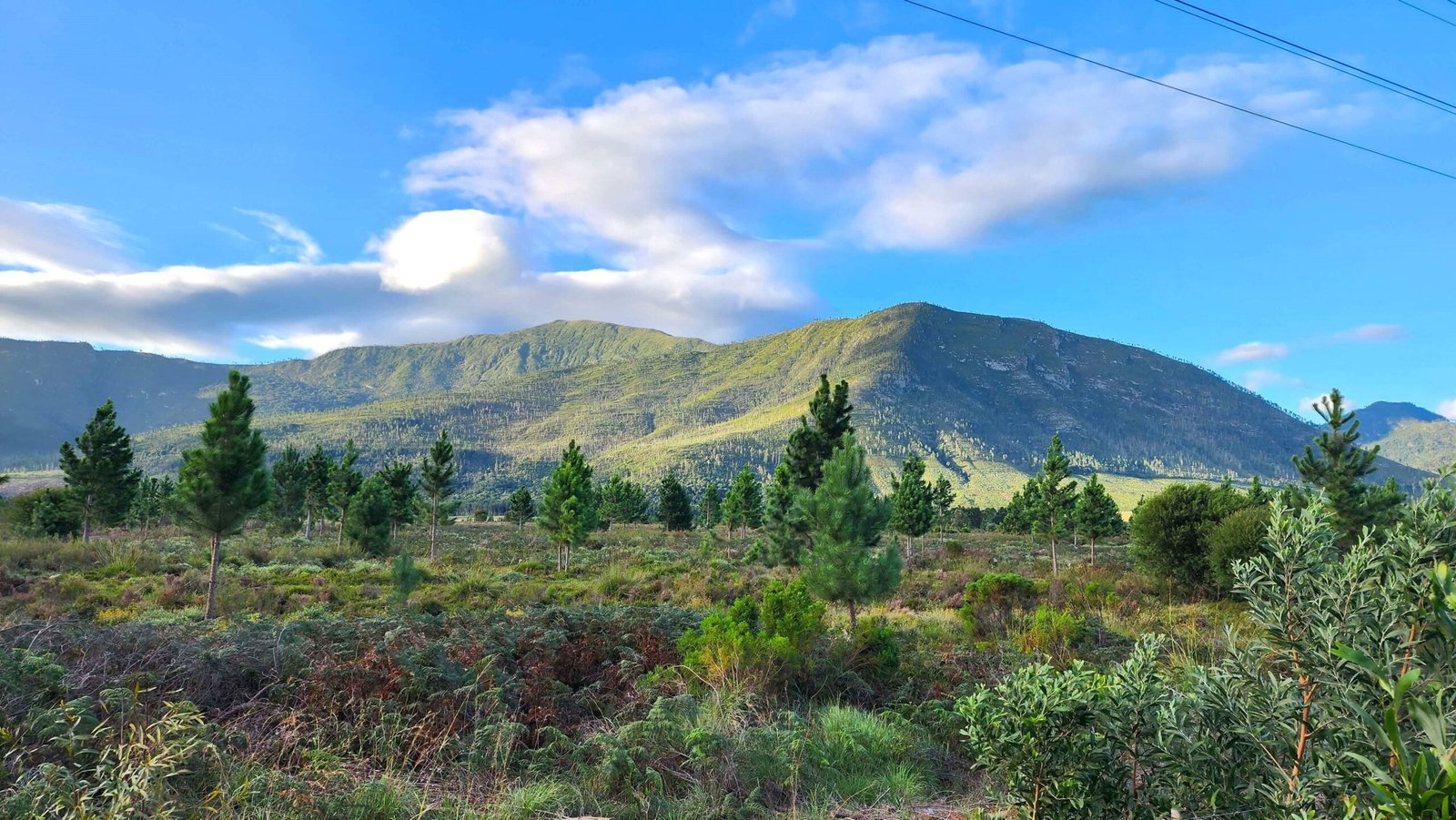 Tsitsikamma National Park along South Africa's Garden Route is a destination of forests, coastline and...
DISCLOSURE: I have no commercial relationship with Sanparks or any of their affiliates. All photographs, experiences and opinions expressed in this blog post are my own.